Shoppers, stores brace for Black Friday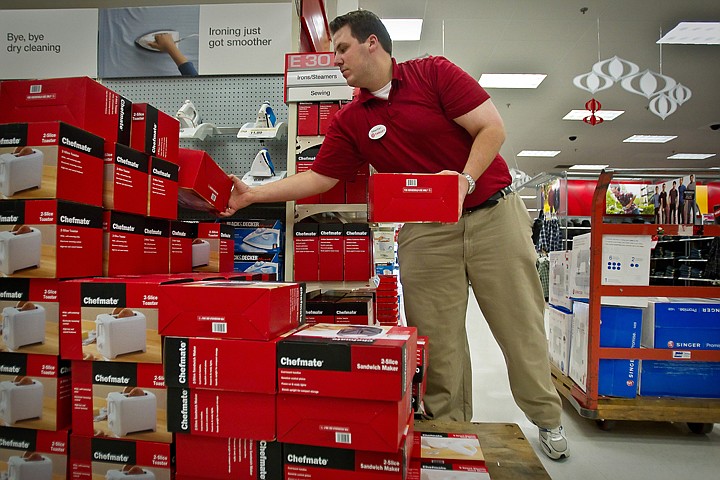 <p>Sebastian Hoffman stocks small kitchen appliances Wednesday in preparation for Target's Black Friday sale. Hundreds of shoppers are expected to flood the store after opening their doors at 4 a.m.</p>
by
Alecia Warren
|
November 25, 2010 8:00 PM
COEUR d'ALENE - Grab your coffee, your mittens, and your social anxiety medication.
It's time to prep for the Black Friday early bird sales.
The day after Thanksgiving, the masses will have plenty of stores to choose from in the frigid dark. With some businesses opening just a few hours after midnight, they're offering steals on electronics, jewelry, clothing, toys, furniture and most anything else folks have on their gift lists.
Staying up the night before might be advisable.
Kohl's wins the earliest starting time with a door busting sale from 3 a.m to 1 p.m. The store is boasting more than 400 early bird specials, like 55 to 60 percent off jewelry, 50 to 60 percent off handbags and wallets and up to 60 percent off apparel.
Some folks might line up for deals like fashion jeans for $18.99 and $20 boots for juniors.
Target is letting folks grab more beauty sleep, with its sale kicking off at 4 a.m. Running for six hours, the sale has deals on items from movies to video games to toys. There are specials on general home items, too, so if you needed an extra push to grab that outdoor fire bowl, it will be half off for $29.99.
Macy's will welcome crowds at 4 a.m., too, with deals on bedding, clothing and cookware. Best Buy, Cabela's and Big 5 Sporting Goods all open at 5 a.m., so no worries about nabbing both a discounted flat screen and an air rifle for the kids.
Fred Meyer will throw in free doughnuts and coffee at its sale from 5 to 11 a.m. There will be specials on apparel, video games, appliances and more.
Other sales include Kmart's six-hour marathon starting at 5 a.m. and Staples sale from 6 a.m. to noon. Big Lots! has sales starting at 6 a.m.
Gina Young and Tahnee Meehan don't even plan to go to sleep, they said.
"We're going to get coffee and go," Meehan said.
They have no list this year, the friends said, but will go where impulse takes them.
"To save money," Young said of why they brave the crowds, and pointed out that she has a child and Meehan has five. "It's hard times for everybody right now."
The key is not to lose your cool in the melee of the crowds, Young added.
"If you come for something and it's out of stock - oh well, you tried," she said.
Lynn Crockett, who boasts about a big-screen TV he got for a fraction of its price on a Black Friday, has advice, too.
"If you aren't there early, you might as well forget it," the Coeur d'Alene man said.
Lynn and his wife, Georgia Crockett, are shopping this Friday mostly just for the excitement, Georgia said.
"They say it's a madhouse, but you get that experience," she said.
Up to 138 million Americans plan to participate in Black Friday shopping this year, according to a survey conducted by BIGresearch for the National Retail Federation.
Target employee Tamara Fowler is bracing herself for the onslaught, she said.
"Last year the lines wrapped around the inside of the store for the cashiers," she said.
This year, the store opens an hour earlier.
"I'm nervous," Fowler said with a laugh.
Recent Headlines
---