Qwest Foundation donates $14,625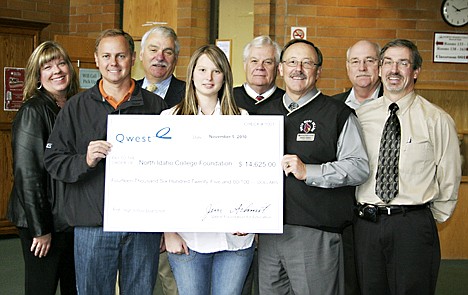 <p>The North Idaho College Foundation received a grant from the Qwest Foundation for the creation of dual credit scholarships for students in rural areas of North Idaho. Pictured are NIC eLearning and Outreach Director Jamie Green, Qwest Idaho President Jim Schmit, Idaho Senator and Chairman of the Senate Education Committee John Goedde, NICE dual credit student Samantha Jernstrom, NIC Dean of General Studies Bob Murray, NIC Dual Credit Coordinator Steve Casey, NIC Foundation President Tim Komberec and NIC Vice President for Instruction Jay Lee.</p>
|
November 25, 2010 8:00 PM
A total of 75 students from the rural areas of North Idaho will benefit from a $14,625 grant received by the North Idaho College Foundation for the creation of dual credit scholarships.
The grant from the Qwest Foundation will expand access to college courses for students in rural parts of the region through the Idaho Education Network, which is a system that allows for two-way interactive instruction across the state. Each scholarship will pay for one course offered through NIC's WINGS program, an acronym for WIN by getting a Good Start, which gives high school juniors and seniors the opportunity to enroll in NIC classes for both high school and college credit.
"Through technology, high school students from even the most rural areas of Idaho can have access to the educational opportunities offered by North Idaho College," said Qwest Idaho President Jim Schmit. "Qwest is very pleased to help bring that opportunity to more students."
Students will be awarded the scholarships beginning in January, so they must apply now. Applicants must enroll in a North Idaho College dual credit class and must be from rural areas outside Coeur d'Alene and Post Falls. Preference will be given to students with financial barriers.
"Dual credit classes provide high school students the opportunity to earn college level credit at a discounted rate, plus the experience paves the way for a smooth transition from high school to college," said NIC Dual Credit Coordinator Steve Casey. "I would like to thank Qwest for assisting students in the rural areas of our region with this opportunity to enroll in classes they would never have the opportunity to take due to the financial barriers presented by the current economy."
Interested students should contact NIC Dual Credit Coordinator Steve Casey at (208) 769-3220 for a scholarship application.
Dual credit continues to be one of the largest enrollment growth areas for NIC. This year, 672 high school students are enrolled in dual credit classes at the college and of the 78 percent of incoming NIC freshman who graduated in 2010, 30 percent had taken a dual credit class while in high school.
"There is great need for funding to help high school students wishing to pursue dual credit opportunities, especially in the rural areas," said NIC Foundation Executive Director Rayelle Anderson. "We're asking regional businesses and individuals to help us match this gift by making a tax deductible contribution to ensure that these scholarship opportunities exist far beyond 2011."
To contribute to this fund, contact the NIC Foundation at (208) 769-5978 or visit www.nic.edu/foundation.
Recent Headlines
---