A time to be thankful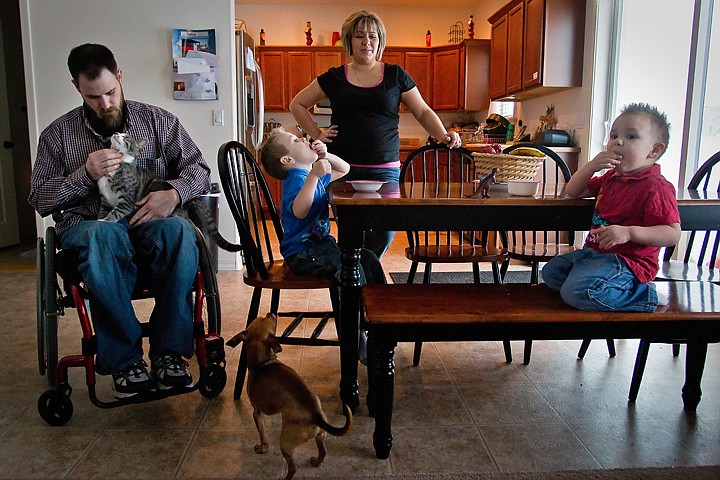 <p>Kyle Mungari and his wife, Tiana Martinez, relax in their dining room with their sons Brayden, 2, right, and Zachary, 4, during an afternoon snack Wednesday. Mungari hasn't been able to hold a job since being paralyzed from the waist down following a car accident, but says that it has allowed him more time with his three sons.</p>
by
Alecia Warren
|
November 25, 2010 8:00 PM
Nothing has been easy since the accident, says Tiana Martinez.
Since her fiance, Kyle Mungari, was paralyzed from the waist down in a car accident in February, the family has struggled with unemployment, a growing stack of bills and losing their medical insurance.
Despite it all, though, Martinez has nothing but gratitude this holiday season.
"All I can say is we're doing really good. Given the situation, we are making the best out of it," the Coeur d'Alene woman said Wednesday.
The 29-year-old pointed to all the donations and charities that have seen them through, and the constant support from friends and family. Above all, she said, they have a lifestyle she believes has brought the couple and their three children closer together.
"We're not feeling sorry for ourselves. This has made us a much stronger family," Tiana said. "There have been so many more positives, they totally outweigh the negatives."
It's taken some adapting.
Kyle, who used to laud his independence as the family's bread winner, lost his job at a waterproofing business because of his condition and now stays home with Tiana and the kids.
Although money is tighter, Tiana is eager to see the 30-year-old getting to know their kids, ages 3, 4 and 11.
Since Kyle was brought home from the hospital in March, she said, the family has enjoyed regular outings to the park and the beach. Although Kyle can't go out often because of medical problems, he still interacts with the kids by drawing and playing pirate.
There wasn't much time for that before, Tiana said.
"Kyle has bonded with his children," she said. "Prior to the accident, he worked 14 hours a day. He'd be gone before the kids got up for school, then got home just in time for dinner and then the kids were off to bath time and bed."
The accident has also brought the family back to church, she added.
Before, Kyle refused to attend New Community Life Church with Tiana. Now they go almost every weekend, she said, and she turns to prayer much more when times get rough.
After a church service, all the obstacles that week are easier to bear, she said.
"I think the main reason he (Kyle) never wanted to visit church was I don't think he believed in God. He'd lost his mom at 15," she said. "Now he's accepted the Lord. When we go, they take a chair out so he can pull his wheelchair in. The pastorhas been over to pray with us a few times."
The family has also learned to appreciate what victories they have, she said.
Tiana, who used to work as a medical assistant, initially helped Kyle through his morning routine of dressing and showering.
After he went through rehabilitation, though, he has been able to care for himself.
He might not have the autonomy he did before, but little by little, he pitches in more around the house, she said.
"I don't do anything for him anymore," Tiana said, adding that Kyle prepares the kids for bed, as well. "Just all the little things he's attempting to do on his own ... He's my hero."
There's still hardship.
The family lost their Medicaid because Kyle's disability checks disqualified them, Tiana said. Some of Kyle's medical costs multiplied as a result.
Working is something Tiana can't pursue, she added, because the family can't afford day care and Kyle isn't mobile enough to care for the kids.
They rely on local food banks, she said, and are squeezing dollars to the extent that even getting married is out of reach.
"It's $35 for a (marriage) certificate, and we don't have that right now," she said with a withered laugh.
But every time things seem about to collapse, someone helps them, she said.
Their church installed a wheelchair ramp so Kyle can enter their home. Relatives donated a better electronic wheelchair for him, and a friend's church has provided a turkey dinner for them today.
Above all, donations from a fundraiser earlier this year allowed them to survive the initial several months they were awaiting Kyle's approval for disability.
"I'd have lost my house (without that)," Kyle said. "I'd be homeless in a wheelchair with three kids and a wife."
Tiana said anyone interested in helping the family can call her mother, Kim Goulart, at 659-9461.
All their gifts have been bittersweet, Kyle said, admitting that it was painful to watch his children play in the snow and not be able to join them.
When thoughts get oppressive, he said, his family helps him pull through.
"If it wasn't for them, I have no idea where I'd be right now, mentally, physically, emotionally," he said. "It's them that make me want to still be here."
Recent Headlines
---