A great time to buy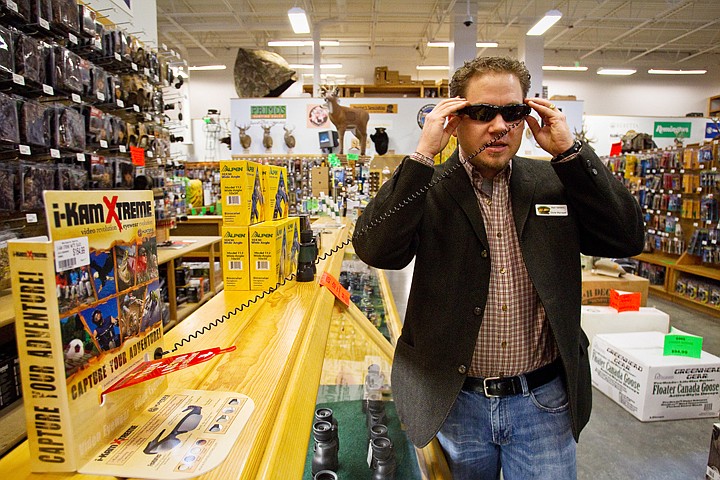 <p>Matt Selders, store manager at Wholesale Sports, demonstrates a pair of sunglasses that record video that is among many choices for the outdoorsman during this holiday season.</p>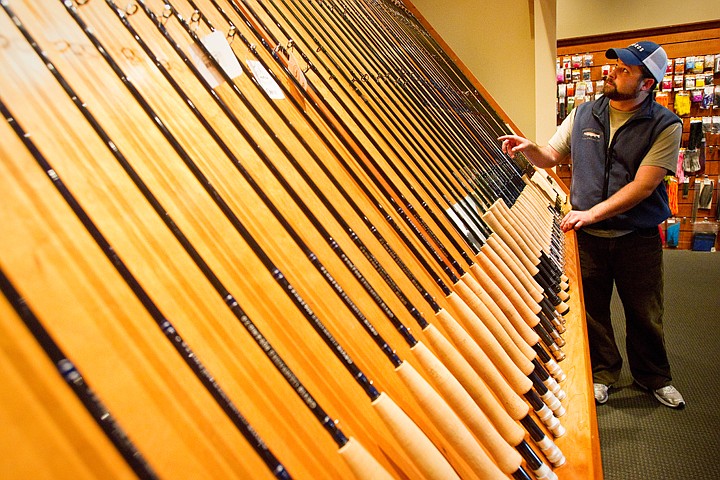 <p>Mike Beard, co-owner of Orvis in Coeur d'Alene, showcases a favorite fishing rod as a gift idea for this holiday season.</p>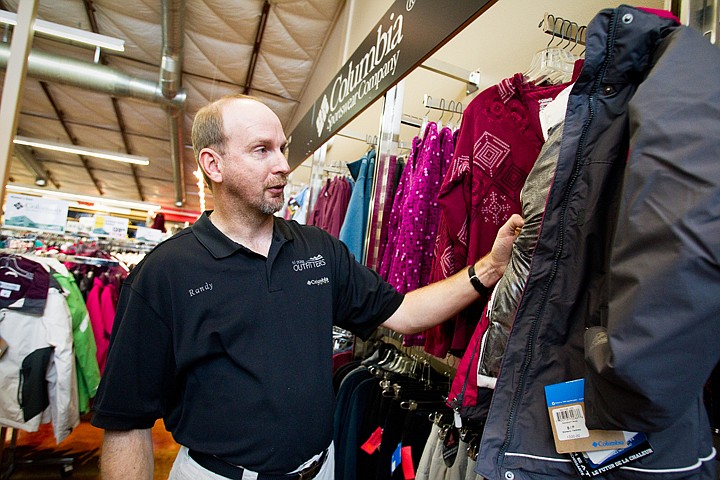 <p>Sporting goods manager for Tri State outfitters, is excited about Columbia Sportswear Company's new omni-heat material for gift ideas.</p>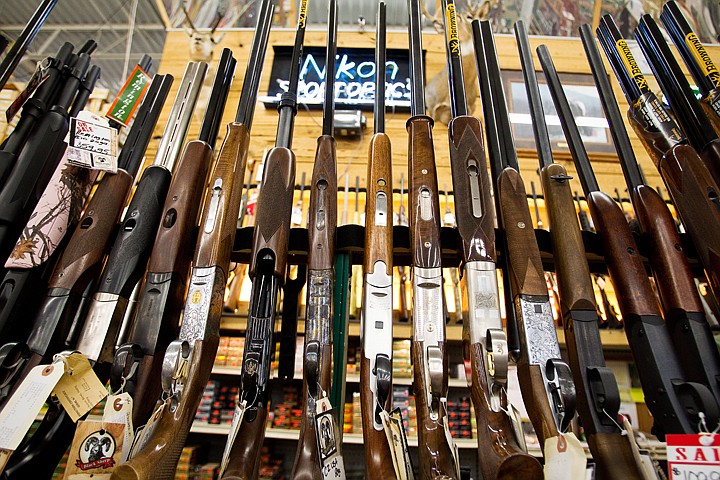 <p>Black Sheep Sporting Goods touts a large gun selection for the hunter on your Christmas list.</p>
Previous
Next
by
BILL BULEY
Staff Writer
|
November 25, 2010 8:00 PM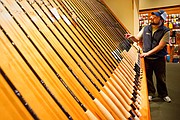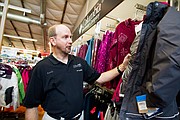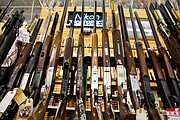 COEUR d'ALENE - Fifty bucks for a pair of Alpine 10 x 50 binoculars is a heckuva deal, says Matt Selders, store manager at Wholesale Sports in Coeur d'Alene.
It even comes with a lifetime warranty.
"That's very unusual for optics at this price," he says. "If you're thinking of buying for an outdoorsman, who can't use a pair of binoculars?"
Next to those steady binocs, though, is a cooler gift. It's the iKam Xtreme, high-tech sunglasses that have a video camera and audio recorder built in.
Put them on, and record what you see and hear for $164.99.
"We just got them in. They can handle up to eight gigs of info on there," Selders says.
So whether you're hiking, biking, hunting, trail running or fishing, slide on the iKam Xtremes and play it back later by downloading it on your computer. Heck, then you can post it on YouTube or your Facebook page. If you're in the field and you want to see how your handy recording work is coming out, take the memory card and plug it into your camera.
There are even different optics.
"You put them on, and it's going to take a video from your point of view and what you're hearing. They're pretty cool," Selders says.
Cool, practical and must-have gifts await the outdoors men, women and children of North Idaho this Christmas.
Whether you ski, fish, hunt, camp, run or toss a flying disc, you won't have any trouble finding what you're after right here in Kootenai County.
Come Christmas morning, you and your friends and families will be glad you took time to check out the offerings in area stores dedicated to the outdoors and recreational fun including Orvis Northwest Outfitters, Cabela's, Tri-State Outfitters, Black Sheep Sporting Goods and Big 5 Sporting Goods.
At Orvis in Riverstone, co-owner Mike Beard shows off magnetic fishing rod holders from Tight Line Enterprises that have become popular. One attaches to the hood, the other to the top of the car or truck.
"It's great for when you're jumping from hole to hole," Beard said. "One up, one down, lay the rods on them, strap the rods down, and you're set."
A pair sells for $95.
Across the room, Beard picks up a Hydros fishing rod that goes for $495. It uses the same graphite as the more expensive Helios rods, but "at a pricepoint that will not break the bank."
Beard said the 9-foot pole is strong and lightweight.
"They're very nice rods," he said.
The Helios, by the way, goes for $775.
"One of the best rods out there on the market," Beard said.
Another strong seller this year will be the sonic-welded seam technology jackets by Orvis. One is lighter at $150, the other a little heavier for $329.
"Both are phenomenal," Beard said as he held up the more expensive coat. "This one would be more for the steelhead fisherman going to Alaska and they need something they can live in for a week and stay dry."
The sonic-seamed jacket uses two pieces that are actually welded together, so there's no stitching or holes in it.
"I think it's what a lot of things are going to go to in the future," Beard said.
Fryers are always in demand this time of year, Selders said. One electric model can be used indoors, while the other gas model is only for outdoors.
Either one produces tasty turkey or it can be used to boil up most anything, like crab and lobsters.
Over at Black Sheep Sporting Goods, cashier Brittani Moses said gift certificates and guns are always great gifts.
"You can't go wrong with fishing gear, either," she said.
Smokers for fish, beer, any kind of meat, are offered at $89.95 up to $199.99. There are also kits and sets for smokers.
"Those go pretty fast," Moses said. "They don't stay around here very long."
Black Sheep is also well stocked with camping gear, boating and items to get the kids started on their own outdoor adventures.
And top-line clothes, such as gloves, hats, coats and pants, are always a hit in North Idaho, she said.
The rifle and hand gun display at Black Sheep is among the best around and any hunter can find what they're after.
At Tri-State Outfitters, sporting goods manager Randy Richards gave a quick tour of just a few outdoors gifts they have available this holiday season.
One item in particular produced by Columbia, features a new line of "Omni-Heat" material that is being called the "ultimate body heat management system for the outdoors."
It combined a mylar-style material with a porous type that allows body heat to escape.
"I don't usually get impressed after 26 years in this business but this new material is awesome," he said.
"It puts you at constant temperature. You're not cold, you're not hot. It really is phenomenal. We're selling it like crazy."
The coat retails for $200, and there is also a line of boots, gloves and hats, too.
Richards said Tri-State's sales of climbing equipment is rising, due in part to the popularity of the rock wall at the Kroc Center.
"We've had more calls on this with people wanting to get their kids set up for Christmas," he said.
Tri-State carries carabiners, crampons, harnesses, quickdraws, pulleys in its climbing section.
For about $125 or so, you could outfit your children for the sport, Richards said.
"It's been popular for us," he said.
A variety of Leatherman and Swiss Army sets are out with new features and designs. Some come with a combination of tools and flashlight, and range from $60 to $100.
"They're more ergonomic, they fit the hand better," Richards said.
A satellite GPS messenger system, "SPOT" personal tracker retails for $150 and up.
For anyone worried about their loved one venturing into the outdoors and wanting be able to track their whereabouts, it's perfect, Richards said.
And hydration packs, like CamelBak, have been selling well, too, with the popularity of the Trail of the Coeur d'Alenes and the Route of the Hiawatha.
They can carry 2 liters of water packed snugly on your back.
"They've got a lot of different-sized packs. Depending on what you're after, you can gear the pack toward what you need," Richards said.
At Cabela's in Post Falls, spokesman Pete Marion said the store will be open at 5 a.m. on Black Friday. It will be the first of multiple "door buster" sales during the Christmas season.
"With the cold weather, we're selling a lot more clothing and footwear lately," Marion said.
Cabela's carries fryers and also features a huge selection of hunting, fishing, camping, boating, clothing and ATV gear. GPS systems, rods and reels, firearms, ammunition, tents, baits, fishing tools and the latest in outerwear are common sellers.
Christmas ideas it's featuring include ice fishing gear. A StrikeMaster ice auger has sold for $450 recently, an underwater camera $130 and shelter $200. Other ideas for dad include a Garmin 450T GPS selling for $450 and UnderArmour twill hoodie $60.
For the youth, an insulated hooded camo jacket retails for $35 and midknee boots $50. A grasshopper sleeping bag sells for $30.
For the females of the household, wool slippers for $35 are always a safe bet.
And, for the home, a variety of bedding comforter sets sell for between $100 and $160.
Back at Wholesale Sports, Selders shows off a Garmin Rino 530HCx, a waterproof navigator and two-way radio that goes for $499.
Snowmobilers, hunters, backcountry skiers would likely love it, he said.
"You can program it to locate other people who also have Rinos," he said. "So when you go out hunting or fishing, camping, you can talk to the other people on there, you can locate anybody else using one of the Rinos."
And wish them a Merry Christmas, too.
Staff writer Brian Walker contributed to this report.
Recent Headlines
---