Weather won't stop parade, light show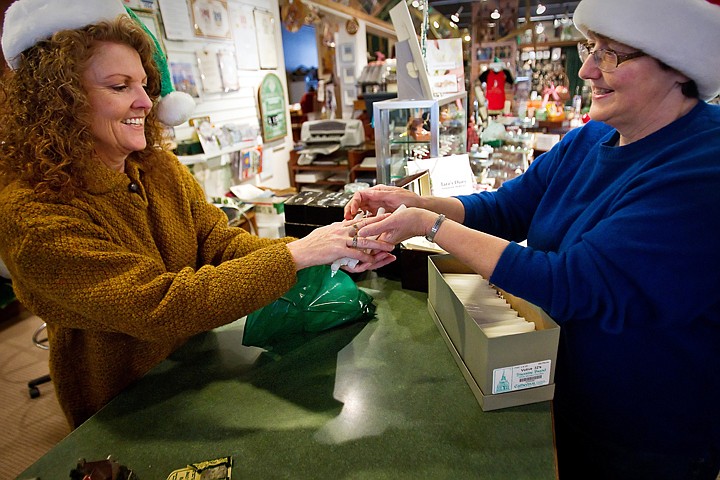 <p>Gay Gasson, right, delivers a few hundred candles Tuesday to Karlene Wahl, at All Things Irish, for the lighting ceremony following Friday's holiday parade.</p>
by
Tom Hasslinger
|
November 24, 2010 8:00 PM
COEUR d'ALENE - Souped up classic cars with bald tires might pull out.
Same with marching band members, since instruments can't handle the extreme cold.
Other than that, the parade and Coeur d'Alene Resort Holiday Light Show - regardless of conditions - will go on.
"To be honest, a little bit of snow makes the fireworks look gorgeous," said Gay Glasson, Downtown Association events coordinator, putting on the parade that preludes the lighting ceremony and fireworks show.
Right now, downtown businesses along Sherman Avenue and in The Resort Plaza Shops are handing out candles to anyone who plans to line up along Sherman Avenue and add a little glow to what's sure to be a frigid Friday night.
The parade, themed "Believe in the Magic" with up to 50 entries, starts at 5 p.m., Around 30,000 visitors are expected to watch the floats, marchers, cars and dancers whiz by. When it ends near Government Way, the crowd converges on the front lawn of The Resort to light candles and sing Christmas carols.
Then comes the fireworks followed by the countdown to switch on 1.5 million lights.
The forecast?
Cold and snow, so dress warmly.
The grand marshal for the parade, as usual, is St Nicholas, also known as St. Nick, Kris Kringle, or Santa Claus.
"You can't beat Santa at this time of year," Glasson said.
He'll ride along in the fire truck in his familiar suit of red with his beard of white at the end of the procession, instead of on a hotrod up front as would marshals for other parades.
As far as hotrods, some have considered pulling out depending on the weather. Same with marching band members. Neither handle frigid conditions well, but 35 entries are ready to go. Spots are still available for those interested in joining. Entries cost $ 50 for non-commercial entries, and $75 for commercial.
Information: 415-0116
Recent Headlines
---