'A Day with Knights'
|
November 24, 2010 8:00 PM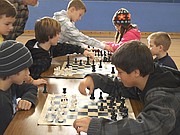 COEUR d'ALENE - Sorensen Magnet School held its first chess tournament, "A Day with Knights 2010," on Saturday.
The free tournament was open to kindergarten through 12th grades, plus an adult bracket.
Trophies were awarded to 1st-3rd place winners in each represented age bracket.
Results:
* K-2 bracket: 1st, Austin Vaughan of Ponderosa Elementary; 2nd, Tabby Twitchell of Sorensen.
* 3-5 bracket: 1st, Braden Vaughan of Ponderosa Elementary; 2nd, Canyon Watkins of Sorensen; and 3rd, Chase Cripps of Ponderosa Elementary.
* 6-8 bracket: 1st, Alex Marshall of Sorensen, 2nd, Connor Watkins of Sorensen; 3rd, CJ Morris of Woodland Middle.
* 9-12 bracket, no participants.
* adult bracket: 1st, Joe Angelo and 2nd, Jenny Twitchell.
Participants represented Hayden Meadows Elementary in Hayden; Woodland Middle School, Sorensen Magnet and Skyway Elementary in Coeur d'Alene; Ponderosa Elementary in Post Falls.
Sorensen will host another tournament in January.
Recent Headlines
---