Police busy with wrecks, slideoffs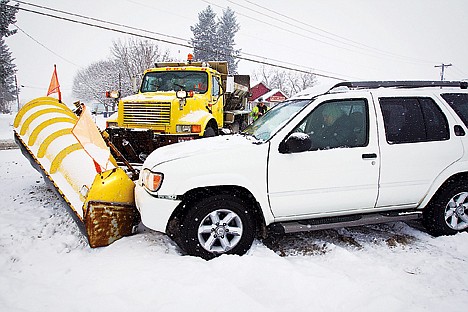 <p>An Idaho Transportation Department snow plow truck partially blocks traffic Monday after it collided with a vehicle at the intersection of 3rd Street and East Annie Avenue in Coeur d'Alene. The two vehicles were traveling southbound on 3rd Street when the driver of the snow plow attempted to make a left-hand turn, striking the SUV. No injuries and minor damage were reported.</p>
by
Nick Rotunno
|
November 23, 2010 8:00 PM
COEUR d'ALENE - Cold weather and fresh snow caused a number of crashes, spin-outs and fender benders over the last two days.
Idaho State Police responded to eight vehicle crashes on Sunday, officers said, and many cars slid off icy roadways. There were plenty of traffic hazards and motorist assists, too.
"It's the first major snowfall of the year, so people are getting their winter driving legs back under them again," said ISP Lt. Chris Schenck.
Eighteen more crashes occurred on Monday before 2 p.m., including a semi rollover about 3 a.m. on Interstate 90. Benjamin Kozlov, 33, of Soap Lake, Wash., drove a 2001 Freightliner big rig into a curve at westbound milepost 17 and lost control, police said.
The truck tipped over and blocked the right lane of the interstate for most of the day. Kozlov and passenger Eduard Panitkov, 22, of Federal Way, Wash., were not injured, police said.
Kozlov was driving too fast for road conditions, ISP noted.
Another I-90 wreck occurred in Spokane Valley about 10:30 a.m. Monday, involving a pair of teens from Post Falls, Washington State Police reported.
Driver Jamie C. Kemp and passenger Lucie DeMangel, both 17, were westbound in a 1998 Mercury Sable when the car lost traction, spun several times and went off the right side of the road, sliding down an embankment and through a cyclone fence, police said.
The teens were transported to Valley Medical Center, where they were treated and released. Both were wearing seat belts, but were likely driving too fast for conditions, WSP said.
Lookout Pass was icy and somewhat treacherous, while Fourth of July saw its share of vehicle incidents.
Locally, the Coeur d'Alene Police Department handled 21 vehicle accidents and seven slide-offs between 2 p.m. Sunday and 10:30 a.m. Monday. Weather-related incidents occurred throughout the city, from Ramsey Road to Kathleen Avenue to Howard Street, police said.
The department reported no major injuries.
In Post Falls, the police department responded to 11 weather-related incidents on Monday. There were no major accidents or injuries.
The Kootenai County Sheriff's Department handled 19 crashes and one slide off on Monday. In one incident on North Idaho Road, a deputy's car was struck after it was parked at a crash scene. The deputy was not in the car when it was hit.
Conditions were dicey everywhere over the last two days, in both Idaho and Washington.
Travelers are finding trouble when they drive too fast, Schenck said. Some are overconfident, or overestimate a vehicle's abilities.
"Then you have somebody driving way too slow," he added. "That can also be a traffic hazard."
Before heading out on the road, motorists should consider three factors, Schenck said: the conditions they'll encounter, such as snow and hidden ice; the level of their equipment (two-wheel vs. four-wheel drive, snow tires, clearance); and their own experience and driving skill.
To ensure a safe drive in all conditions, motorists should check windshield wipers and washer fluids, and be sure the heat and defrost works.
Tire treads are very important as well, especially on older vehicles.
"The all-season tires, even if they had good traction at some point, they may have worn down," Schenck said.
Recent Headlines
---