Message from Rwanda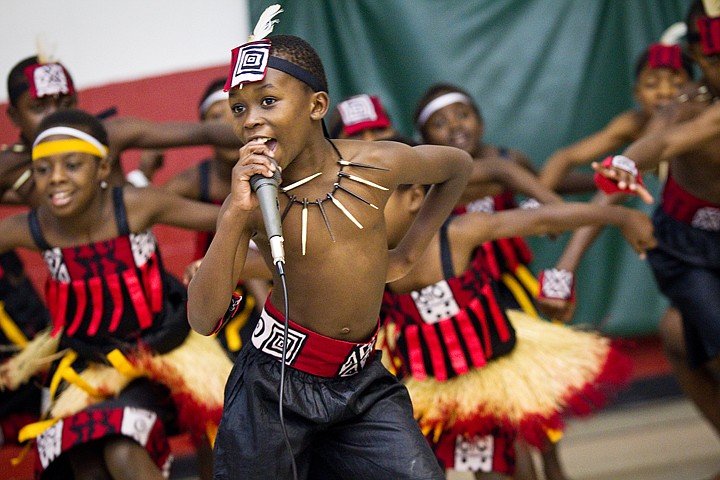 <p>Patrick Cyuzuzo, 9, dances while singing a solo part Monday during a performance by the Asante Children's Choir at Winton Elementary. The Rwandan traveling dance troupe is part of the Africa Mission Alliance.</p>
by
MAUREEN DOLAN
Staff Writer
|
November 23, 2010 8:00 PM
COEUR d'ALENE - Children's voices rose and fell in melodic harmonies punctuated with the rhythmic thunder of African drums Monday at Winton Elementary School.
While the cold snow was blowing across the playground outside, members of a children's choir group from Rwanda warmed the Winton gym with song, dance and the spirit of hope.
The visit and performance by the Asante Children's Choir, part of the nonprofit Africa Mission Alliance, was an unexpected surprise for Winton staff and students. It was arranged by Principal Kristen Gorringe, who had seen the group perform at Lake City Community Church.
"It is fitting that they are visiting us during Thanksgiving week, to see that there are kids in other places who cannot always go to school, where going to school is a gift," Gorringe said.
School isn't an option for many children in Rwanda because they have other responsibilities, as the Winton students learned from a video they watched before the young, singing dancers performed.
The Winton children learned that 15 percent of kids in Rwanda are orphans, that there are 160,000 Rwandan children who roam the streets, going without food and shelter every day, and that 42 percent of the country's households are headed by kids who cannot take care of their families and go to school.
Africa Alliance Mission is a partnership of individuals and organizations that supports and cares for the country's multitudes of orphans and widows.
They build schools, homes and provide nutritious meals. The group helps Rwandan widows learn how to support their families, and places orphans with the widows, up to five children per home.
William Ngabo, one of the group's founders, spoke to the Winton students following the children's choir performance.
"They're happy to be here when it's snowing," Ngabo said of the 24 performers ages 8-14, all Rwandan orphans themselves.
He spoke about the work the Africa Mission Alliance has been doing since 2002.
"My country, Rwanda, went through a terrible situation," Ngabo said.
The central African nation is known best for the 1994 genocide in which nearly a million people were murdered within 100 days.
"But after the genocide there is hope," he said.
Africa Mission Alliance was founded in 2002, and now cares for more than 1,000 orphans.
For information or to make a donation: (503) 296-4853, www.africamissionalliance.org
Recent Headlines
---