Hilde Kellogg dies at 92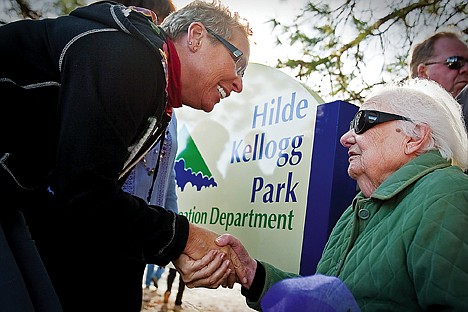 <p>Post Falls councilwoman Linda Wilhelm congratulates Hilde Kellogg following a dedication ceremony last November at the park on Idaho Street named after the long-time legislator, councilor and business owner.</p>
by
Brian Walker
|
November 23, 2010 8:00 PM
POST FALLS - Whether she was serving in the Legislature or on city and chamber boards, Hilde Kellogg had her finger on the pulse on Post Falls.
Kellogg, who served in the Legislature for 20 years, died of natural causes at Kootenai Medical Center on Monday. She was 92.
"She was a huge forward thinker as far as what needed to be done to take care of North Idaho," said Randy Wells, a longtime friend. "She was one of our great advocates."
Arguably the best-known politician in Post Falls' history, Kellogg retired from the Legislature at 88 after a jaw-dropping 10 terms when her eyesight began failing.
"She was powerful, but in a good way," Wells said. "She really thought stuff out before making a decision. Everybody respected her opinion."
Services for Kellogg are pending.
City Councilwoman Kerri Thoreson led an effort last year to have the 5-acre park at Idaho Street and 21st Avenue named after Kellogg. She lived near the park for about 50 years.
"Hilde inspired me in public service," Thoreson said. "She was selfless, a visionary and tough as nails. I'll always be grateful that she was present and surrounded by friends when Hilde Kellogg Park was dedicated."
Kellogg served on the Revenue and Taxation and Transportation committees in the Legislature.
"Hilde fought long and hard to bring fair revenue sharing on tax collections," said Rep. Bob Nonini, who succeeded Kellogg. "A lot of the work on U.S. 95 was groundwork that Hilde laid."
Prior to serving as a legislator, Kellogg was on the planning and zoning commission and city council. She was also a past president of the Post Falls Chamber of Commerce, a past Post Falls Citizen of the Year recipient and was the first female member of the Post Falls Kiwanis.
Kellogg was an advocate of economic development. The "rabbit" that greyhounds chased around the track in the day of racing at the Greyhound Park and Event Center was named Hilde after her.
Realtor Gary Schneidmiller remembers visiting Kellogg and her husband Jack's BBQ Ranch Western Wear store in Post Falls in the '50s and '60s during his youth and later served with Kellogg on the planning commission. She was among the planners in the late '70s who developed the master plan for the city.
"She made a great contribution to the positive planned growth of Post Falls," Schneidmiller said. "I found her to always be a great businesswoman and a really hard worker who had a great sense of humor.
"She always did her homework and reminded us that we need to do the same. She always treated people with respect regardless of how they treated her as chair. She was a wise woman, and I admired her a lot."
The western store was known for its giant cowboy and animals that lined the roof.
Mayor Clay Larkin said the store was an "economic development icon" in its day because people from throughout the region traveled to Post Falls to shop there.
"You are a large part of Post Falls' history and making this community what it is today," Larkin told Kellogg at the park dedication.
Thoreson said Kellogg contributed to the good of Post Falls for more than 50 years.
"She really blazed some trails," she said.
Recent Headlines
---