Cold to follow blanket of white
by
Brian Walker & Tom Hasslinger
|
November 23, 2010 8:00 PM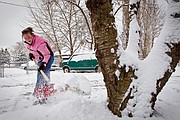 COEUR d'ALENE - Like an old classmate - familiar at first, but needing a moment to register.
But by Monday, there it was, - snow, blankets of it- piling up in parking lots, waking plows, worrying drivers and calling to kids.
If last year was a drizzle, Sunday and Monday dusted off memories of North Idaho winters past.
"I've been waiting for it for weeks so it's about time it showed up," said Casey McCormick, skier turned sledder at Cherry Hill Park, cruising down the covered hill Monday with his dog, Billy, on an air mattress. "It's pretty much the most important part of the year for me."
By Monday afternoon, 4.4 inches covered Coeur d'Alene's streets, pushing its two-day total to 6.4 inches.
The latest snow gave the area 8.2 inches for the season, already surpassing the 7.8-inch average for the entire month of November.
Climatologist Cliff Harris said Wednesday morning is expected to dip to between 8 and 12 degrees below zero, without the wind-chill factor. Today may reach 10 degrees.
"It's going to be bitterly cold," Harris said. "It'll be dangerous. This is unusually cold for November to say the least. We haven't seen conditions like this in a long time."
The coldest temperature for Wednesday was minus-2 in 1985.
"We'll likely break some records," Harris said.
That may not stop some from venturing outside.
Zyrie Weeks, 11, ditched homeschool Monday to go sledding with her older brothers, something they didn't do enough of last winter.
"It's so much fun," she said.
But work, too.
Like for Kayla Fischer, who had to flag down help pushing her car out of a snow bank on Fourth Street and Prairie Avenue.
"It just took my car right off the road. It's icy," she said, after a crew helped push her car from the bank. "I'm really, really lucky nothing worse happened."
Angie Asbury sweated up her own storm shoveling the driveway of her family home. Waking early, she had a workout digging out the long drive on Orchard Avenue in Hayden. Twice.
"By the time I ended the first time there was more snow so I started over," she said, finishing her second run and preparing for a possible third. "I can do it. I'm not an invalid."
For some, the flakes can be an employment opportunity.
Mark Littlewolf, a laid off construction worker and cook, went door to door Monday, charging a few dollars to shovel driveways - work, he said, he missed last year.
"I really didn't get out much last year," he said. "Hopefully, this will give us something to do."
Coeur d'Alene had four out of five days below zero from Nov. 26-30 in 1896. Harris said this stretch of lows below 0 could reach as many as eight days.
Thanksgiving morning is expected to be below zero, but it may warm up to 18 to 20 during the day.
More snow flurries - 2 to 4 inches - are expected Thursday night into Friday morning.
Recent Headlines
---