Area warming centers ready for the cold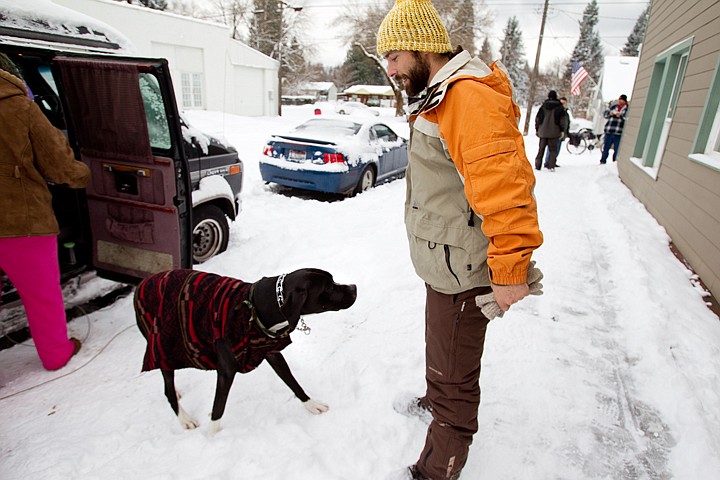 <p>Jimi Johnson, a client of Fresh Start in Coeur d'Alene, 31, is greeted by his dog, Goliath, Monday after the warming shelter had closed for the afternoon. Johnson benefits from the various services available to the homeless throughout the city.</p>
by
Nick Rotunno
|
November 23, 2010 8:00 PM
COEUR d'ALENE - Local warming centers are prepared to continue helping people come in from the cold.
"Our volunteers are energized by the holiday season and by the onset of harsh weather early," said Howard Martinson, executive director at Fresh Start in Coeur d'Alene.
Fresh Start had 22 overnight guests Friday, and 24 Saturday. About the same number of people spent the night on Sunday.
The center at 16th and Sherman will open today, Wednesday and Thursday nights this week, from 9 p.m. until about noon the following day. That schedule will coincide with the arctic weather expected over the next few days.
Fresh Start will have sleeping bags, blankets, hot food and showers available, Martinson said. There are also laundry machines, phone and Internet service.
"We're an emergency warming center, an alternative for people to not have to sleep either outside in the cold or in a Dumpster," Martinson said.
Fresh Start has a capacity of 64 overnight guests, while its partner, St. Luke's Episcopal Church at 501 Wallace, can lodge 40 additional people.
Last year's winter was relatively mild, and the center only opened 20 nights, Martinson said.
"We had only 200 guests overnight for the entire winter," he said.
In 2008-09, however, the weather was harsh, and Fresh Start served 800 guests over 30 nights. Many of those were repeat guests.
Like many nonprofits, Fresh Start is facing an uphill battle financially.
"We can always use more food, more supplies and volunteers," Martinson said.
The center will serve a Thanksgiving dinner - turkey and all the trimmings - on Thursday at 11 a.m.
St. Vincent de Paul's warming center, 117 E. Walnut, Coeur d'Alene, is also ready for winter. The center plans to remain open through Thanksgiving, from 7 p.m. until 8 a.m. the following morning.
"We're looking at the long-range," said executive director Jeff Conroy. "If it stays below 20 degrees, or a wind chill below 20 degrees, we'll remain open. We're continually checking the weather, to see what the forecast is."
St. Vincent's opened on Saturday night, and welcomed a handful of guests. But as word spreads and the mercury plummets, more are likely.
"Tuesday's one of our busiest days here, so we'll be busy," Conroy said.
St. Vincent's was open 22 nights last year, and hosted about 10 guests per night.
Two staff members will be on hand each night, handing out sleeping bags, warm food, blankets and clothing. Showers are available as well.
The center could use more supplies, Conroy said. Donations are always welcome.
"The more food we can get, the more food we can give them," he said. "And we're always accepting sleeping bags and blankets."
When the warming center closes each morning, food and coffee is available at the St. Vincent de Paul H.E.L.P. Center, 201 E. Harrison.
Recent Headlines
---