Open, but not shut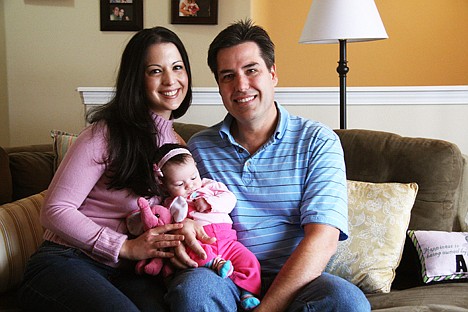 <p>Annie and Jim Burton adopted eight-week-old Laura in September. The adoption is open, which means Laura's birth parents maintain a relationship with the child.</p>
by
Nick Rotunno
|
November 22, 2010 8:00 PM
She was very young and quite beautiful, and her parents called her a miracle.
Eight weeks old, wrapped in warm winter clothes, little Laura sat on her mother's lap, patiently watching as Jim and Annie Burton — a pleasant, conversational couple from Hayden — told the story of their adopted daughter.
"This is just the way it was meant to be," said Annie, 31, a massage therapist for a local chiropractor. "No doubt about it."
Married in the summer of 2007, the Burtons decided to have a baby one year later. They tried but nothing happened, Annie said, and went to see a doctor.
"We were basically given a very low possibility of conceiving without assistance," she said.
According to a specialist in Spokane, Annie had less than a 10 percent chance of becoming pregnant. The odds were stacked against them.
But the couple had other options: They could try in vitro fertilization, a fairly common procedure, or they could adopt. Neither liked the idea of in vitro — it just didn't feel right, they said, didn't mesh with who they were.
Adoption was the answer.
"I think May (2010) was when we both finally said, 'OK, let's make phone calls,'" Annie recalled. "We didn't care about race, we didn't care about where — we just wanted a newborn."
Idaho Youth Ranch was their first call. With an office in Coeur d'Alene, the nonprofit offers adoption and foster care services for families throughout North Idaho. As the Burtons started their approval process, they made contact with A New Beginning Adoption Agency, based in Boise and affiliated with the youth ranch.
New Beginning specializes in trans-racial adoptions, and the Burtons figured that was the course they'd follow. But then the phone rang, and Donna Euler, the adoptions and foster care director at Idaho Youth Ranch, asked a question that would steer the couple in a new direction, one that would, in a very short period of time, alter their lives forever.
"It had been probably two or three weeks, and then Donna calls and says, 'You know, is there any way you can get a profile together to show to a birth mother that's coming in?'" Annie said. "It's the strangest thing I've ever written, but it basically says, 'Here's who we are, this is why we want to have a child.'"
For two days the Burtons worked on the profile. They stayed up late at night, editing, revising, making sure it was just right, and then they turned it in. The couple didn't hear anything for almost two weeks.
What was happening in the meantime, Euler explained, was advocacy. Laura was not due until September, but her birth parents — two area teenagers who were still in high school — were counseled by Leah Stern, a social worker allied with Idaho Youth Ranch. Euler, profiles in hand, represented several adoptive families, including the Burtons.
"I think the program is different from many, because we have an advocate for the birth mother," Euler said. "We have counselors and separate advocates for both sides. We facilitate the first meeting, and subsequent meetings."
The goal of this pre-adoption process was to find the ideal fit — the right family, the right situation, the right home.
"It's almost like they pre-match," said Jim, 44, who works as a bar supervisor at The Coeur d'Alene Resort. "It was almost like they had a (notion) this birth couple and us would hit it off."
In early August the introductions were made, and it all went very well. Jim and Annie were impressed by the young birth parents, their maturity, their level-headed decision-making. It seemed they were wise beyond their years, Annie said, and devoted to the welfare of their child.
More meetings followed, the couples learning more about each other, realizing they shared similar values, close commonalities. Before long, after just a month or two, both parties knew it was a match that would work.
Laura was born on Sept. 23, 2010. The next day Jim and Annie arrived at the hospital, and on Sept. 25 they took Laura home.
Because the Burtons chose an open adoption, Laura's birth parents are still very much a part of the infant's life. The two couples have seen each other twice since the baby was born, and have a healthy relationship, the Burtons said.
"The couple, the birth parents, we just loved them dearly (when we met)," Jim said. "We had a few months to get to know the parents, and get close to them, and we think the world of them."
Were they not so young, Jim and Annie both agreed, the teenage couple would have been terrific parents. Open adoption has allowed them to stay connected to Laura, to watch her grow.
"I am really proud of who Laura's birth parents are, and I want her to know them," Annie said. "We basically said, 'If you ever want to see her, call us and let us know.'"
For the Burtons, open adoption was certainly the right path. It was expensive, though — altogether, including home study and court fees, the process cost nearly $15,000. However, that price tag is cheaper than in vitro, the Burtons noted, and the results were well worth any expense.
"It worked beautifully for Jim and Annie," Euler said. "And the birth parents are very respectful. Every case is different, obviously. I think there's a perfect adoptive family out there for every birth parent, and vice versa."
Ninety percent of the Idaho Youth Ranch adoptions are open, Euler added.
"It's all really the best interest of the child, because there's no secrecy," she said. "I think it's important that birth parents know they can design any kind of adoption plan they want."
Rightfully or not, there's a kind of stigma associated with the word "adoption," the Burtons said. Misconceptions abound. Many people think of adoptions as one-way, Jim and Annie explained — the birth parents give up the child, the adoptive parents take over, and the story ends there.
But that's not necessarily the case, as the Burtons — and many other families around the country — have proven.
"I think when it comes right down to it, (open adoption) is a wonderful option that people should be considering," Jim said.
The Burtons' adoption should be finalized by the end of the year, they said. Unfortunately, not all adoptions work out so well. Many adoptive families struggle through the process, unable to find the right child or the ideal parents. Jim and Annie realize their case was not an everyday occurrence, and they're grateful.
"This is kind of a miracle," Annie said. "This is not the standard. We were prepared to wait years. For some reason, things just happened the way they did."
Recent Headlines
---