Science through Legos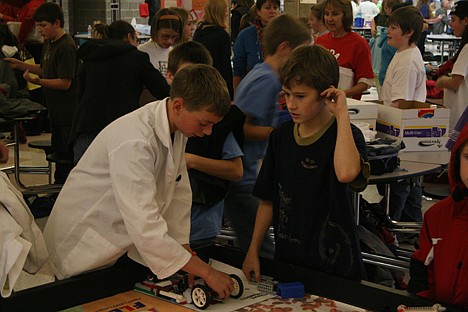 <p>Eleven-year-old Camren Horn, left, and Micah McLeod, 12, of the River City Randoms, test out a robot at the First Lego League tournament at Post Falls High School on Saturday. Thirty-six teams representing schools from across North Idaho participated in the contest.</p>
by
Nick Rotunno
|
November 21, 2010 8:00 PM
POST FALLS - At the cry of "One, two, three, Lego!" the homemade robots rolled into action.
Computerized and wireless, crafted almost entirely of Lego building blocks, the machines scooted forward, turned on a dime and moved across the board.
Standing behind them, watching every choreographed move, students from all over North Idaho chatted and plotted, hoping their calculations were perfect.
The youngsters had gathered at Post Falls High School on Saturday for a First Lego League tournament, funded by 4H Youth and Development at the University of Idaho. A trip to Boise - where the state championship will take place on Dec. 11 - was hanging in the balance.
"It was really awesome. It was really challenging," said 10-year-old Joshua Simmons, a member of the Dr. Lego team from Lutheran Academy of the Master in Coeur d'Alene. "The toughest part was staging (the robot), getting it ready to go where it's supposed to go."
Thirty-six teams competed, with students ranging from fourth to eighth graders. Fourteen of those 36 advanced to the state contest.
"(Students) have to do a research project, then they have the robot project, then they have a teamwork project," explained Beth Revels, a teacher and Lego League coach at Lutheran Academy. "We've been working on it after school, since school began."
This year's Lego League theme was "biomedical engineering." For the research portion of the contest, teams explored various scientific subjects. River City Middle School in Post Falls (the River City Randoms), for example, studied exercise-induced asthma, an ailment common around the world. The team discovered that licorice root might be a viable cure.
"We actually had to do quite a bit of research," said 11-year-old Lyndsay Frey. "It's been a remedy for a lot of things, like balding, arthritis, gingivitis ... (We'd) put it into a powder and put 'em in a drink."
Robotics was next. At the beginning of the school year, teams were given a special robot kit, a collection of Lego parts that could be assembled in a variety of ways. Students designed, built and practiced with their own unique robots, then brought them to the gymnasium on Saturday.
The machines were programmed to perform certain tasks - pick up an object, or drive to a certain spot on the board. Teams had 2 1/2 minutes to complete a difficult robot course, using all their engineering, mathematics and computer science know-how.
"It was really hard to get the race done," Lyndsay recalled. "Another thing that was hard was a lot of maneuvering we had to do."
Once the tricky robot challenge was complete, the kids gathered for their team projects - spontaneous teamwork activities, designed to test the students' ability to work together.
Lyndsay said she enjoyed the team project most of all.
"It was just really fun to talk to each other and say, 'Oh, look, we can do this," she said.
The core values of First Lego League are teamwork, friendly competition, discovery, selflessness, sharing, professionalism and fun. Crissy Lowe, mother of River City student Kristen Lowe, 11, had never experienced the Lego League before Saturday's tournament.
"I didn't know what to expect," Lowe said, "but I knew how excited (Kristen) was. I was just really impressed to see all the work they'd done come together. You can see that they've put a lot of time and energy into it."
Recent Headlines
---