Boise State tested? Not so far this month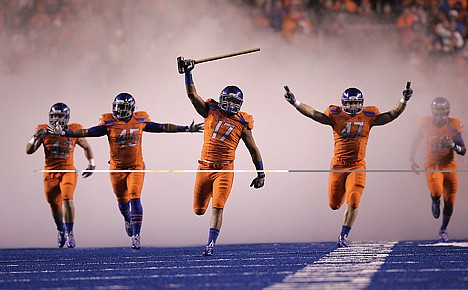 <p>Boise State's Winston Venable (17) takes the team out onto the field against Fresno State moments before the first half Friday in Boise.</p>
BOISE - Pat Hill walked out into the chilly night and immediately started lobbying.
The case he was presented wasn't for his Fresno State squad. Hard to make any arguments just moments after being on the receiving end of a 51-0 rout.
This retort from Hill was directed specifically at those still not ready to accept No. 3 Boise State among the nation's elite.
"What else do they have to do? They're on the verge of their fourth undefeated season in six years, you got to be kidding me," Hill said late Friday night. "Now someday we got to wake up and say we can't just listen to the people who get all the money. We've got to listen to the people that have the best teams. They're a great football team."
November was supposed to be the month when Boise State (10-0, 6-0 WAC) was challenged again, when its starters might be asked to play an entire fourth quarter rather than giving backups their opportunity to finish up yet another blowout.
The tests of the opening month against Virginia Tech and Oregon State is where Boise State backed up its lofty preseason ranking. That was followed by an easy October, before jumping into November where the Broncos would be again pushed and as a result perhaps move back up the BCS standings.
So far, November has become a month of domination. The Broncos have outscored Hawaii, Idaho and Fresno State by a combined 145-21.
But the dominance goes beyond the point total.
-First downs: Boise State 84; November opponents 35.
-Total yards: Boise State 1,677 for an average of 559 per game; November opponents 637, average of 212.
-Third down conversions: Boise State 21 of 37; November opponents 9 of 45.
Maybe Fresno State can take solace in forcing Boise State to at least play some of its starters into the fourth quarter. Broncos' quarterback Kellen Moore, along with many of his teammates, were spectators for the final quarter against both Hawaii and Idaho.
That's not expected to be the case next week when the Broncos face their final big challenge - and likely their last chance to make a jump in the BCS standings - at No. 18 Nevada.
"What I'm waiting for is one of those games where we have to go fight in the second half and I thought this might be it. I think our guys are going to be up for the challenge. But I think next week is going to be one of those games," Boise State coach Chris Petersen said. "I think it was good. I feel like our defense played so well. I think our offense ... credit to Fresno State. I think we played well on offense. I don't think it was dominating on defense. But coupled with what's gone in the past few weeks playing Hawaii and Idaho, I think our guys are just playing at a high level."
And while Boise State's schedule gets maligned for its perceived lack of rigor, the teams the Broncos have faced this month provided unique challenges on the defensive side.
Hawaii entered as the No. 1 passing offense in the country, only to manage just 151 yards on the Broncos. Idaho wasn't far behind with the fourth best pass offense. The Vandals threw for just 215 yards - many of those late - and had three passes picked off.
In both of those victories, the Broncos led 42-0 and 45-0 before their opponents scored.
But based on the schedule Fresno State had faced and its offensive success against some others, the suffocating performance on Friday night might be the Broncos' most impressive.
Fresno State entered averaging nearly 35 points and 400 yards per game. They didn't crack 100 total yards until their final drive of the night. The shutout was the third for the season by Boise State, the first time the Broncos have accomplished that since 1970.
"This is an elite football team and there's no doubt in my mind, if these guys win out, they should play for the national championship," Hill said. "Defensively, we've played some good teams before, we have never got manhandled like that. We got dominated tonight at the line of scrimmage, that doesn't happen to us too often."
Now the Broncos can finally focus on next Friday night's long anticipated showdown with Nevada and not get chastised for looking ahead. The matchup lost some of its luster when Nevada lost at Hawaii last month, but the Wolf Pack's unique "pistol" offense - which is being integrated by more schools, including Boise State - is likely to be the Broncos' most difficult challenge.
"I can't lie and say I haven't known that game is coming up," Boise State safety Jeron Johnson said. "It's going to be a big game."
Recent Headlines
---