Vikings pound that rock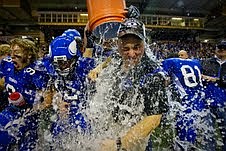 <p>Coeur d'Alene High head coach Shawn Amos receives a celebratory drenching from his players during the closing seconds of the Vikings' 28-7 win over Centennial High in the 5A State Championship Friday at the University of Idaho Kibbie Dome. The state title is the first for the Vikings in 25 years.</p>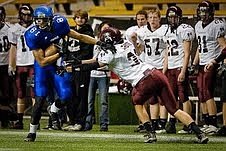 <p>Coeur d'Alene High receiver Deon Watson (81) brushes aside Centennial defender Brett Grote as he races down the sideline for the first of his two touchdowns during the state 5A championship game Friday night at the Kibbie Dome in Moscow.</p>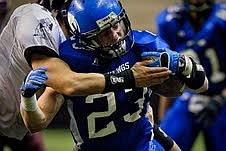 <p>Coeur d'Alene High running back Zach Keiser pushes through a tackle for more yardage during the second half.</p>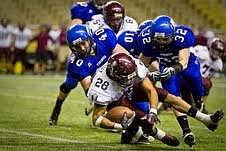 <p>Coeur d'Alene High's John Haines (40) tops Centennial's Mike Kirby in the backfield with an assist from teammate JJ Johnson (32)</p>
Previous
Next
by
MARK NELKE
Sports Editor
|
November 20, 2010 8:00 PM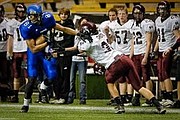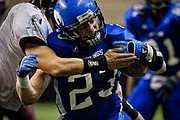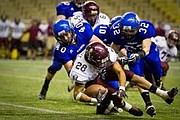 MOSCOW - Miranda Amos was the first to get a hug in on her dad, Coeur d'Alene High football coach Shawn Amos, after the game.
Next came a hug from Shawn's wife, Kelly, followed by the Gatorade bath from his players. Meanwhile, the Vikings partied on the Kibbie Dome carpet like it was 1985.
With good reason.
With the Vikings controlling the game on offense and containing Centennial on defense, Coeur d'Alene won its first state football championship in 25 years with a workmanlike 28-7 victory over the Patriots in the state 5A football championship game Friday night before an estimated 5,000 fans.
"Probably until the birth of my first child, it'll be the greatest thing that happens to me," said senior wide receiver/defensive back Jake Matheson, who capped the victory with his 10th interception of the season. 
Then he thought about it for a moment.
"Maybe marriage too, I don't know."
First things first, Vikings. Deon Watson caught two touchdown passes — one on the third play of the game — and running back Zach Keiser rushed for 169 yards and two scores for the top-ranked Vikings (11-1), who notched their third state title in program history — and the first under Amos, in his 14th season as Vikings coach.
"You can't describe it," said Amos, who is scheduled to head to a condo in northern California today with his wife for a celebratory vacation. "This is 14 years in the process, it's something you can't describe. I told the team we went from the worst team in the state to probably one of the best teams in the state, so it feels very, very good."
Coeur d'Alene refers to it as "pounding the rock" — keep working, keep working and eventually a big play happens.
Late in the third quarter, with the Vikings facing third and 1 on their 27, Keiser zipped past a Centennial blitz and raced up the middle of the field for a 73-yard touchdown to increase Coeur d'Alene's lead to 21-7 with 3:13 left in the third.
"We're not going to break the big one every time," Keiser said. "You get five yards here and there, and I broke one loose. They brought the house on that one and I squeezed through a gap and took it to the house. It was big green right in front of me; I knew I was going to score."
Midway through the fourth quarter Watson, a junior, ran a post route from the right and caught a 19-yard touchdown pass from junior quarterback Chad Chalich to make it 28-7 and pretty much clinch the game against a Centennial team which preferred to run the ball.
Centennial's Mike Kirby, who came into the game with 1,799 rushing yards and 30 touchdowns, ran for 107 yards on 18 carries in the first half vs. Coeur d'Alene. But the Vikings, led by Joe Roletto, Kyler Dunn, Matt Howard and others, held him to 8 yards on 10 carries in the second half. 
Coeur d'Alene stopped fourth-ranked Centennial (9-3) three times on downs, and the Patriots' lone scoring drive went all of 2 yards.
"Centennial's a great team; that running back's phenomenal ... the mighty mites are at it again," Matheson said of the Vikings' defense. "We bend but we don't break, that's what we pride ourselves on. It's a team effort, we're all fast, I think we have the fastest team in Idaho, and we do have the best team in Idaho — we proved it today."
Coeur d'Alene outgained Centennial 404-323. Patriots quarterback Trent Godsey passed for 179 yards, but most of those yards came late with the game well in hand.
"It's the first time all year we've been shut down on offense," said Centennial coach Lee Neumann, bidding for his fourth title in his 21st season as Patriots coach. "They did an outstanding job. We got some big plays on them, but we just couldn't finish. They had some great athletes, and made some great plays."
On the third play of the game, Watson took a flanker screen pass from Chalich, slipped a couple tackles on his way across the middle, then zipped down the left sideline for a 67-yard touchdown just 93 seconds into the game.
Early in the second quarter, Centennial's Logan Little blocked a punt by Chalich and recovered it on the Viking 2. Two plays later, quarterback Godsey snuck in from 2 yards out to tie it at 7 with 7:18 left in the first half.
Coeur d'Alene took a 14-7 lead when Keiser, running from the wildcat formation, scored from 1 yard out, running left and getting a nice block from Colin Comack with 1:42 left in the half.
And once Centennial was forced to play further and further from behind, the Vikings had them right where they wanted them.
"That Kirby is a heckuva player, he is a handful, and Centennial's a very good football team," Amos said. "With this group, we just have too many weapons. If we take care of ourselves, we have too many guys, you can't key on anybody. That makes it very difficult."
Coeur d'Alene's other state title in football came in 1982.
Centennial 0 7 0 0 — 7
Coeur d'Alene 7 7 7 7 — 28
Cd'A — Deon Watson 67 pass from Chad Chalich (Parker Wilson kick)
Cent — Trent Godsey 2 run (Tate Sanders kick)
Cd'A — Zach Keiser 1 run (Wilson kick)
Cd'A — Keiser 73 run (Wilson kick)
Cd'A — Watson 19 pass from Chalich (Wilson kick)
INDIVIDUAL STATISTICS
RUSHING — Cent, Kirby 27-115, Garner 6-12, Godsey 8-17. Cd'A, Keiser 18-169, Chalich 13-48, DeHaas 2-(-2). 
PASSING — Godsey 16-28-2-179. Cd'A, Chalich 11-24-0-189.
RECEIVING — Kirby 5-15, Sanor 5-88, Nelson 1-17, Saras 5-59. Cd'A, Watson 2-86, Matheson 3-40, Keiser 1-7, Lambert 2-30, Turbin 3-26.
Recent Headlines
---