Community to the rescue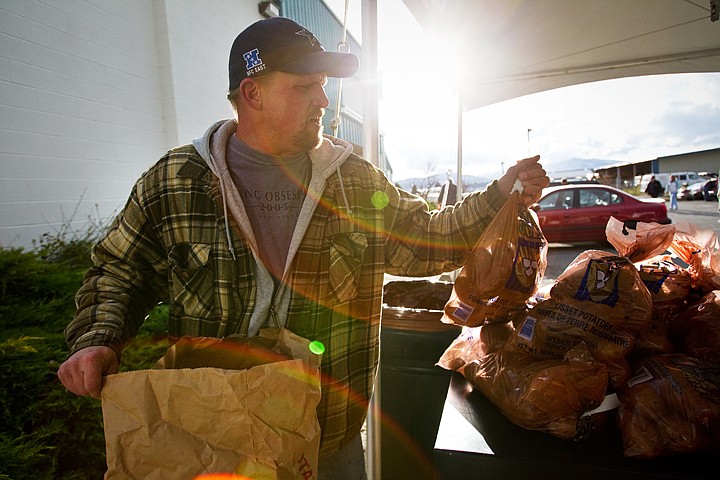 <p>Terry Nicholson, a volunteer for Community Action Partnership in Coeur d'Alene, loads up a table with potatoes Friday as Thanksgiving food boxes are distributed at the food bank. Nicholson, who received a food box earlier in the week, wanted to give back as thousands of turkey dinners are given to those in need.</p>
by
Nick Rotunno
|
November 20, 2010 8:00 PM
COEUR d'ALENE - The community had come to the rescue, and now the turkeys were piling up.
Large, small or medium-sized, wrapped and frozen on wide wooden pallets, close to 1,000 gobblers arrived at the Community Action Partnership food bank on Friday, destined for someone's oven on Thanksgiving day.
"It's crazy, it's awesome," said manager Carolyn Shewfelt. "Today's been amazing."
Donations poured in, from individuals and organizations. As recipients lined up outside, volunteers passed out birds, canned vegetables, potatoes, stuffing and pie crusts - enough for a main course and all the trimmings. In the back, working frantically, food bank staffers sorted and organized.
"They've just come in in droves," Shewfelt said. "When people hear about the need, they respond. There have been so many organizations that have pulled together. It's been a joint effort from everybody. Our volunteers have been absolutely phenomenal. We live in a good community, that's all I have to say."
Windermere/Coeur d'Alene Realty, Lake City High School, local Boy Scouts, the Kootenai County Democrats and other groups set up turkey drives and lent a hand.
The Coeur d'Alene Association of Realtors dialed up a large donation by collecting and recycling cell phones. Denise Lundy said members pitched in more than 600 broken phones and older, used ones that were sent to a recycler. The broken ones were good for 25 cents, while working models that are refurbished accounted for $10 to $20.
In turn, they received a check for $540, which was used to purchase about 50 turkeys.
"There was support from every brokerage," she said. "It was really a team effort."
Gary Petersen of Coeur d'Alene arrived at the food bank with a frozen turkey in hand. He had his own Thanksgiving dinner to prepare for, but he still took the time to donate.
"If I can afford to spend a couple hundred bucks to feed my family," Petersen said, "I can certainly buy a turkey for somebody."
Low-income residents benefited from the communal generosity. Shaun Henderson of Coeur d'Alene, who brought home a few bags of food on Friday, was grateful for the service provided.
"(The food bank is) pretty good for the Coeur d'Alene community - helps out a lot of people," he said. "(They're) pretty nice, real helpful."
Passing out goods and chatting happily, Coeur d'Alene resident Brad Philpott was a busy man. He likes to volunteer whenever he can. He was an unpaid firefighter for a number of years, and also worked in the local Big Brothers Big Sisters program.
"This has been great. I just showed up, and they put me to work right away," Philpott said. "It's been a lot of fun - lot of very grateful people. It's nice to be around people this time of year, make 'em smile. Everybody has said 'thank you, bless you, happy Thanksgiving' ... lot of joy on their faces."
On Thursday the food bank ran low on turkeys, Shewfelt recalled, and close to 150 people didn't receive a bird. It was heartbreaking to send people home empty-handed, she said. And while the situation had vastly improved Friday, the food bank still needs more turkeys - enough food to ensure a Thanksgiving meal for all who need one.
"I didn't know there was so much need," said Don Ward of Athol. "I've seen so many taken care of, and I'm blessed by it. It's great to see the community turn out like they have. It's helped me tremendously. No other word but a blessing."
Recent Headlines
---