Cold wait in line worth it for Harry Potter fans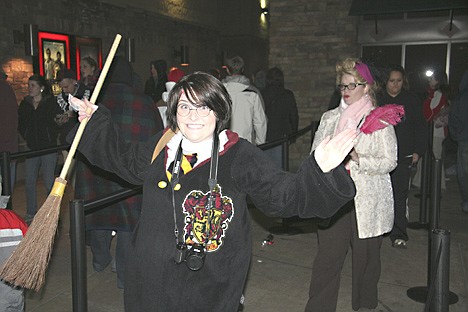 <p>Dressed as Harry Potter, an enthusiastic Rachel McEachran walks toward the Riverstone Cinema doors before the premiere of "Harry Potter and the Deathly Hallows, Part 1," which opened on Friday at 12:01 am. The movie drew hundreds of viewers.</p>
by
Nick Rotunno
|
November 20, 2010 8:00 PM
COEUR d'ALENE - Draped in Gryffindor robes and brandishing his best broomstick, the world's most famous wizard made an appearance on Thursday night.
But Harry Potter wasn't the only quirky character at Riverstone Cinemas: The mischievous Weasley brothers were there, too, along with Professor Trelawney, Rita Skeeter and many others, all waiting for the midnight premiere of "Harry Potter and the Deathly Hallows, Part 1."
As the minutes ticked toward midnight, the line stretched down the block. It was cold and windy, typical November in North Idaho, but the weather didn't cool down anyone's excitement.
"Every midnight show ever, we're here for," said Rachel McEachran, of Coeur d'Alene, one of several Harry Potter impersonators. She had big round glasses, carried a lightning-bolt scar on her forehead - the only vestige of her original duel with Voldemort, of course - and wore a black Snuggie she had purchased at Hot Topic.
The Snuggie, it should be noted, was an exact replica of Harry's own Hogwarts garb.
"I don't have to wear a coat," McEachran said proudly. "All these people are bundled up. It's cold, but it's always cold for Harry Potter."
She used to arrive earlier and head to the front of the line, but in recent years, "people just got nastier and nastier," McEachran said. There would be cup-throwing, pushing and shoving as moviegoers jostled for position. Now, she's content with the back of the line, she said.
Her friend Tami Hern, of Coeur d'Alene, wore a picture-perfect Rita Skeeter outfit, complete with quill and notebook. In Harry Potter's world, Skeeter is the best-known reporter for the wildly popular - if not especially accurate - wizarding newspaper, The Daily Prophet.
Some folks were ready for Thursday's chilly conditions. Toward the front of the line, a group of teenagers had brought along pillows and blankets. They had been at Riverstone since 6 p.m.
"I love it," said 17-year-old Keegan Kelley, a Lake City High School student. "It's my favorite."
Nineteen-year-old Ashley Murphy waited alongside Kelley. Something of a speed-reader, Murphy has finished the Harry Potter books by J.K. Rowling in record time.
"I have read all (the books) under 24 hours," Murphy said. "I think I've read all seven under, like, 72 hours."
She enjoys the movies, she said, but they leave out many of the details found in the novels.
One of the more elaborate costumes belonged to Kathleen Kelley of Coeur d'Alene, who dressed as Professor Trelawney - the bizarre, frazzle-haired Hogwarts instructor famous for her prophecies.
"We've been planning costumes for like two months," Kelley said.
At long last, the line began to move. Ushers opened the doors and the people filed in, taking their seats in several theaters, eager to see what kind of magic Harry Potter would conjure next.
Recent Headlines
---