Vikings get a spark and a win in their opener
by
MARK NELKE
Sports Editor
|
November 19, 2010 8:00 PM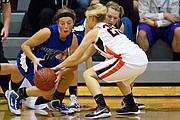 POST FALLS - Trailing by 11 points early in the third quarter of their season opener, the Coeur d'Alene Vikings were looking for some sort of spark.
Even a basket would have helped.
The Vikings got both, hitting five 3-pointers in the next 11 minutes, and flustering Post Falls with a 1-3-1 halfcourt trap to go on a 33-9 run that resulted in a 61-46 victory Thursday night in the 5A Inland Empire League girls basketball opener at The Arena.
"Nothing was falling," Coeur d'Alene coach Dale Poffenroth said. "It wasn't that we shot bad shots, they rattled around and come back out. And then there was no spark. I was a little worried about the nerves, and we had to play some freshmen ... it took a little while to make that all happen, and when it happened, it all kinda came together."
Sophomore Caelyn Orlandi hit a pair of 3-point baskets and scored 13 of her 15 points in the second half for Coeur d'Alene, the three-time defending state champions. Junior Kyeli Parker hit three 3s and scored 11 of her 17 points after intermission.
Senior post Carli Rosenthal, limited to eight minutes in the first half because of foul trouble, finished with 15 points, nine rebounds and three assists for Coeur d'Alene. The Vikings had a hard time scoring inside or out in the first half, shooting just 7 for 27 from the floor.
"We were working really hard inside trying to take away Rosenthal, and when you do that you're going to give up some 3s," Post Falls coach Chris Johnson said. "They hit a hot streak there where they buried some. You have to pick your poison — it's Rosenthal shooting a 1-footer compared to somebody else shooting a 20-footer."
Sophomore post Dani Failor had 13 points and six rebounds for Post Falls (2-1), which opened the second half with a 12-2 run in the first three minutes to increase its lead to 35-24. Brooke Litalien hit a 3-pointer and Josie Tennison and Tori Davenport both made 3-point plays during that run.
Parker made two 3s as Coeur d'Alene pulled within 40-38 after three quarters. With Post Falls leading 42-40 early in the fourth, Orlandi hit a 3-point basket and followed it up with a 4-point play, and Parker sank another trey to cap a 15-2 run that put the Vikings in command.
Post Falls, which had just five turnovers at halftime, committed seven in the third quarter, 10 for the second half. Coeur d'Alene outscored the Trojans 23-6 in the fourth quarter, and hit five of its six 3s in the second half.
On Tuesday, Coeur d'Alene plays host to Lakeland, and Post Falls travels to Lake City.
Coeur d'Alene 9 13 16 23 — 61
Post Falls 10 13 17 6 — 46
COEUR d'ALENE — Baughman 1, Orlandi 15, K. Parker 17, Legel 13, Petit 0, Rosenthal 15, S. Parker 0, S. Williams 0.
POST FALLS — Tennison 5, King 2, Franklin 6, Davenport 9, Litalien 5, Clancy 0, Scott 6, Failor 13.
Recent Headlines
---