Pine tree falls on Pine Avenue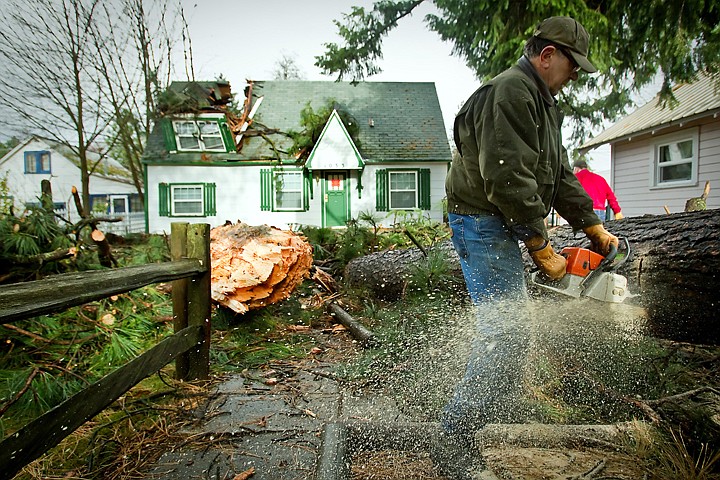 <p>Larry Chmura cuts a large section of fallen tree in half Thursday after having it removed from the roof of a rental home he owns on Pine Avenue in Coeur d'Alene. The fell through the roof of the home Wednesday night when nobody was inside the residence and knocked out power to the neighborhood.</p>
by
David Cole
|
November 19, 2010 8:00 PM
COEUR d'ALENE - Larry Chmura has a sense of humor about it, so far.
He jokes that he was simply trying to bring a rather large Christmas tree inside a house at 1033 E. Pine Ave. Wednesday night.
At the scene, however, it looked a lot more like a massive section of a bull pine in front of the home broke off from Wednesday's high winds and crashed down on top of the home he rents out.
No tenants were home when the section ripped through the roof and into a bedroom and bathroom, said Chmura, who also owns several other homes in the area and By the Lake Assisted Living, in Hayden.
The tree cut about a third of the way through the house, leaving a gaping hole when a forklift picked the tree off the house Thursday morning.
Chmura, of Coeur d'Alene, said he hasn't received a damage estimate.
But, "I'm sure it's going to be decent," he said.
Chmura said the tree, which is about three and a half feet in diameter at the base and stands about 15 yards in front of the home, has been estimated to be about 125 to 150 years old.
The tree section hit power lines in the back of the home, knocking out power, which was later restored.
The section that broke off was one of two spires the tree had at the beginning of the week.
Another spire broke off a day earlier and fell east along Pine.
He said Boy Scouts will pick up some of the wood.
Recent Headlines
---