Lookout, it's time to go skiing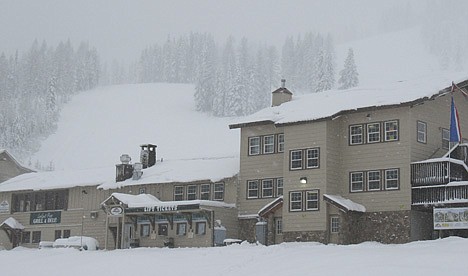 <p>Lookout Pass Ski and Recreation Area will open today following eight to 10 inches of snow Wednesday night and Thursday morning.</p>
by
Nicole Nolan
|
November 19, 2010 8:00 PM
Mother Nature has been generous to the slopes at the Idaho/Montana border.
Very generous.
Lookout Pass Ski and Recreation Area announced Thursday it is opening today.
"About 50 percent of the time we're able to open by Thanksgiving," said Phil Edholm, president and CEO of Lookout Pass Ski and Recreation Area. "Any time we can get open before Thanksgiving, it's going to be a good ski season."
The lodge saw eight to 10 inches of fresh snow fall Wednesday night, and it continued to come down Thursday morning.
"It's nearly a blizzard up here now," Edholm said.
Base depth was 12 inches as of Thursday, with 20 inches of snow at the summit. More snow is expected this weekend.
According to Lookout Pass' snow report, the majority of the front side of the mountain will be open today, along with the beginner area and top-to-bottom skiing and riding off Chair No. 1. As of Thursday, 14 trails were groomed with a projected 18 or more trails to be open.
"There's a lot of pent up ski energy out there," Edholm said.
Silver Mountain is holding out a bit longer, looking to create a good, solid base of snow that will stretch out the ski season.
"Our goal is to open up as late as possible so we can ski as late as possible," said John Williams, Silver Mountain marketing director.
Silver's snow groomers have begun to track-pack the snow to create the desired base. This helps to extend the life of the slopes so skiers don't start churning up rocks, Williams said.
Silver Mountain's projected opening day is Friday, Nov. 26 although its may open earlier depending upon the snow conditions.
"We're almost there, we just don't have quite enough coverage."
Schweitzer Mountain Resort reported 36 inches of snow at the upper elevation Thursday, and 12 at the base. Its received 12 inches of snow in the last 24 hours, with more on the way.
Schweitzer President and CEO Tom Chasse said there isn't a date yet he could pinpoint for an opening.
"If you can tell me when we'll receive our next 12-18" snow storm I could confidently pick a day," he said.
Schweitzer's staff is on 48-hour notice. Snowmaking efforts are going 24/7, which will help on lower mountain/elevation, Chasse said.
"But we need another weather event like last night," he said Thursday.
Lookout Pass Ski and Recreation Area will run lifts today through Sunday from 9 a.m. to 4 p.m. Skiers can flock back to the pass for some fresh powder on Thanksgiving Day.
Recent Headlines
---