Event raises awareness, funds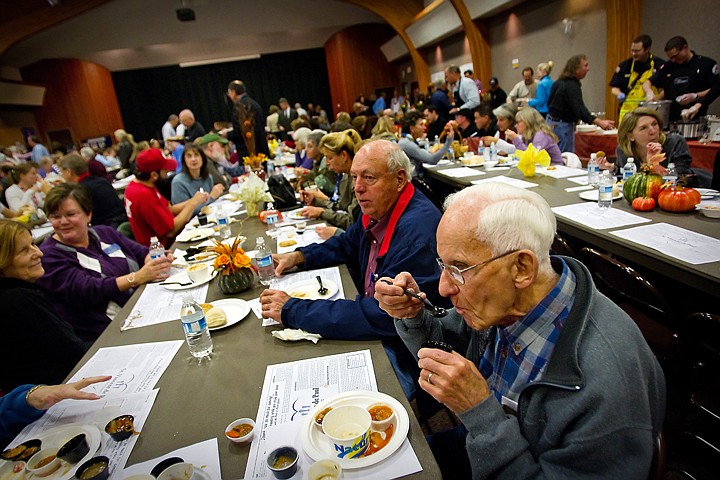 <p>Paul Wilson enjoys a sampling of one of the soups Thursday during the "Soup-ort the End of Homelessness" soup lunch at St. Pius X Catholic Church.</p>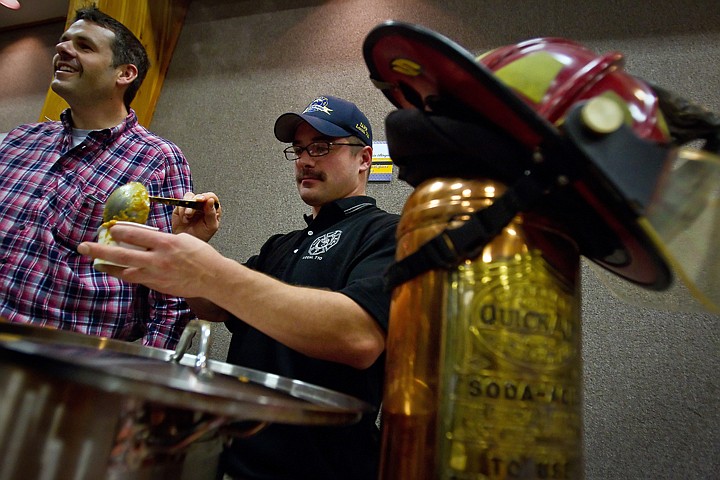 <p>Coeur d'Alene firefighters Battle Chief John Morrison, left, and Capt. Luke Pichette serve samples of Morrison's Guinness Pumpkin Bisque soup with a spiced creme fraiche.</p>
Previous
Next
by
Alecia Warren
|
November 19, 2010 8:00 PM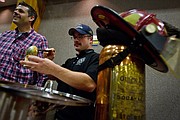 COEUR d'ALENE - The finance director for the city of Coeur d'Alene wasn't letting any tasters ignore his cheese wedge hat.
"This is CHEESE and broccoli soup," Troy Tymesen announced as his wife, Jan, ladled the broth in her Green Bay Packers shirt.
Besides the chance to advertise their favorite sports team and their family recipe, though, there was no forgetting the couple was at St. Pius X Catholic Church for a good cause.
"We're here for the good work the dollars will do for the less fortunate," Tymesen said. "Every dollar goes to help out."
Laughter and charity abounded at the first Soup-ort the End of Homelessness Soup-Off Contest on Thursday, a fundraiser for St. Vincent de Paul. More than 500 swarmed the event to try concoctions brewed by volunteering businesses, organizations and individuals.
"It far exceeded all our expectations," said Jeff Conroy, SVDP executive director. "It's a symbolic soup kitchen. We wanted to involve the community so they feel what it's like."
Proceeds from donations and ticket sales went toward SVDP's two warming shelters, which help many who rely on soup kitchens, said event organizer Chris Copstead.
"This time last year, we had 11 encampments in our community," he said of homeless communities. "This year, there are 22 encampments. The perception these are all drug addicts and alcoholics, that's not true. These are families."
The organizations doling out soup on Thursday chatted up tasters as they competed for best flavor.
As folks voted on favorites, they were attended by celebrity waiters, including county and city elected officials, CEOs of local chambers and even state Sen. John Goedde.
"So many people volunteered," Copstead said.
Ron Sampert, chief of Kootenai County Fire and Rescue, had been eager to prepare a potato noodle soup he learned to make at the Coeur d'Alene Fire Department 30 years ago.
"It's good comfort food," Sampert said. "I don't know if anyone at Coeur d'Alene Fire still knows how to make it."
County rescue is often called to help homeless individuals, he said, especially in the winter when folks are desperate to stay warm.
"It's heart wrenching to see the circumstances they're living in," he said. "You'd think in North Idaho we wouldn't have that problem, but we do."
Carol Erickson, sipping out of test bowls, said she was wavering between voting for the tortilla soup from Witherspoon Kelley, or the pumpkin bisque from Coeur d'Alene Fire District.
"There isn't a bad soup," she said.
A volunteer at the St. Thomas Catholic Church soup kitchen, she was relieved to see so many pitching in, she said.
Erickson has seen rising demand at the soup kitchen, she said, mostly from families.
"It makes you cry. It really does," she said. "What we see is them coming together, sitting like it's a family meal. They stick together."
Ami Manning, a case manager with SVDP, said she voted out of loyalty for the STCU Portuguese bean soup, a Hawaiian staple. She showed off the free Hawaiian bread she received with a laugh.
This kind of event is needed, Manning said, as demand at the HELP center has swelled.
"Dirne (Health Center) says there are 1,500 unhoused folks, and 2,000 homeless (in Kootenai County)," she said. "It seems like a pretty big gap in folks who are unhoused and what we need to do."
Tisha Whatcott, taking in slow sips of tortilla soup, said it was a great way to have lunch.
"You can't just sit at home and feed your face. You have to remember there are people less fortunate than you," she said. "It's always surprising to find there are so many people in need."
Recent Headlines
---