Controlled chaos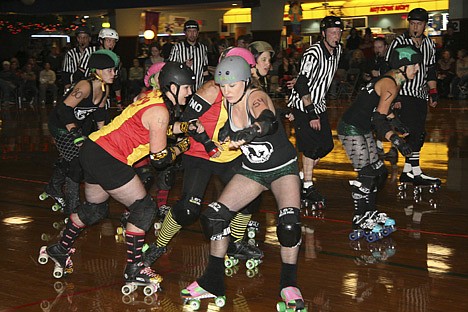 <p>Tamara Erikson (No. 54) of the Venomous Vixens tangles with two skaters from the Tri Cities High Desert Darlins on Sunday night at the Skate Plaza. The roller derby bout attracted a large crowd.</p>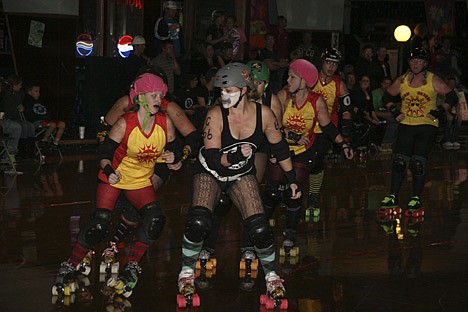 <p>Kristie Blair, center, captain of the Venomous Vixens of the Snake Pit Derby Dames roller derby league, battles the Tri Cities High Desert Darlins during Sunday night's bout at the Skate Plaza in Coeur d'Alene. Forty skaters participate in the Snake Pit, and all-female league that continues to grow.</p>
Previous
Next
by
Nick Rotunno
|
November 19, 2010 8:00 PM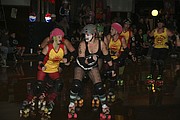 COEUR d'ALENE - There is nothing subtle about roller derby.
The outfits are outlandish, the monikers are politically incorrect, the competition is violent and gladiatorial. Rolling on quad skates around a tight-cornered track, players jostle, block and collide, throwing hip checks and dropping shoulders.
Injuries are commonplace; bumps and bruises are badges of the trade.
"It's a good aggression outlet," said Tamara Erikson of Coeur d'Alene, whose derby nickname is High Rolla. "We can be best friends, and go out and beat each other up, and go out for drinks afterward."
Erikson skates for the Venomous Vixens, the top team in the Snake Pit Derby Dames. Based at the Skate Plaza on Pioneer Drive, the Snake Pit is an all-female, flat track roller derby league that attracts skaters from across North Idaho.
The league got rolling last winter and already boasts 40 participants. Skaters vary in age from late teens to late 40s.
"It's the only aggressive team sport for women, ever," said Jada Bellrose, also known as Pippi Headstomping, a swift-skating Vixen, league representative and head of promotions. "There's a lot to be said of the camaraderie. We have an amazing group of women. And it's a great workout. Your butt will literally lift an inch, over time."
Sporting pigtails, black shorts and fishnet tights, Bellrose skated Sunday night alongside her fellow Vixens. In the team's sixth and final bout (match) of the season, the Vixens faced the Tri Cities Desert Darlins at a packed Skate Plaza.
The action was swift and hard-hitting. Players flew around the track, dodging blows, ducking hits, low and lithe and leaning, like short-track speedskaters on a sheet of ice. Close to 300 spectators cheered from the sidelines.
To score points, two "jammers" - usually the teams' nimblest skaters - passed through a wall of "blockers" trying to impede their progress. The more blockers passed, the more points the jammers scored. Elbowing and fighting were illegal, but contact was most certainly allowed.
Seven referees patrolled the chaos.
"If you don't know what you're doing, you're gonna spend most of the night on your knees," said Kari Rettke (Eff Bomber) of Coeur d'Alene, who started roller derby this year. "It's a lot of footwork to get from one place to another on the track. I'm still learning that."
Roller derby is not for the faint of heart. The sport demands teamwork and dedication, explained Kristie Blair, alias Hooky Hellraiser, captain of the Venomous Vixens. As long as they're willing to work hard and come to practice, there's a place for everyone in the Snake Pit.
"It's not necessarily the fastest skater, or the hardest-hitting skater," Blair said. "In derby you need everything."
The sport is taking off, Bellrose said, and more skaters are always welcome. Practices are held at the Skate Plaza, where the girls work on their skating skills, perfect their hitting techniques - no elbows allowed, only shoulders, hips and backsides - and compete in intra-squad matches. The Vixens, the league's "A" squad, also battle roller derby teams from other regions.
Most of the Snake Pit skaters work day jobs, and many have families. Bellrose, for example, is a student at North Idaho College and a mother of two.
"The momentum is crazy," she said of the league's growth. "It's snowballed. We get new skaters every week. It's been amazing, considering how new we are. I love the fitness, and the friends. It's just amazing."
After two periods of virulent roller skating, the season's last bout concluded late Sunday night. The Vixens had prevailed, 208-142, much to the delight of the hometown crowd.
Both teams skated hard and put on a good show.
Dan Kenton watched the bout from the spectator area. It was his first roller derby experience.
"I love it, man," Kenton said. "I came up here to support one of the girls on the (Vixens). I really like it. It's honestly more adrenaline rush than I was thinking. It's way cooler than I thought it was."
The Snake Pit's next inter-squad bout will be next spring. For more information on roller derby in North Idaho, check out www.snakepitrollerderby.com. The league is always looking for new skaters.
Recent Headlines
---