Slaying of famed publicistbaffles police, Hollywood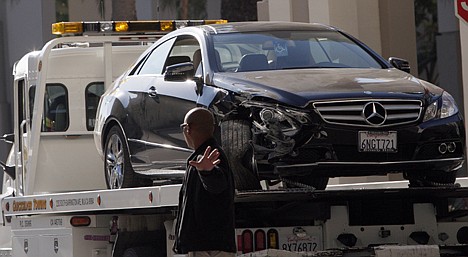 <p>A tow truck driver stands beside a damaged Mercedes E350 in which a woman, well-known Hollywood publicist Ronni Chasen, was shot several times in the chest and killed on Tuesday in Beverly Hills, Calif. A police statement says Chasen, 64, was shot several times at Sunset Boulevard and Whittier Drive. Her vehicle then crashed into a light pole.</p>
|
November 18, 2010 8:00 PM
BEVERLY HILLS, Calif. (AP) - It's the latest mystery to grip Hollywood. A prominent publicist and woman-about-town is killed, her body slumped in her Mercedes near Sunset Boulevard.
Was it an attempted carjacking? Or something more sinister. Maybe a hit?
As the tabloid press, mainstream newspapers and websites blared with headlines Wednesday about the shooting of Ronni Chasen, tight-lipped detectives roamed this bastion of the ultra-rich, hunting for witnesses - and the killer.
Her friends and colleagues wondered how the life of a woman who had spent her career rushing from red carpet to red carpet to charm the connected for her star clientele could have ended in such a violent way.
It was mind-boggling, they said, that anyone would want to see her dead.
"Just because somebody didn't win an Oscar?" asked Chasen's longtime friend, Oscar-nominated singer-songwriter Carol Connors. "I just can't see it being that. It seems so out of the realm.
"I mean, a publicist doesn't make that type of enemies," added Connors, who co-wrote the theme to the film "Rocky."
Police, however, were open to all possible motives, including a random attack, a carjacking gone awry or maybe even a hit.
"It's absolutely possible and it's something we won't discount," police Lt. Tony Lee said of the latter scenario.
Hours after the shooting, detectives seized computers from Chasen's West Hollywood firm, Chasen and Co. They wouldn't immediately say why. They also sought surveillance video and witnesses.
Investigators had yet to identify suspects or determine the motive in the killing.
Chasen, 64, was shot multiple times in the chest as she drove through Beverly Hills around 12:30 a.m. Tuesday.
Neighbors reported hearing gunfire and found Chasen's car crashed into a light pole on Whittier Drive, a street of multimillion-dollar homes just south of Sunset Boulevard, and a well-used shortcut to get to her home on the Westside of Los Angeles.
"It's just not an area where people get carjacked or anything like that," said Gina Hope, 40, an attorney who regularly walks through the neighborhood. "I've lived here like 10 years and you feel like nothing can ever happen to you."
Chasen was found in her car, struggling to breathe and bleeding from her nose and chest. The front passenger window was shattered. She was later pronounced dead at a hospital.
Hours earlier, Chasen was busy, in her usual way: She was attending the Hollywood premiere of "Burlesque," a movie meant to position pop singer Christina Aguilera for a career in films while reigniting the acting career of Cher.
Recent Headlines
---