Policy setbacks piling up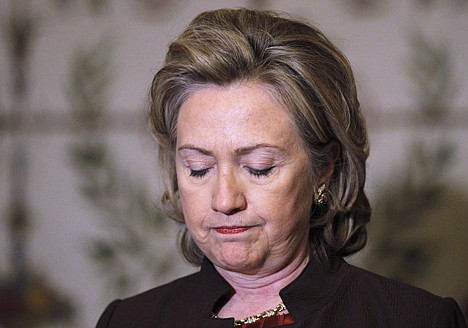 <p>Secretary of State Hillary Rodham Clinton pauses while talking about the START Treaty Wednesday on Capitol Hill in Washington.</p>
|
November 18, 2010 8:00 PM
WASHINGTON (AP) - Setbacks are piling up for President Barack Obama's foreign policy efforts as he struggles to salvage his signature nuclear weapons treaty with Russia and to keep Mideast peace talks alive.
The apparent collapse of the arms treaty because of political opposition in Washington follows the disappointments Obama suffered recently abroad. He returned from a tour of Asian democracies without a trophy trade agreement with South Korea, and he was unable to persuade other nations to join the U.S. in branding China as a currency manipulator.
On Wednesday, Secretary of State Hillary Rodham Clinton beseeched the Senate to ratify the treaty this year, saying delay was a threat to the nation's security. White House press secretary Robert Gibbs said he believes the New START deal will come up and be approved during the lame-duck session now under way.
The pact, a top foreign policy priority for Obama, would shrink the U.S. and Russian arsenals of strategic warheads and revive on-the-ground inspections that ceased when a previous treaty expired nearly a year ago.
"This is not an issue that can afford to be postponed," Clinton said after an unusual breakfast meeting with key members of Congress.
Vice President Joe Biden and Defense Secretary Robert Gates have been telling senators the same thing, and Russian officials have warned that failure to ratify the pact imperils the fragile effort to mend relations between Washington and Moscow.
All to little effect, at least so far.
A key Senate Republican, Jon Kyl of Arizona, stunned the administration by saying he does not want to vote on the treaty during the current session. Without the support of Kyl, a leading Republican voice on the treaty, Democrats have little hope of securing at least eight Republican votes - the minimum they would need for ratification in the current Senate.
The administration's hopes suffered another hit when Republican Sen. George Voinovich, an Ohio moderate who is retiring this year, expressed his reservations Wednesday.
Recent Headlines
---