No crossing this line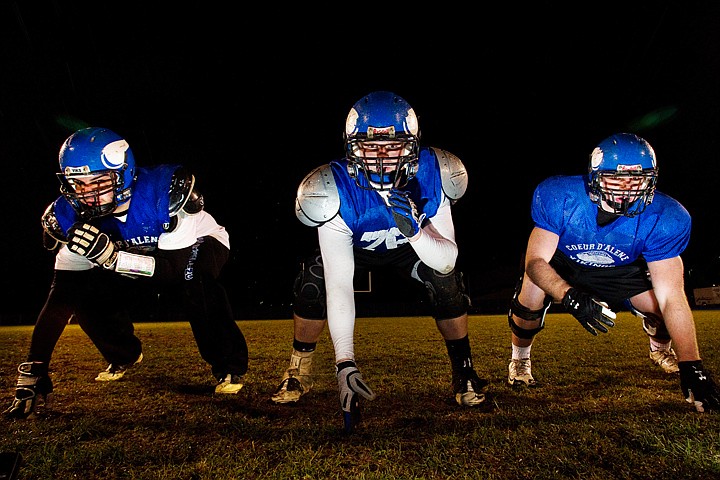 <p>The center core of the Coeur d'Alene Vikings offensive line are Drew Moreno, left, Thomas Tucker, and Shaun Duffy, right.</p>
by
JASON ELLIOTT
Sports Writer
|
November 18, 2010 8:00 PM
COEUR d'ALENE — In a season that has seen its share of wins and a couple losses, the Coeur d'Alene Viking football team has always remained together.
One group aiming for the same goal — winning a state 5A championship.
After cruising in their first two games, the Vikings were brought back to earth by a 36-34 loss at Skyview High of Vancouver, Wash., on Sept. 11.
"It could have been the loss at Skyview," senior left guard/right defensive end Shaun Duffy said. "That game proved we could play with anyone. It was our first close game of the year and we learned how to get through those close games."
"We started well in that game against Skyview," senior center Thomas Tucker said. "I don't think we were ready for a battle like that. After the game, we didn't like that feeling. We knew after that game we had to battle to get where we wanted to go."
Not only did the Vikings lose the game, but unknown at the time, they'd also lost two players close to the Viking family.
Upon arriving home from the game, players learned that former Coeur d'Alene High athletes Ryan Reinhardt and Devon Austin were killed in an auto accident near Twin Falls on Sept. 11. Reinhardt was on the football team last year.
"Things didn't get any better after hearing of that," Duffy said. "We had to lean on each other for support after that weekend. We all came together for them."
Coeur d'Alene takes aim at the state 5A championship on Friday, facing the Centennial Patriots at 7 p.m. at the Kibbie Dome in Moscow.
"We definitely want to win this for them," senior right guard Drew Moreno said. "There's a bit of extra motivation because we haven't won a state title in football since 1985. When they look back, we want them to talk about the 2010 team, also."
Coeur d'Alene runs a no-huddle offense, making preparation and focus key in the offensive gameplan.
"In the beginning of the season, we weren't used to it at all," Moreno said. "But we've become a better team by running it. There's a lot more focus and execution."
"It really makes it easier to catch the defense off guard," Tucker said.
"We've learned to be more aggressive running this kind of offense," Duffy said. "Going from last year, we had built some confidence we could get it done."
Offensive line coach Dustin Shafer praised the efforts of the linemen.
"Thomas, Shaun and Drew are very good football players for us and have been a big part of our success this season," Shafer said. "They are great leaders on and off the field."
During the course of the season, all three have been selected captain at least once.
"Our captains are decided on a week-to-week basis," Shafer said. "All three of them have been captains the past three weeks. They have worked really hard to become good offensive linemen. They study a lot of film with us and by themselves. For the most part, we know these guys are going to show up and battle for us in every game."
Duffy lost 40 pounds during the offseason in an attempt to get to 210 pounds for wrestling season.
"I'm moving around a lot better this year," Duffy said. "I had to drop the weight for wrestling. It's really helped with my movement."
"At the end of last season, we knew what we could do if we played to our potential," Moreno said. "We knew coming into this season we could play well as a group. We're definitely an experienced front."
Viking coach Shawn Amos hasn't seen this kind of group in his 16 seasons as a football coach.
"Never in my career have I had the three top leaders on our team be linemen," Amos said. "They are as tough and dedicated as any we have had come through our program. They have found a way to work at a very high level and have a lot of fun doing it. This team truly enjoys being together and is led by the example our line sets."
The trio was part of last year's state 5A championship wrestling team, although only Tucker competed at state due to injuries to Duffy and Moreno. Duffy was having surgery on his knee, while Moreno had an injured shoulder.
In the regular season finale, the Vikings needed a late score to defeat the Lake City Timberwolves at Viking Stadium on Oct. 29.
"A lot of that had to do with our gameplan," Tucker said. "We were trying to plan around their defense instead of just playing our game. We were worried more about what they were going to do on defense instead of us."
The following week, the Vikings defeated Lake City 45-13 to advance to the state semifinals.
"I think we were just more prepared for the second game," Duffy said.
"There was definitely a lot more focus in the second week," Moreno said.
Centennial has won five straight entering the title game, including a 35-33 win over Rocky Mountain in a semifinal game last Friday. Coeur d'Alene defeated Rocky Mountain 34-22 at Viking Stadium on Oct. 1.
"They're a ground-and-pound kind of team," Duffy said of Centennial. "They're definitely a good team."
"Defensively, they like to do the same things we do," Tucker said. "A lot of people think that because we beat Capital last week that we've got this game. That's not the case; we've still got to play a great game this week."
The trio also praised the efforts of Shafer and defensive line coach Corey Brown for getting them to the title game.
"We've got some really good coaches," Duffy said. "We wouldn't be here today if it wasn't for them. They're never satisfied."
Win or lose, the players have been proud of their accomplishments to this point.
"We've faced adversity really well," Duffy said. "Through Ryan and Devon's death, we've grown stronger as a group."
"With some teams, it's easy to just roll over after having adversity like this," Moreno said. "It could be a case for a lot of teams, but not us."
Recent Headlines
---