Zags hit early stumbling block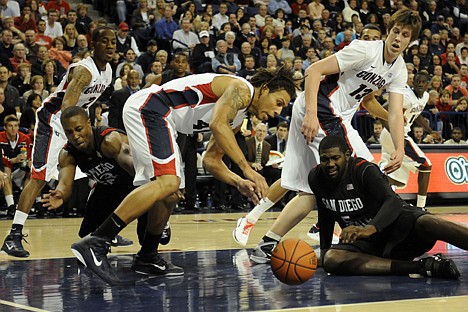 <p>Gonzaga's Steven Gray (41) scrambles to pick up a loose ball as teammate Marquise Arop (2), San Diego State's D.J. Gay, Gonzaga's Kelly Olynyk (13) and San Diego State's Brian Carwell (5) surround the play Tuesday night at Spokane.</p>
by
Nicholas K. Geranios
|
November 17, 2010 8:00 PM
SPOKANE - Billy White scored a career-high 30 points and No. 25 San Diego State beat No. 11 Gonzaga 79-76 on Tuesday night, dealing the Zags their fifth home loss at the McCarthey Athletic Center since it opened in 2004.
Kawhi Leonard added 18 points for San Diego State (2-0), which is ranked in the AP Top 25 for the first time in school history.
Steven Gray scored a career-high 35 points for Gonzaga (2-1), which had not lost at home since early last season when they fell to Wake Forest. Gray scored 14 of the Bulldogs' final 15 points, but turned the ball over in the closing seconds.
The Aztecs used a strong inside game to score and good defense to harass Gonzaga into bad shots much of the game. The Bulldogs made just 5 of 18 3-pointers.
Trailing by five at halftime, Gonzaga scored the first seven points of the second half and Elias Harris converted a three-point play for a 44-42 lead.
White's 3-pointer put the Aztecs ahead 48-45. The teams traded baskets, and White made five consecutive baskets to give the Aztecs a 66-59 lead.
After Gray's two free throws cut San Diego State's lead to 69-67, White scored consecutive baskets and Leonard added a third as the Aztecs built a 75-67 lead with 3:53 left.
Gray outscored the Aztecs 6-2 to cut their lead to 77-73 with 1:43 left. Kelly Olynyk's free throw a few seconds later pulled Gonzaga within 77-74.
The Aztecs missed several shots but grabbed the rebounds and kept the ball until Michael Thomas was called for a charge with 38 seconds left.
Gray's layup pulled Gonzaga within 77-76 with 23 seconds left.
Leonard was fouled on the inbounds play and made both free throws for a 79-76 Aztecs lead with 22 seconds left.
Gray brought the ball up the court, but it was batted away and recovered by a San Diego State player. Gray's long 3-pointer at the buzzer missed.
In the first half, Leonard put back a rebound for a 30-20 lead, as Gonzaga made just 6 of its first 18 shots. Gray's 3-pointer and layup sparked a 9-4 run that brought Gonzaga within 34-29 with 4:10 left. San Diego State led 42-37 at halftime.
San Diego State coach Steve Fisher is 200-149 in 12 seasons with the Aztecs.
This is only the second time the schools have played. The first was a Gonzaga victory in 1959.
Gonzaga is 77-5 in the McCarthey Athletic Center since 2004.
Recent Headlines
---