Radcliffe, Watson share torrid 'Harry Potter' kiss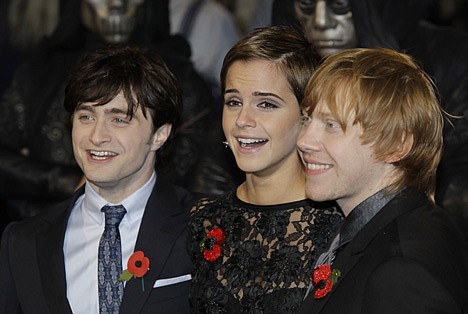 <p>From left to right, British actors Daniel Radcliffe, Emma Watson and Rupert Grint pose for the photographers as they attend the world premiere of their latest film' Harry Potter and The Deathly Hallows', at a cinema in central London, Thursday, Nov. 11, 2010.</p>
LONDON - Daniel Radcliffe was expecting a tender embrace when it came time to kiss co-star Emma Watson in the new "Harry Potter" film. What he got was torrid necking, Watson working magic with her lips "like an animal," he said.
"I thought it was going to be like a soft, sensual sort of moment, and it was this very vigorous kissing scene," said Radcliffe, reprising the title role in "Harry Potter and the Deathly Hallows: Part 1," the second-to-last of the big-screen adventures about the teen wizard, which opens Friday.
"She really went for it, I have to say. It caught me slightly off guard, but yeah, I'm not complaining. Many men would lose a limb to be in that position, so I was absolutely fine with it," Radcliffe said in an interview.
Opening worldwide this week, the film casts Harry and best pals Hermione Granger (Watson) and Ron Weasley (Rupert Grint) out into the world to fend for themselves, and the journey puts severe strain on their friendship.
Under the spell of an artifact containing part of evil nemesis Voldemort's soul, Ron is sent into a jealous rage by a vision of Hermione, the girl he loves, and Harry taunting him as a third wheel in their relationship. Hermione and Harry then turn to each other and do some kissing that looks positively bestial.
"That was mainly Emma, I have to say," said director David Yates.
The first take was too tame, and Yates said he told the actors it needed to be more "pagan and mad." That's when Watson really delivered.
"I guess I just realized that I would have fewer takes to do if I just got on with it and just gave David what he wanted, which was a passionate kiss. Which was something that would really rock Ron's boat and really be quite painful and nasty for him to watch," Watson said.
Grint shot Ron's raging reactions alone, without Watson and Radcliffe on set. But he was on hand for Watson and Radcliffe's portions, though he was struck by a case of the giggles watching the colleagues he grew up with in the "Harry Potter" franchise getting down and dirty.
"When they were there actually filming that kiss, they did actually want me there to kind of play off something, but I just found that too funny," Grint said. "Emma sent me out because I kept laughing. It just looked really strange."
Though they were partly clothed, the scene leaves the impression that Radcliffe and Watson are stripped naked. Both wore jeans, while Radcliffe went shirtless and Watson had the front of her torso covered, leaving her back and shoulders bare.
"I didn't want to put them through complete nudity," Yates said. "I didn't think it was necessary, because we were going to put some smoke around them" for the scene, which Ron witnesses through a hallucinatory fog.
Watson was thrilled that the scene delivered the sort of amorousness the filmmakers wanted.
"I'm proud of it, and considering how bloody awkward it was, I'm really impressed that we managed to make it look anything other than awkward," Watson said. "Because Dan and I are like brother and sister, so it was tough making it look passionate, believe me."
Recent Headlines
---