Flock of frozen birds lands today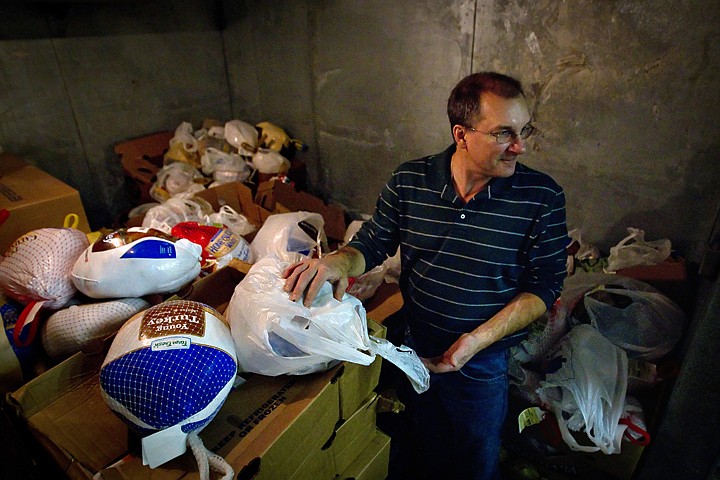 <p>Kelly Chadderdon, a warehouseman at the Community Action Partnership food bank, discusses the need for more turkeys to feed the estimated 2,500 families who will seek Thanksgiving meals from the food bank beginning today.</p>
by
David Cole
|
November 17, 2010 8:00 PM
COEUR d'ALENE - The Coeur d'Alene food bank's paltry poultry supply just got a major infusion of frozen birds.
The Windermere Foundation will have 455 turkeys dropped off first thing today at the Community Action Partnership food bank.
"But we still have a huge need," said Midge Smock, foundation spokeswoman.
The food bank has accounted for about 800 to 900 of the 2,500 turkeys that are needed to meet demand for Thanksgiving baskets that will be handed out by the food bank, she said. The more than 450 turkeys cost about $3,900.
She said the foundation will continue buying turkeys through the next couple days.
"It's tough times right now, but it's going to happen," Smock said. "People are going to get those turkeys."
Meanwhile, the Kroc Center donated 150 Thanksgiving meal bags to the food bank. The bags will be handed out with the turkeys for the next few days. The bags are filled with dressing, gravy, veggies and other food items.
"We're going to reserve these (bags) for really large families," said Carolyn Shewfelt, food bank manager.
The Kroc Center bags have enough Thanksgiving bounty for families of six to 10 people, Shewfelt said.
"They're really nice," she said.
The food bank has put together another 300 bags with all the fixings.
Today, families begin picking up the Thanksgiving turkey dinners at the food bank, at 4144 W. Industrial Loop. The pickups will continue through Friday, between 9 a.m. and 3 p.m., Shewfelt said.
She said the food bank doesn't have money to purchase the remaining turkeys that are needed to fill the 2,500-plus orders. She said people can donate through Friday.
"It's great watching the community come together to support their neighbors," Shewfelt said. "We are living in a great community."
Businesses also have been really coming through, she said.
"We've been getting really good donations from the grocers," she said.
The food bank has been super busy, even before the Thanksgiving rush, she said.
The food bank served nearly 1,000 more individuals per month this year compared with 2008. The food bank handed out 103,000 pounds of food in October, compared with more than 84,000 pounds in October 2009, she said.
"There's a lot of workers with reduced hours or who have lost their jobs in this economy," she said.
The turkeys can be dropped off at Community Action Partnership.
Information: (208) 664-8757
The Windermere Foundation is at 1000 Northwest Blvd.
Midge Smock can be reached at: midge@cdarealty.com
Recent Headlines
---