Elk hunters discuss encounter with wolf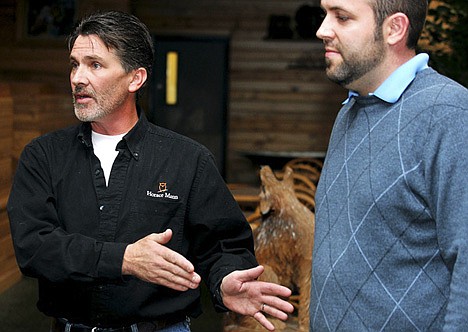 <p>Mark Appleby, left, talks about Raymond Pitman (right) and his encounter with a pack of wolves after they were trying to pack out an elk they shot in the South Fork River Drainage last week.</p>
by
Jim Mann
|
November 17, 2010 8:00 PM
Two Flathead Valley men who were retrieving an elk in the South Fork Flathead drainage say they ended up fending off a pack of aggressive wolves recently.
They were forced to leave behind the elk, and they ended up killing one wolf, resulting in an investigation because wolves are still protected under the Endangered Species Act.
Mark Appleby, a 49-year-old hunter from Columbia Falls, shot the 6-point bull elk the day before, on Oct. 29, off the Deep Creek Road east of Hungry Horse Reservoir. He quartered the animal and hiked out with the head with the intent of returning to pack out the meat with horses the next day.
Whitefish resident Raymond Pitman, 27, volunteered to help. The two men held a press conference Thursday in Kalispell to tell their story, with legislators and several reporters attending.
They rode in about two hours from their truck and carefully approached the downed elk, knowing there could be bears or wolves in the area. There was only a coyote track, so they had lunch and started rigging the horses up to pack out the meat.
After they had been in the area for about an hour, the horses started to spook, their attention focused on a nearby hillside.
"The horses started freaking out," said Pitman, who first saw a group of wolves approaching no more than 30 to 40 yards away. Appleby saw them soon after.
"There were seven or eight of them and they were running at us at full stride at first," said Appleby, who dashed toward the wolves to get his rifle.
"I was about halfway there and I heard Raymond shoot with his .44 mag," Appleby wrote in his statement to Montana Fish, Wildlife and Parks. "When I reached my gun, I picked it up and the wolves stopped. I pointed my gun at them at about the same time they started to run at us again. At that time, I feared for my life and the horses and my friend and I started to shoot."
Appleby fired several rounds at the wolves, which then retreated back up the timbered hillside.
"On this one, there was no time to think," said Appleby, who is convinced that his friend's pistol bought him the time to get to his rifle. "If he didn't have that .44 on his side, we wouldn't be talking to you."
But the wolves did not fully retreat, Pitman said.
One started howling, and the others joined in. The horses continued to panic, and were literally leading Appleby and Pitman away from the area.
"It was a mess, an absolute mess," said Appleby, adding that his stirred-up horse was beating him up as he tried to control it.
The wolves continued to push the two men and their horses, pursuing but staying mostly out of sight.
"I'm getting mad talking about it," said Appleby, who was in disbelief that he was forced to abandon his meat. "I said I can't believe we're hauling the horses out empty."
"The only reason they quit following us is that I was shooting at them," Pitman said.
Montana Fish, Wildlife and Parks Warden Perry Brown returned to the site with Appleby and Pitman on Monday, and determined that the wolves had followed the group for about 200 yards away from the elk.
"Perry went back with them and he found a dead wolf and multiple tracks at the site that indicated wolves had been present," said Jim Satterfield, Montana Fish, Wildlife and Parks regional supervisor.
The elk meat had been fed on by wolves that are believed to be part of the Firefighter Pack, and at some point, a grizzly bear got in on the kill and buried the remains. Brown would not approach the dirt mound out of concern that the bear was still in the immediate area.
It was not the first time a hunter has been intimidated by wolves.
Last year, an animal warden with the Flathead County Sheriff's Office shot an elk in the Darby area and had to hike around a ravine to reach his kill. By the time he got there, wolves were already on the elk, and he feared approaching them.
Recent Headlines
---