Black Sheep Warehouse needs new location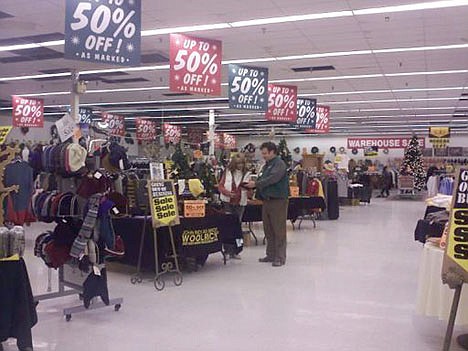 <p>Black Sheep Warehouse's liquidation sale has generated a lot of activity for the sporting goods retailer.</p>
by
Cameron Rasmusson
|
November 17, 2010 8:00 PM
PONDERAY - With the loss of the old Kmart building, Black Sheep Warehouse is moving on to greener - or at least more available - pastures.
The sporting goods retailer lost its lease on the facility, owned by GVD Commercial Properties, after another unnamed business offered to rent the building on a long-term basis. Black Sheep Warehouse owner Dave Knoll decided not to offer to upgrade to a long-term lease himself, a move that he said could increase his rent five times over.
"We've been looking around for another building, but there's just nothing that can accommodate our business in Sandpoint or Bonner County," Knoll said. "So we're probably going to have to look outside the community."
Black Sheep Warehouse received the notice that its lease agreement wasn't being renewed last month. The management had 30 days to liquidate and clear the warehouse, a timetable that placed their official closure before Thanksgiving. Knoll said he wished he had until Christmas to manage the liquidation process but understands GVD's position.
"They're operating under their legal rights," he said. "But it's still a lot of work to do in only 30 days."
To handle the difficult time frame, Black Sheep Warehouse is in the process of extensive liquidation sales. The merchandise prices, including winter and summer clothing, footwear, sporting goods, and fishing and camping gear, have been slashed significantly in an effort to clear out as much of the store's 85,000 square feet of inventory as possible.
Knoll said that so far, the liquidation sale has been a great success. The combination of solid local turnout with a surprising amount of business from Canadian visitors has helped Black Sheep Warehouse's management move a significant amount of merchandise.
"In my 35 years in retail, this is the best turnout I've ever seen for a sale," Knoll said. "We've had more sales in one week than in the entire year."
As for the identity of the new business setting up shop in the old Kmart building, Knoll was initially forced to speculate. He said the incoming business hadn't announced itself, but he had his guesses.
"Some people have suggested that it might be a mini Costco," Knoll said. "I'm speculating that it's a Big R, since this is the kind of facility they'd use and they've applied for a business license."
A representative of Big R informed the Bonner County Daily Bee that they would indeed be occupying the old Kmart building.
As for the future of Black Sheep Warehouse, Knoll said he might focus on supporting the Coeur d'Alene outlet while searching for a facility and said he has enjoyed Black Sheep's run in the old Kmart building.
"We've had a great time here," he said. "It's a shame to have to leave."
Recent Headlines
---