Anonymous donor gives $5,900 to Post Falls schools for four AEDs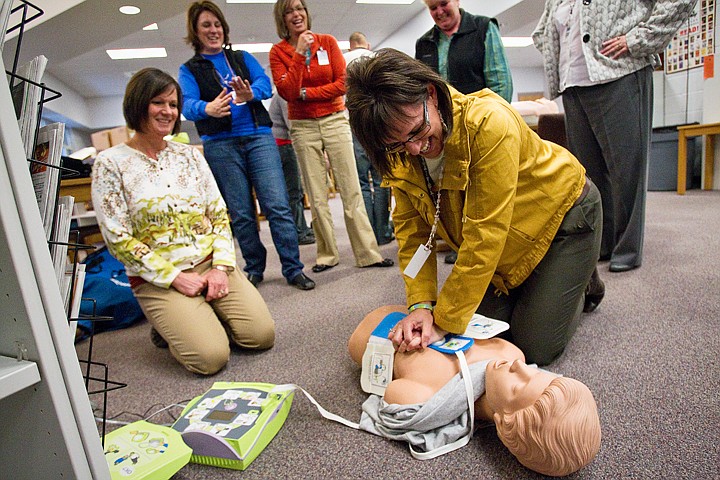 <p>Lori Wilhelm, secretary for Post Falls Middle School, performs compressions on a CPR dummy as Julie Billetz, principal at Frederick Post Elementary, waits for instruction from an automated external defibrillator Tuesday during a training session given by Ryan Asher, engineer and paramedic for Kootenai County Fire and Rescue. Asher lead an effort to raise $6,000 for four AED's for the school district.</p>
by
Brian Walker
|
November 17, 2010 8:00 PM
POST FALLS - Christmas has arrived early for the Post Falls School District.
And the presents even save lives.
The secret elf, an anonymous Post Falls man, donated $5,900 to buy the district four automated external defibrillators (AEDs) in case of cardiac emergencies.
The gift was secured by Kootenai County Fire and Rescue with special pricing offered by ZOLL Medical.
"These aren't just for students," said Ryan Asher, KCFR's paramedic/engineer who offered school staff training on Tuesday and helped land the donation. "They're for anybody who walks the halls - staff, parents, vendors ...
"What I'd like to see happen from this is that we get at least one for every school in the district. These are the same devices that are on our ambulances."
Two of the new AEDs will go to River City Middle School, one to Post Falls Middle School and one to New Vision High School.
School Superintendent Jerry Keane called the donation "fantastic."
The district has had two at Post Falls High and one on loan at River City.
Donations for existing AEDs came from KCFR employees and Commissioners Rich Nordstrom and the late Jack Knox.
Asher said the AEDs are being distributed to secondary schools first due to more sporting events at those sites, but the devices are needed at all schools and other places where a lot of people congregate.
"We know that minutes count for cardiac patients," said KCFR's Samantha Babich. "Though we are prohibited from spending fire district funds on this program, we can be the collection point for donations and we can use our buying position to get discounts that schools can not."
KCFR still has about $300 left over that can be used toward a future AED purchase.
ZOLL offered the four newest AEDs for $1,295 each; they normally sell for $1,995.
"We have a good (business) relationship with KCFR and when they said these were for the school district, I thought, 'Let's do something special if we can, so I took it up with our chain of command,'" said Jon Erickson, a ZOLL salesman.
In addition to providing the AED training, KCFR will service the devices.
Asher said multiple local cardiac cases in public places have increased awareness about the need for AEDs.
About two years ago, a Post Falls middle school student died outside his school. An AED was used to help save the life of a Knudtsen Chevrolet salesman last year at the business.
KCFR accepts donations for AEDs in schools at its administration office at 5271 E. Seltice Way in Post Falls next to the Idaho National Guard armory. For more information on the program, call 676-8739.
Recent Headlines
---