Temporary demand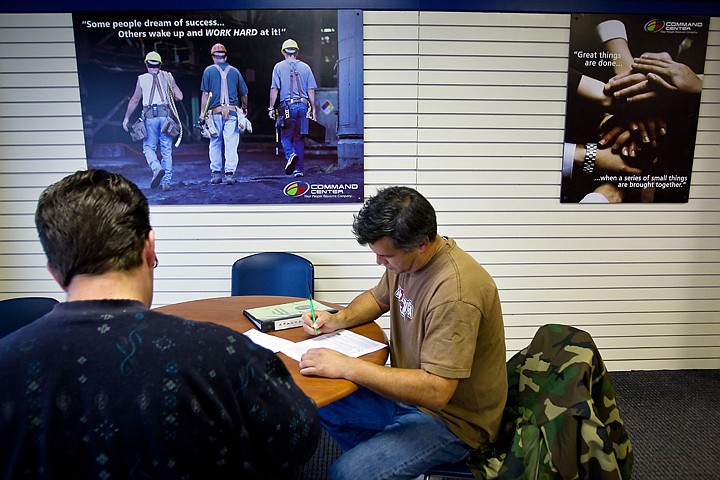 <p>Todd Beason fills out employment forms Monday at the Command Center office in Coeur d'Alene.</p>
by
David Cole
|
November 16, 2010 8:00 PM
POST FALLS - Command Center Inc., a Post Falls-based temporary staffing agency, expects its revenues to continue climbing as the number of workers applying for temporary employment opportunities increases.
Command Center chairman and CEO Glenn Welstad said businesses remain reluctant to hire permanent full-time employees given some economic uncertainty, creating more need for services provided by temporary staffing and labor agencies. The trend has meant significant increases in revenues in recent months for Command Center.
The company reported revenue of $6.07 million for a four-week period in October, which was a jump of 34 percent from the $4.52 million in the year-earlier month.
That followed revenue of nearly $20 million for the third quarter, 13-week period, ending Sept. 24. That revenue amount was up 50 percent compared with the year-earlier period. Net income for the most recent completed quarter was $1 million.
"We now have a solid base of high-performing stores, and soon we will begin to open new stores to further boost sales and profitability," said Welstad. "Due to favorable economic conditions, we plan to look closely at opportunities for acquiring smaller temp staffing firms whose operations mesh well with our business model and philosophy."
About a month ago, Command Center hired chief financial officer Jeff Mitchell, who has experience overseeing mergers and acquisitions in the temporary labor sector.
Mitchell, 44, had served since September 2005 as the CFO of Select Staffing, a staffing company based in Santa Barbara, Calif.
Command Center provides companies with temporary workers for materials handling, transportation, warehousing and construction.
It employs nearly 170 people for its own operations, including 25 in the Coeur d'Alene-Post Falls area. Its home office is at 3773 W. Fifth Ave., in Post Falls. It has more than 50 branch offices in 21 states.
The company just opened a new office in Orlando. It is preparing to open a new one in West Chester, Penn., which would plant the company's flag in its 22nd state. The company also is making plans for a new office in New Orleans.
"All of these are being opened because of client demand," Welstad said.
The company's growth in 2010 has been boosted by increases in disaster relief work, event and hospitality services and what it calls "national account activity," where the company deploys workers to multiple locations for a single customer.
Welstad said he expects demand for temporary workers to continue increasing in multiple states.
The states where the company is seeing its most rapid growth are Minnesota, Virginia, Oklahoma, Maryland and Texas, he said.
Recent Headlines
---