'It's not their choice'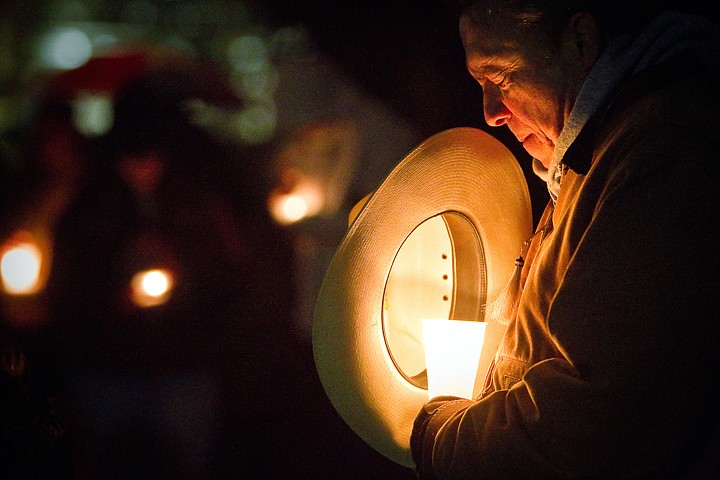 <p>Dick Mott bows his head and uses his cowboy hat to shield a candle from the wind during the opening prayer for a candlelight vigil for the homeless Monday at Independence Point in downtown Coeur d'Alene.</p>
by
Tom Hasslinger
|
November 16, 2010 8:00 PM
COEUR d'ALENE - In a light drizzle, candles glowed at Independence Point on Monday night.
Homelessness isn't a choice, but a problem that hits all walks of life.
Monday's candlelight vigil was a reminder of that.
"It tends to be a topic that gets swept under the rug," said Matt Hutchinson, social service director for St. Vincent de Paul, hosting the gathering for the third year as part of Homelessness and Hunger Awareness Week. "But it's not their choice."
Around 30 residents braved the cold to express compassion and pay respect for those who have nowhere else to go, as well as the ones who have climbed back on their feet after having nothing.
"Every year I see more people show up," said Laurinda O'Dell, who used St. Vincent's transitional housing and case managers to live in Coeur d'Alene after her husband found work in town following a four month layoff that got them behind on bills and nearly on the street.
"It shows me the community is aware and they're concerned," she said. "This was a real thrill for me."
But there are more people like the O'Dells who need the help. The nonprofit's H.E.L.P center provided services for nearly 3,000 different people in its first year of operation last year. People, who feel "blackballed, helpless, and hopeless" as O'Dell did during her economic struggle raising her family during the time.
"Like nobody wanted me," she said.
The vigil was one of the first events for the awareness week, now celebrating its 15th year with St. Vincent. It runs through Friday, with a Soup-ort the End of Homelessness soup lunch from 11:30 a.m. to 1:30 p.m. Thursday at St. Pius X Catholic Church.
"It's grown exponentially every year since I've been involved," Hutchinson said of the need to help more and more people falling through the cracks, both locally and nationally. "The numbers are significant."
The nonprofit will be opening its warming shelter, with sleeping bags and blankets, when temperatures are predicted to fall below 20 degrees between November and Feb. 28. The nonprofit Fresh Start, at 16th and Sherman, will do the same.
Around a quarter of the national homeless numbers are veterans of the armed services.
The vigil began with an opening prayer, and included success stories like the O'Dells. The message was that offering assistance helps, one person at a time.
"There was nowhere else to go," said Dallas Johnson, who, with his three children and their mom lost their home around a year ago before landing on his feet with St. Vincent's help. "The biggest thing for me is it allowed us to focus on the dreams we had when we were younger.
Recent Headlines
---