It's big business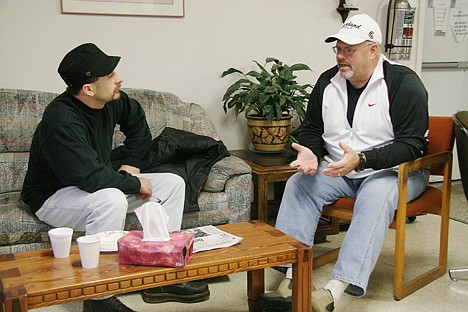 <p>Tony Bartolo, left, visits with volunteer Brian Burkhalter of Lake City Community Church on Saturday at the Fresh Start drop-in center in Coeur d'Alene. Every year, thousands of homeless receive hot meals, take showers and wash laundry at the center.</p>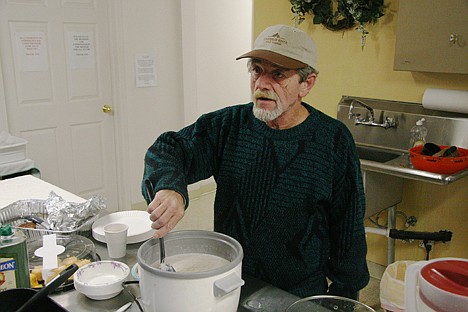 <p>Fresh Start volunteer Charles Harris stirs a pot of oatmeal on Saturday morning. The Fresh Start center will offer services to 20,000 homeless men, women and children this year.</p>
Previous
Next
by
BILL BULEY & Nick Rotunno
Staff Writer
|
November 15, 2010 8:00 PM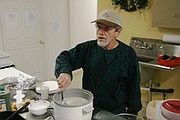 COEUR d'ALENE — Twenty thousand.
That's how many homeless men, women and children will visit the Fresh Start drop-in center this year — double the amount from 2009.
"This thing has gotten so big. We were this little place down the street. Now, it's a big business," said Lynn Tarbox, vice president of the nonprofit at 16th and Sherman.
The center, open 7:30 to noon Monday through Saturday, provides a place where homeless can receive food, clothes, even sleeping bags and tents. It's also where they can do laundry, take a shower, use the Internet and make phone calls.
"They really cater to a lot of people," said 53-year-old John Cowall of Coeur d'Alene, who was at Fresh Start on Saturday morning. "And they really have nice equipment for them all to use. And they're always, always doing more things."
Fresh Start is working on plans for a new outdoor patio, Cowall said, where people can relax in comfort, eat a hot meal or smoke a cigarette.
"I have nothing but positive things to say about (Fresh Start)," he added.
But providing all that assistance, along with rent, utilities and other bills, is quickly adding up, financially and physically. At one point, Fresh Start had a six-month cushion for monthly expenses.
It's gone.
"We budgeted for $60,000 this year and will spend more than $75,000," Tarbox said. "That we had no anticipation of doing whatsoever. So that was a big surprise."
Fresh Start, founded in 2002, operates on donations and grants, and is launching a campaign to raise money and awareness of the rising need for its services. Officials say with winter weather setting in, Fresh Start will face more challenges as it will open on nights when the temperature drops below 20 degrees.
"I fell on hard times, and I came down here from Sagle," explained Robert Reed, a 59-year-old artist. He was carrying a load of clothes to the laundry machines, lending a hand.
"Fresh Start's been here for me every morning," he said. "This has been a godsend. It just really got me back on my feet. Now I'm helping the people around me."
The center is good-sized, but it's fairly crowded on most days — especially when a warm breakfast is being served. People often congregate under a large tent behind the building.
"The demand is so great that we continually face shortages and we will substantially exceed our budget this year," wrote Father Pat Bell, Fresh Start president, in a letter.
He said Fresh Start has only two part-time employees, including executive director Howard Martinson, who is battling cancer.
"We really need a full-time guy to run the place, which could cost $40,000 to $60,000," Tarbox said. "And we don't have that."
As it stands, Fresh Start has two major needs: Cash donations and volunteers who could be there to answer questions, meet with clients and work center shifts to open and close the doors. A grant writer would also be wonderful, he said.
Tarbox, who has volunteered with Fresh Start for three years, said this year is their busiest, which isn't a good thing. While in years past many clients were repeats, now they're men, women and children he's never seen before.
"We're seeing lots of new people. That's what's different this year," he said.
For Rebecca Eberle, an 18-year-old from Coeur d'Alene, Fresh Start is a refuge. She can check her e-mail, make a phone call or grab a bite.
"It's just amazing, the things that they offer," Eberle said. "The people here are awesome. They're like a family. It's amazing to know that there's a safe place we can go in the morning and take a shower and eat."
To make a donation or volunteer at Fresh Start, call 667-9798, or stop by the center at 1524 E. Sherman Ave.
Recent Headlines
---