Vikings block that kick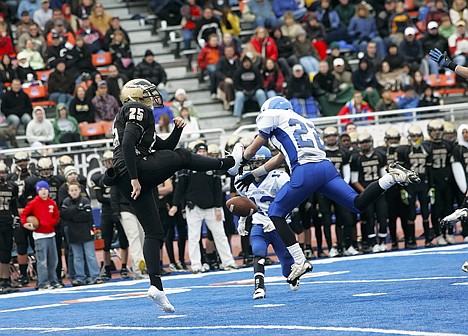 <p>Drew Turbin of Coeur d'Alene blocks a punt by Stephen Shaw of Capital late in the fourth quarter Saturday at Bronco Stadium. The block set up the Vikings' game-winning touchdown in the semifinals of the state 5A football playoffs.</p>
by
Jason Chatraw
|
November 14, 2010 8:00 PM
BOISE — With Coeur d'Alene High star running back Zach Keiser injured and junior quarterback Chad Chalich struggling against the Capital Eagles in the state 5A semifinal football game Saturday afternoon, the Vikings were trailing by three and desperate for a spark to save their season.
Enter Drew Turbin and his outstretched arms.
Turbin raced around the Capital line uncontested, nearly taking the ball off Capital punter Stephen Shaw's foot to block a punt with less than three minutes remaining and give the Vikings the ball at the Capital 21.
Six plays later, Chalich bulled his way into the end zone from 2 yards out with 29 seconds remaining to give the Vikings a 28-24 victory at Bronco Stadium and a berth into the state championship for the first time since 2004.
Top-ranked Coeur d'Alene (10-1) will take on fourth-ranked Centennial (9-2) on Friday at 7 p.m. at the Kibbie Dome in Moscow as the Vikings aim to win their first title since 1985.
"Zach started us off right, our defense played tough, and Chad (Chalich) got us into the end zone when we needed it," Turbin said. "It took a total team effort to win this game."
In the first half, it looked like Keiser might win it all by himself.
Keiser rushed for three touchdowns and 166 yards on 11 carries — in two quarters.
"Capital only put five or six guys in the box, and that usually means you will have some success on the ground," said Keiser, who finished with 176 yards rushing. "Our offensive line was really opening things up for us today."
Leading 14-6 behind a pair of touchdown runs of 40 and 35 yards from Keiser, the Vikings took advantage of their first blocked punt of the game to set up their third touchdown.
Coeur d'Alene recovered the ball at the Capital 15 and four plays later Keiser scored on a 5-yard plunge, pushing the Vikings' lead to 21-6 with 10:15 left in the first half.
But Capital (10-1) fought back to within 21-16 at halftime with a 38-yard touchdown pass from Riley Magner to Jordan Storrs and a 20-yard field goal from Shaw.
In the second half, Magner hit Storrs for a 16-yard scoring strike and gave Capital its first lead of the game at 22-21 with 8:52 left in the third quarter. Magner then converted the two-point conversion to make it 24-21.
Early in the fourth quarter, Capital was on the verge of increasing its lead before Coeur d'Alene turned to its defense for a big stop.
Capital drove 77 yards in 14 plays to the Coeur d'Alene 6 and faced a fourth-and-5 with just over nine minutes remaining. After missing one field goal earlier in the game, Capital opted to go for it.
On fourth down, Joe Roletto knifed through the Capital line and sacked Magner to end the drive.
On the Vikings' next play from scrimmage, Keiser suffered a concussion and never returned to the field.
However, led by Chalich, Coeur d'Alene responded with a 77-yard drive of its own, stalling out at the 10 with 4:53 remaining. Parker Wilson's 27-yard field goal attempt drifted wide left and left the Vikings down by three and needing a big stop to get the ball back.
But it did more than just get the ball back — it blocked its second punt of the day and recovered it at the Capital 21 to set up the game-winning score.
"We knew that Capital was going to tighten up the middle after we blocked that first punt," Turbin said. "So, that left me a little more room on the end to get through and block the kick."
While Coeur d'Alene has been in some tight games this season, its backs were firmly against the wall since the Vikings had only experienced success running the ball against Capital and Keiser was suddenly sidelined.
"It was hard (to watch)," Keiser said. "But Chad is one of our team leaders. He stepped up when we needed him."
Keiser said he expects to play in the title game, contingent upon him passing baseline concussion tests.
"I'm just excited we were able to win, and now I just need to do what I need to do to get ready for next week," Keiser said.
Fresh off a 326-yard passing performance against Lake City, Chalich struggled early through the air. He finished 13 of 28 passing for 133 yards with one interception. But Chalich's feet kept the Vikings in the game.
Chalich rushed for 76 yards — 44 coming in the fourth quarter — to pick up the slack in Keiser's absence.
"We were able to run more effectively than we planned," Coeur d'Alene coach Shawn Amos said. "When Zach went out, Chad did a good job of making some plays and giving us a chance to win the game."
Coeur d'Alene 14 7 0 7 — 28
Capital 6 10 8 0 — 24
Cd'A — Zach Keiser 35 run (Parker Wilson kick)
Cap — Michael Howard 27 pass from Riley Magner (kick failed)
Cd'A —Keiser 40 run (Wilson kick)
Cd'A — Keiser 5 run (Wilson kick)
Cap — Jordan Storrs 38 pass from Magner (Stephen Shaw kick)
Cap — FG Shaw 20
Cap — Storrs 16 pass from Magner (Magner run)
Cd'A — Chalich 2 run (Wilson kick)
INDIVIDUAL STATISTICS
RUSHING — Cd'A, Chalich 14-76, Colin Comack 2-8, Keiser 16-176, Martinez 1-22. Cap, Corey Bell 18-50, Michael Howard 4-14, Magner 19-91, Storrs 3-(-3).
PASSING —Cd'A, Chalich 13-28-1-133. Cap, Magner 19-24-0-269.
RECEIVING — Cd'A, Matt Lambert 1-7, Jake Matheson 2-45, Drew Turbin 9-70, Deon Watson 1-11. Cap, Bell 4-31, Brandon Foley 2-5, Howard 3-86, Cameron Needham 2-8, Storrs 6-103.
Recent Headlines
---