Obama promises vote on nuke pact due soon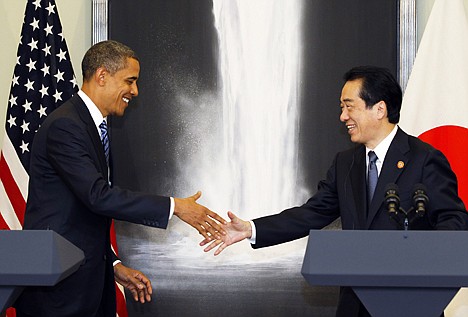 <p>President Barack Obama prepares to shake hands with Japanese Prime Minister Naoto Kan at the end of a joint news conference after their meeting on the sidelines of the APEC summit in Yokohama, Japan.</p>
by
Ben Feller
|
November 14, 2010 8:00 PM
YOKOHAMA, Japan - President Barack Obama, capping a far-flung Asian trip of mixed results, assured Russian President Dimitri Medvedev that getting the Senate to ratify the new START treaty is a "top priority" of his administration.
"I reiterated my commitment to getting the START treaty done during the lame-duck session," Obama said, noting that Congress returns next week for its postelection session.
In talks with Medvedev on the sidelines of the summit of the Asian-Pacific Economic Cooperation (APEC), Obama also reiterated his support for bringing Russia into the World Trade Organization, calling Russia "an excellent partner."
The START treaty, which has been pending in the Senate for months, has drawn resistance, principally from minority Republicans. A congressional aide briefed on White House plans for getting it ratified told The Associated Press this week that the White House was adding $4.1 billion in funding for the U.S. nuclear arsenal in an effort to pick up the necessary votes.
Asked during a picture-taking session about whether his administration was putting more money on the table for the nuclear program, Obama declined to answer.
He did say, on another matter, that he believes Medvedev is bringing about reforms in the former Soviet Union and is moving the country forward. He said he supports Medvedev's pursuit of membership in the World Trade Organization - a point the Russian leader reinforced as he and Obama appeared briefly before reporters and camera crews. Obama said he is "working closely" to achieve that end.
Both Obama and Medvedev touted a close working relationship and friendship. Obama extended thanks to Moscow for cooperation on Afghanistan and on a host of international issues ranging from the Middle East to Sudan.
Said Medvedev: "It has been very pleasant for me to have this meeting and discuss a whole range of bilateral and multilateral issues with my colleague. Indeed, we have a very good relationship. We understand each other very well. It's very important to attain agreement on a whole range of issues."
In Washington, a congressional aide briefed on White House plans for getting the START treaty ratified told The Associated Press that the administration was offering to add $4.1 billion in funding for the U.S. nuclear arsenal between 2012-2016. The aide, who spoke on condition of anonymity because he was not authorized to comment publicly, said the plan was outlined to Republican Sen. Jon Kyl of Arizona, who is seen as the key to winning enough votes to ratify the treaty.
The additional money would come on top of an additional $10 billion the administration had already agreed to over 10 years.
The administration is scrambling to get enough Republican support in the Senate to ratify the New START treaty before the Democrats' majority shrinks by six in January. In a sign of the urgency of the administration's pitch, government officials traveled to Kyl's home state of Arizona to brief him on the proposal, the aide said. Officials also briefed Republican Sen. Bob Corker of Tennessee.
"This is a huge increase," said Daryl Kimball, head of the private Arms Control Association. He noted that it is not certain that Congress will approve the funding, which will in any case have to be appropriated over time for each of the years in the proposal.
At the photo session with Medvedev, Obama said he looked forward to seeing him at a NATO summit in Portugal next week and said the pair has scheduled "a host of consultations so that we can reduce tensions and increase cooperation on various security matters in the European theater."
"Both he and I are racking up a lot of miles on our aircrafts these days," Obama said, "but there's a lot of work to do and I'm glad to have him as an excellent partner on a whole range of these issues."
Medvedev told reporters he wishes Obama "success" in reinvigorating the ailing U.S. economy, saying "the status of the U.S. economy quickly affects the general state of the international economy."
Recent Headlines
---