In the middle of the struggle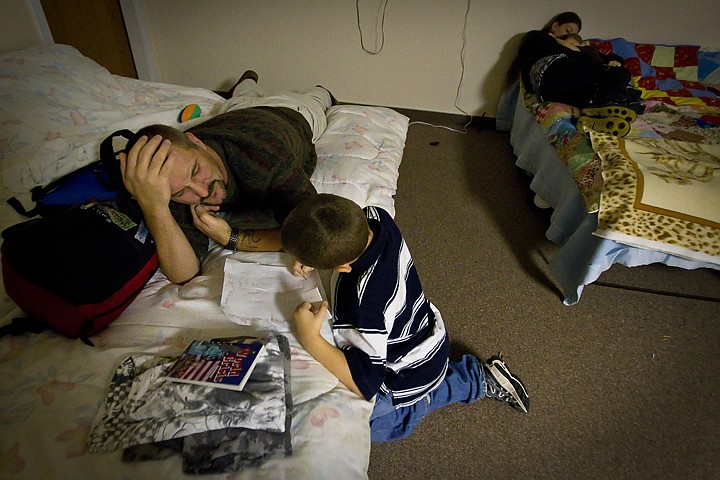 <p>Adam Achziger helps his son create a board game in their room Thursday at the Seventh-Day Adventist Church in Spirit Lake after returning from Coeur d'Alene on the Family Promise of North Idaho shuttle van.</p>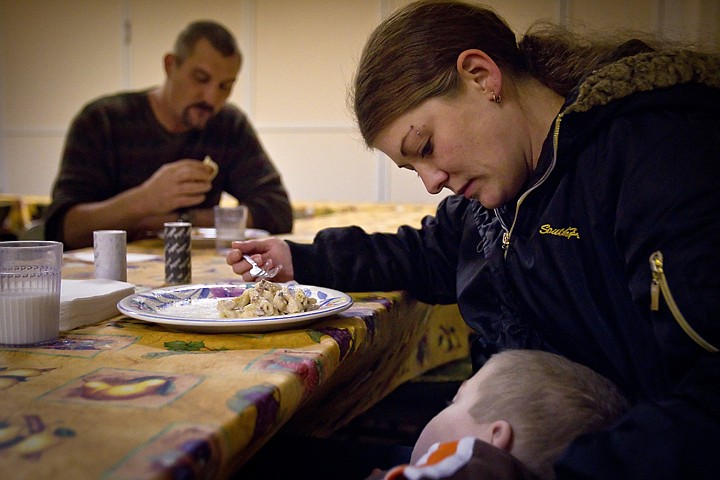 <p>Brandy Achziger sits down to enjoy a meal with her husband Adam as one of her two sons sleeps on her lap Thursday.</p>
Previous
Next
by
Tom Hasslinger
|
November 14, 2010 8:00 PM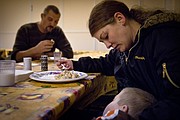 COEUR d'ALENE — When Adam Achziger lost his laptop computer, it seemed like the world was against him.
The 39-year-old father of two boys set the Vivo Via model on the sidewalk outside the Kroc Community Center on Halloween Sunday as he was loading his family into the van that would take them to the church where they slept.
They pulled away, realized what they forgot, and circled back 20 minutes later to find that it was gone.
"It's just a vicious cycle," Achziger said. In the computer's case were resumes the unemployed construction worker was passing out. "It gets frustrating — very, very frustrating."
Unemployed for two years, Achziger and his wife Brandy are one of 18 families Family Promise has taken in this year to provide a safe, secure environment homeless families can use to get back on their feet.
Achziger was referred to the nonprofit that caters to local families after he lost his home. Trying to find work is one thing, but trying to find it without a place to live and raise 8- and 5-year-old boys is another. Eleven churches around the area house the families for week stays, offering them privacy, Internet access, food, a shuttle van, a case manager, a phone and a steady address for mail or to put on resumes for up to 90 days.
"It offers them a respite of thought," said Cindy Wood, director. "It's having the ability to think about something else."
Demand for the center has increased. In its first year in 2008, it helped nine families, 13 in 2009 and 18 so far in 2010. Referrals have doubled in the last year from 15 to 30 a month. Families comprise a big part of the homeless population. And of the 29 kids who have stayed with Family Promise this year, 24 have been under 6 years old.
"It makes you feel you can't raise them right and I'm not giving them what they're worth and they deserve better," Achziger said on raising his boys since being without a home for the first time in his life. "But without Family Promise I don't know where this family would be."
Restoring confidence is a big part of the mission. For families who find themselves without a home, everything can seem daunting.
Like losing a computer.
Achziger reported the stolen computer to police and posted an Internet ad on Craigslist. He received a call from a person who provided a tip to police about it, and it was upgraded to a theft because Achziger's contact information was on copies of the resume.
"It'll get better," Achziger said, in the middle of his life's toughest test. "You have to stay positive. There are no other options."
Recent Headlines
---