Tree to be on TLC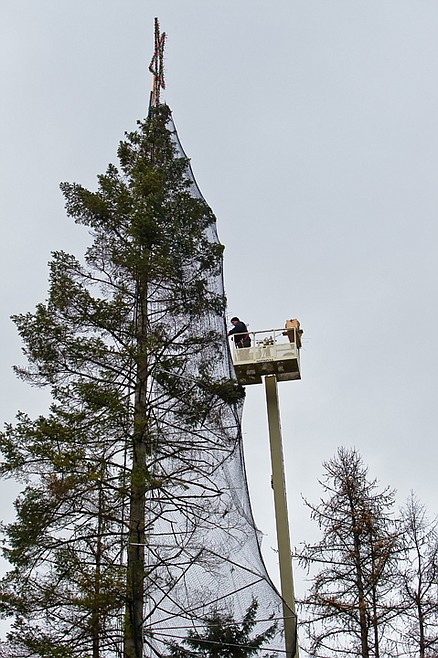 <p>John Eloe strings lights near the top of the 140-tree that will be the centerpiece of "The Journey to the North Pole" cruise.</p>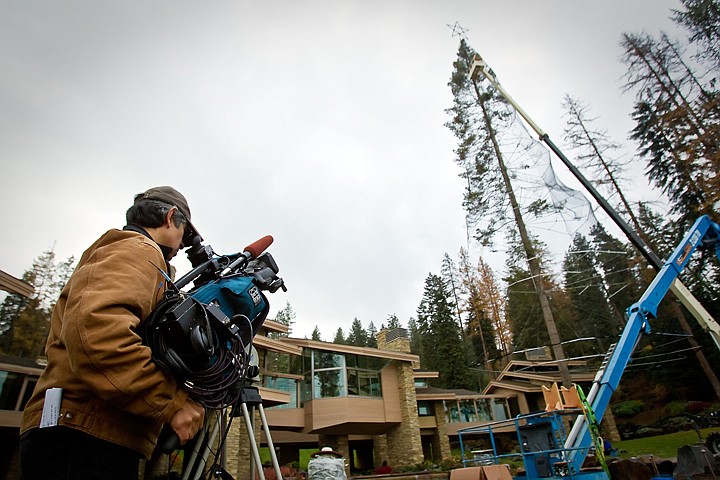 <p>David Sanchez films crews working from a crane as they begin to string the three miles of lights that will light up the World's Tallest Animated Tree which will be featured on TLC's show "Extreme Christmas Trees."</p>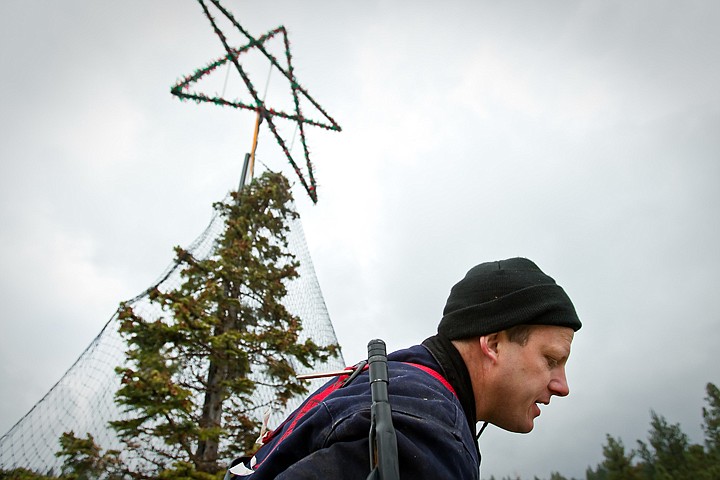 <p>John Eloe looks down to a crane operate Friday from more than 130 feet off the ground after checking the netting that supports the strands of lights for the World's Tallest Animated Tree that is the centerpiece of "The Journey to the North Pole" cruise.</p>
Previous
Next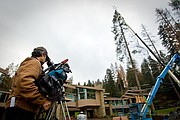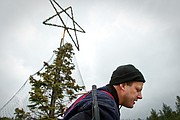 COEUR d'ALENE - The giant Christmas tree at Casco Bay on Lake Coeur d'Alene that's shown on the "Journey to the North Pole" cruise boat trips will make an appearance on the TV network TLC.
A TV camera was rolling Friday as some of the three miles of Christmas lights were being attached to the netting that surrounds the more than 140-foot tall grand fir. Along with the netting, the structure also includes wire and metal bracing.
Discovery Studios will be producing the show. That show typically features big-build projects that tackle difficult engineering feats, said David Kilmer, public relations director for Hagadone Group.
"The show intends to show the size of the (Christmas) tree and what it takes to light it up, and put the lights in sync with the music," Kilmer said.
The tree will be lit up for the Holiday Light Cruises, and the lights will "dance" to Christmas music on the boats. It's being touted as the "world's tallest animated Christmas tree," Kilmer said.
Lake Coeur d'Alene Cruises offers the Journey to the North Pole from Independence Point near The Coeur d'Alene Resort. Kilmer said the Christmas tree is one of the centerpieces of the trip.
The Journey to the North Pole starts Nov. 27 and runs through Jan. 2.
Project engineer Kyle Olivier, from Hagadone Hospitality, designed the structure that holds the lights. He said it will take more than a week to get all the lights and structure in place. Work to put the structure in place started late last week, he said.
Kilmer said the tree will have more than 40,000 lights along with a 10-foot star at the top. Two miles of electrical wiring connect the LED lights.
Project engineer Greg Seigel, who's working with Olivier, said 5,000 black zip ties will be used to secure parts of the lights, cable and netting in place.
He said they spent about two weeks in the shop getting the equipment and materials ready to build the structure around the tree.
Olivier said he spent about 25 hours designing the structure.
Kilmer said he didn't know when the tree would appear on TLC.
Recent Headlines
---