Deflated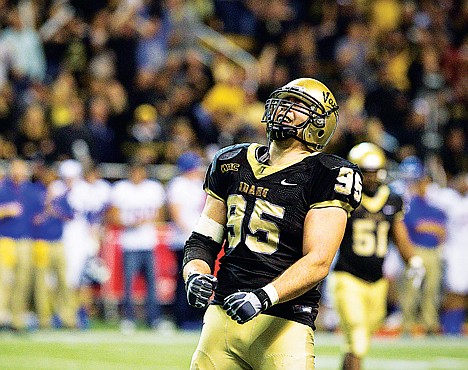 <p>University of Idaho's Aaron Lavarius shakes his fists in frustration after being called for a face mask Friday while sacking Boise State's quarterback in the second quarter of the Governor's Cup in Moscow. The Vandals gave up 80 yards in penalties, falling to the Broncos 52-14.</p>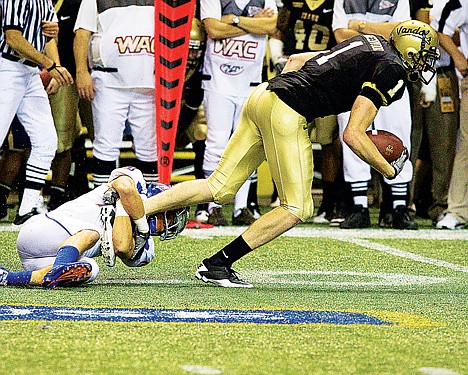 <p>Eric Greenwood, wide receiver for the University of Idaho, can't escape the grasp of Boise State University's Josh Borgman, yet manages to get enough yardage for a first down during the fourth quarter Friday at the Kibbie Dome.</p>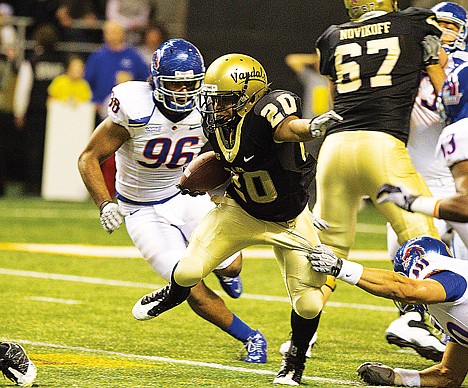 <p>University of Idaho's Princeton McCarty is thrown off balance from the grip of Boise State's Tyrone Crawford during the first half in Moscow.</p>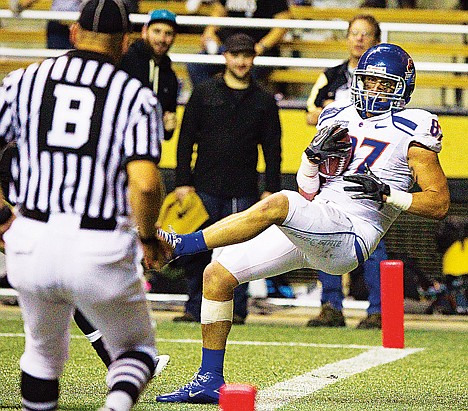 <p>Boise State tight end Gabe Linehan gets a foot inbounds to make a touchdown reception during the second half on Friday.</p>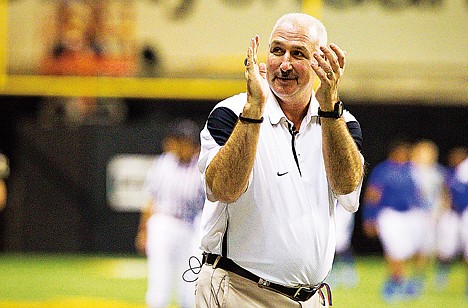 <p>Vandals coach Robb Akey looks to the crowd for support as the University of Idaho and Boise State University football players take the field.</p>
Previous
Next
by
MARK NELKE
Sports Editor
|
November 13, 2010 8:00 PM
MOSCOW - The first gasp of air left the Kibbie Dome just 41 seconds into the game.
By the end of the first quarter, the energy in the Dome was all but gone, any hopes of a monumental upset by Idaho long gone.
Fourth-ranked Boise State scored 28 first-quarter points and went on to drub the Vandals 52-14 on Friday night before 16,453 at the Kibbie Dome - the fifth-largest crowd in the Dome's history - and a national TV audience on ESPN2.
"We got off to a terrible start," Idaho coach Robb Akey said. "The success that team has had is built off of momentum. We dug ourselves a hole at the beginning of the game, and at that point it was too big a hole to recover from. You can have turnovers, (but) you have to go get some of your own. And at the same time, that's a damn good football team that we just faced. We've got to work our tails off to be better."
Boise State (9-0, 5-0 Western Athletic Conference) used pretty much the same formula it uses to throttle nearly everyone else on its schedule - big plays on defense and special teams, then quick strikes on offense to demoralize the other team.
"It was huge," said Boise State junior linebacker Byron Hout, the former Lake City High standout, of the Broncos' quick start. "Any game we start out fast like that, it kinda fires us up, and keeps our energy going the whole time."
Idaho (4-6, 1-4) needed to play pretty much an error-free game, but couldn't have had a much worse start. In their first four possessions, the Vandals threw two interceptions and had a punt blocked.
The Vandals went three incomplete passes and out on their first possession, and Chris Potter returned the punt 76 yards up the middle for a touchdown just 41 seconds into the game.
Five plays later, with Hout bearing down on him, Idaho quarterback Nathan Enderle lobbed a ball right to cornerback Brandyn Thompson for an interception. Boise State turned that into a touchdown, Doug Martin running over Idaho strong safety Shiloh Keo at the goal line to finish off an 8-yard scoring play.
BSU tried an onside kick - which caught Idaho by surprise - but it went out of bounds, though the Vandals were unable to capitalize on that. Enderle threw an interception right to linebacker Aaron Tevis two plays later.
Later in the quarter, Boise State's Jeron Johnson blocked Bobby Cowan's punt, and the Broncos took over at the Vandal 14. Jeremy Avery walked in from 1 yard out and it was 21-0.
Late in the first quarter, Titus Young of BSU beat Aaron Grymes on a post pattern from the right and caught a 58-yard TD pass from Kellen Moore.
"It didn't go as planned," said Enderle, who finished 16 of 34 for 118 yards with one touchdown, two interceptions and three sacks. "I thought we had a slow start, and in a big game against a good opponent, you can't let them get the momentum to start. I don't think we executed very well."
Idaho's best play all night might have been the fake punt. In the first half, blocking back Kama Bailey ran 39 yards to the Broncos' 21. The Vandals had a first and goal at the 8, but Enderle threw four straight incompletions.
In the third quarter, on another fake, Bailey squirted up the middle for 54 yards, setting up a 17-yard TD pass from Enderle to Eric Greenwood early in the third quarter to finally put Idaho on the board, trailing 45-7.
Aaron Lavarias, Idaho's top pass rusher, tried his best to put pressure on Kellen Moore, Boise State's nearly unsackable quarterback. When he finally got to the Bronco QB for an apparent sack, on third and long, he inadvertently grabbed Moore's facemask, keeping BSU's drive alive. It ended with running back Jeremy Avery beating linebacker Tre'Shawn Robinson on a wheel route out the right side of the backfield, resulting in a 17-yard TD catch and a 38-0 Bronco halftime lead.
"He (Moore) kinda ducked into it, and I got my pointer finger caught in his face mask; it was unintentional," Lavarias said. "That was probably one of the more frustrating things of the game for me. This is a kid that doesn't get sacked - ever. I got my chance, and it just got away from me."
Hout spent the second half on crutches, his left foot in a boot.
"I don't know (what happened); I just planted wrong," Hout said. "It (the boot) is just a precaution; I should be fine."
Moore, a junior and Heisman Trophy candidate, completed 19 of 26 passes for 216 yards and three touchdowns before calling it a night midway through the third quarter. Two other quarterbacks saw action as Boise State won its 23rd straight game.
"I think any time you're on the road, especially, you can get a fast start it can settle our guys down and keep the crowd quiet," said Boise State coach Chris Petersen, now 58-4 in his fifth season as BSU head coach.
Idaho totaled 316 yards, but 93 of those came from Bailey on the two fake punts.
Idaho has now given up 208 points and 2,445 yards in its last four losses.
Early in the fourth quarter, with Idaho trailing 52-7, linebacker Conrad Scheidt hit BSU's third quarterback, Joe Southwick, inside the Bronco 5 and forced a fumble. The ball rolled into the end zone, where Lavarias fell on it for a touchdown. He said it was the first points he'd ever scored in his football career.
After meeting every season for 40 years, the series now goes into hiatus for at least the next two years, with Boise State leaving the WAC for the Mountain West after this season. The Broncos leave having won the last 12 games in the series, and a 22-17-1 advantage overall.
Idaho running back Deonte Jackson, who ruffled some feathers earlier in the week when he referred to BSU president Bob Kustra as a "blue and orange snot," did not play due to injury. Kustra had referred to Vandal fans as "nasty, inebriated" earlier this summer when he said that if the two schools do renew their rivalry, the games should all take place in Boise, rather than home and home.
After the game, Keo basically called out his team.
"There's too many guys right now that aren't playing as a team," said Keo, a fifth-year senior. "Too many individuals, too many egos. You look at the best teams in the country, and they all play for each other. Clearly we're not playing like that. At the beginning of the season our heads were held high, because we just came off a good year, and a lot of people probably felt we were going to make another run (to a bowl game). The games we've won have been against easier opponents. Now that we're into the strength of our schedule, it's like if we get beat, OK, these guys are better, they're supposed to beat us anyway."
Recent Headlines
---