Shepperd plays key role in Veterans ceremony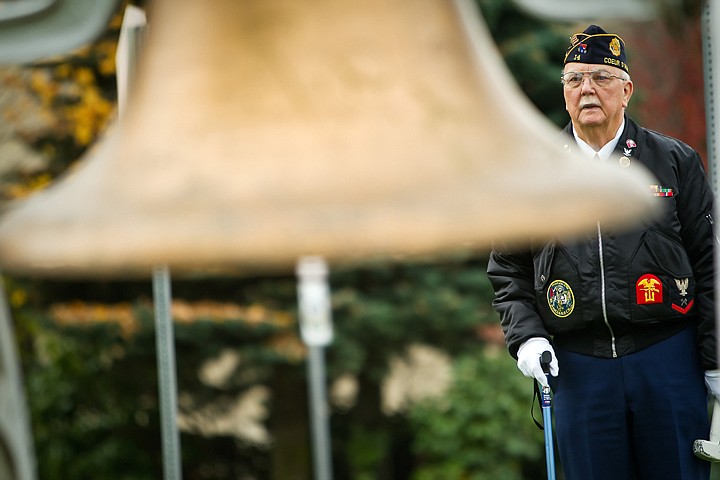 <p>Jim Shepperd stands by awaiting to ring the bell Thursday for the Veterans Day event held in downtown Coeur d'Alene. Shepperd has been the bell ringer for the event for 40-plus years.</p>
by
Alecia Warren
|
November 12, 2010 8:00 PM
COEUR d'ALENE - Under the dark patch of sky, Jim Shepperd clutched his cane, hoisting himself to stand by the weathered bell.
He took a moment to drink it in, the electric cold air, the small crowd huddled around the scrap of grass fronting the Third Street Parking Lot.
With the confidence of so much experience, Shepperd's digits wrapped around the solid white carpenter's hammer. He pulled it back and delivered it down again in a smooth slice.
A clarion drone rumbled as he repeated the action 11 times, with a slow, steady rhythm.
It's just something that should be done, he says.
"You don't want anybody to ever forget what we did, and those people who didn't make it home," the 84-year-old had explained earlier, his round face unsmiling in a rare serious moment. "The way I think about it, they never got to be fathers or grandfathers. I'm a great-grandfather, because I came back."
Shepperd has been doing it for 40-some years - that's the best he can pin it down. He hasn't been keeping particularly close track.
But no matter. By now, everyone who knows of the annual Veterans Day bell ringing ceremony in Coeur d'Alene holds it as synonymous with Jim Shepperd, the perennial bell ringer.
"That's the main reason I come down here, is Jim Shepperd," said Peter Luttropp, a Coeur d'Alene veteran who attended Thursday's event.
"It would be a sad time, if he wasn't here," agreed his friend Ron Edinger.
Every year Shepperd stands erect in his familiar spot, sometimes drenched by downpours or braced against stinging wind. The Coeur d'Alene native takes those 11 gentle swings, listens to a speech and prayer from other vets, and goes on his way.
It is a small gesture for a brief ceremony, but the cheery veteran owns it fully.
"I made a speech one year," he remembered with a chuckle. "... But there were only two people here to watch. My sister and her neighbor. Sometimes there are a lot of people, sometimes hardly any. So you never know."
He has been the ceremony's bell ringer since the gold tinted instrument was mounted at the Third Street park in the mid-1960s, provided by the relative of a Vietnam POW.
Since that time, Shepperd said, he has missed ringing the bell only one year, when he was sick.
"I just think it should be done," is the explanation he repeats.
Shepperd was chosen for the job because he was the only one with a hammer, he added, glancing down at the tool that he has no idea how he procured but has relied on every year without fail.
"It's nothing special," he said of it with a shrug. "Just a little different."
The ceremony symbolizes a great day, he said. The 11 rings stand for the eleventh hour of the eleventh day of the eleventh month when World War I ended, and he considers the event to also acknowledge the end of all past wars.
What goes through his mind as he delivers the profound blows?
"Which count it is," he said with a wide eyes. "I don't want to hit it 13 times."
Shepperd was only 17 when he joined the Navy to fight in World War II in 1944. It was a different world then, he said. He felt serving - like ringing the bell - was simply what he should do.
"We didn't know if we were going to win that war," he said. "We would be looking at a world that wouldn't be the way it is today if we hadn't gone."
He served for the next two years, stationed in the Philippines, he said. He won't discuss the details, but he jolts his body with a laugh to show his service didn't affect him at all, though his eyesight and hearing are now disabled as a result.
"From standing too close to gunfire," he said.
The cane he leans on is just a result of being 84, he added with a laugh.
He still remembers hearing the war was over, that bombs had been dropped over Japan just weeks before his ship would have been sent to invade Japan.
"We didn't know what an atom bomb was, but we were happy," he said. "I'm alive because they dropped those bombs."
Good thing he did live, or he wouldn't be able to brag now about his two kids, four grandchildren and 18 great-grandchildren.
Before retiring, Shepperd worked as a veterans representative at the Department of Employment. He has been a member of the VFW for 65 years, and the American Legion about 40. He is a past state commander and post commander for the VFW.
"These guys are never going to forget. We lost a lot of good friends," he said while catching up with veterans after the ceremony. "Some people think about this or that. This is what we think about."
Bob Grendell, commander of American Legion Post 14 that puts on the ceremony, can understand why Shepperd resumes his role each year.
"This is a big time for us," said Grendell, a Vietnam veteran. "Veterans Day is a celebration of all veterans, both alive and passed. For the vets, it's a time we look at each other and things become very emotional for us. I don't think that will ever change."
Recent Headlines
---