Scripture on skateboards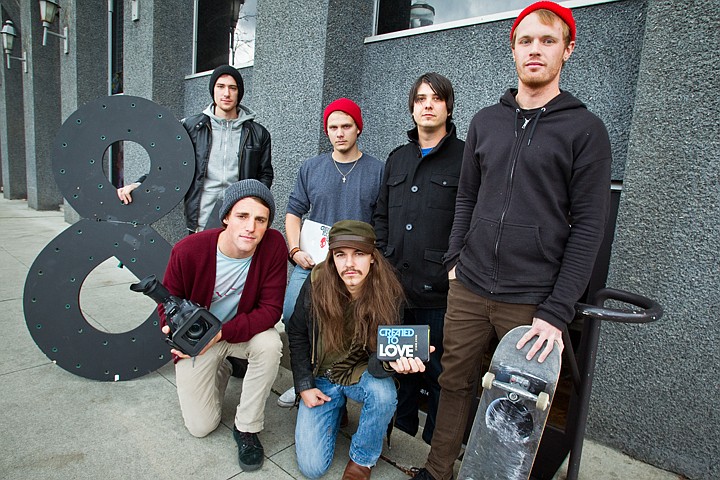 <p>The Boarders for Christ crew will be premiering "color & light," a film documenting their cross-country tour last summer, at the North Idaho College Auditorium on Friday, November 12. From left, Mike Shamberg, Joshua Monteith, Chuck Schmidt, Greg Foeller, Chris Lauri, and Zach Black.</p>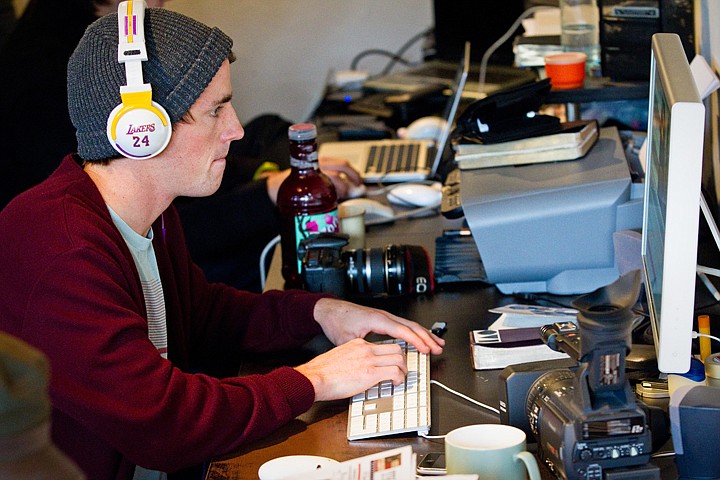 <p>Joshua Monteith makes the final editing adjustments to the Boarders for Christ video at their downtown studio on Tuesday.</p>
Previous
Next
by
BILL BULEY
Staff Writer
|
November 12, 2010 8:00 PM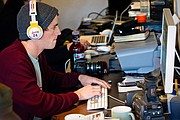 COEUR d'ALENE - When Joshua Monteith was editing the Boarders For Christ film "color & light," he didn't want it to be about skateboarding.
He didn't want it to be about the many tricks this group of teens and twentysomethings can do.
He wanted the real story to be told. The heart of the story.
"It really is our hearts and thoughts and the people we meet as well, their hearts, where they're coming from," he said. "That's what we wanted it to be about.
"We wanted it to be like, this is how the road is, this is how their lives are before we meet up with them, this is how God is using us to possibly change their lives, change their hearts," Monteith said.
Now, it's time to see if that's the message that comes through.
The documentary that follows the summerlong tour of the energetic BFC will be shown tonight at 7 at North Idaho College's Schuler Performing Arts Center.
The 40-minute production was also filmed by Monteith as BFC made stops across the country to perform skateboarding stunts at community festivals and church events, meet some of the young adults in the areas, and yes, share the Gospel, too.
"I felt like God told us to do it so I quit my job and went out on the road to film it," said Monteith, who was still editing the film this week at their bare-bones office at 107 N. Second St.
"Funny how it started out real small. As time goes on, it actually turned into a bigger scale production," he said, smiling.
BFC member Zach Black said they put 9,000 miles on their 18-passenger Chevy van during the summer of 2010 tour. While it served them well then, it's done now: blown transmission.
"It's been around the U.S. doing figure 8s," he said, laughing.
Members of BFC in Coeur d'Alene are casual, loose and friendly and tend to wear jeans, beanies, T-shirts. Faith is their focus. Skateboards are their tool.
"It's about a lifestyle of living for Christ and using what he's given these guys as a vehicle to share with the world for his glory," said BFC member Chris Lauri.
They've gone on tours for eight straight summers, trailer in tow with their portable skate park. Then, they hang out with the boarders and families when the chance arises.
"The Lord gives us gifts to be able to shed light on people, to kind of relate, have a neutral basis to be able to talk and hang out and tell people about Christ," Black said. "It's really interacting and having a fun time."
The flips, turns and spins on the board are effective at connecting with kids.
"We know you have to be good at what you do in order to be able to earn their respect and that's all skateboarding is," Black said. "You have to be able to earn their respect in order to be able to hang out with these kinds and talk to them."
Most younger people equate God with church, rules and laws. He's more than that, said Greg Foeller, another BFC member.
"Jesus has made a huge impact on our lives, brought us out of a previous life of just garbage," he said. "We're so psyched we want to share it with other people."
He said touring with BFC isn't easy. There's not much money, not much to eat sometimes and often no place to bunk down.
But the message is worth any sacrifice they make.
"So we're willing to give up our jobs, sleep on hardwood floors to tell people about this. It's just awesome. If you get a chance to see somebody's life being changed like that, whether it's going from being a meth addict to completely switching their life around, it's intensively rewarding," Foeller said.
Michael Shamberg said BFC members came from the skatepark culture and can relate to kids today.
"No matter where we go around the nation, we still can communicate with those kids because of skateboarding," he said.
Forging relationships with the younger generation isn't easy, he said, which is why they take the approach they use. Teens shy away from God talk, so BFC doesn't hammer it home.
"It's not a big evangelical blown-out-of-proportion thing. It's something that's at the heart of it all. We'll spend time with kids at parks and hang out. In general, the skateboarding culture of this nation is pretty broken," Shamberg said.
They take their task worldwide.
A small group of BFCers are headed to Cairo, Egypt, next week for an annual skateboarding festival expected to attract about 20,000 people.
Members collect donations, sell BFC merchandise and use their own money to fund their tours.
"A lot of people don't realize how much you have to let go and step back from to go on these tours. You get some money, but it's really enough to pay the phone bill half of it," said Chuck Schmidt.
It changes the lives of BFC, too, by taking them out of their comfort zone and tossing them into close traveling quarters and demanding at times they live on faith and trust and their skateboards.
"You have to grow or you're going to snap," Foeller said. "It causes you to really think about what you believe and really put your beliefs in action.
"When you're sacrificing a lot like that, it just pushes you farther and closer in your faith to God," he added.
Still, as difficult and stressful as the times may be, such as when you don't know if the van will last another 100 miles, Shamberg said he wouldn't change anything.
"God calms the oceans, that's for sure," he said. "It's way simpler when you're not out there for yourself."
If you go
The premier of "color & light" by Boarders For Christ will be at 7 tonight at North Idaho College Schuler Performing Arts Center. The film, "FIN" will also be shown. Cost is $2. Doors open at 6:30.
Recent Headlines
---