From Baghdad with love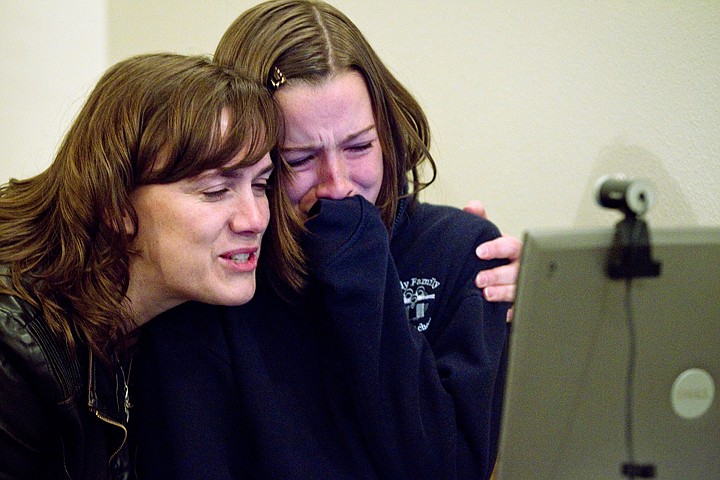 <p>Julianna Saltus, a sixth-grader at Holy Family Catholic School, is comforted by her mother, Jackie, during an emotional Skype visit with her father, Maj. Richard Saltus, who is stationed in Baghdad, Iraq.</p>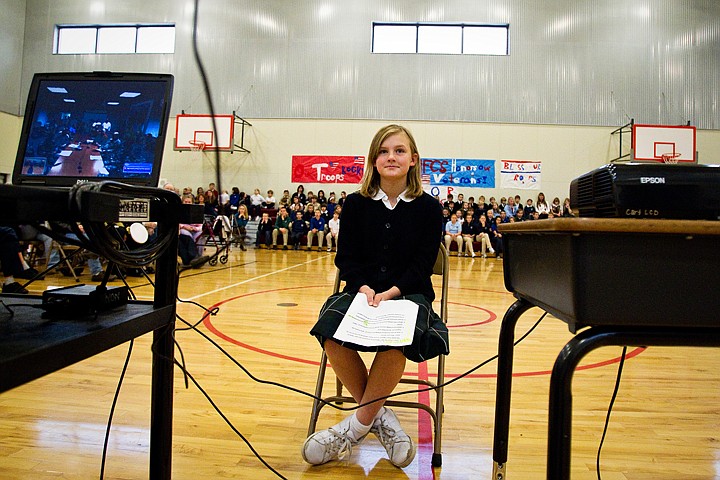 <p>Third-grader Haley Donovan listens to active duty United States military personnel from the Gulf Region District base in Baghdad after asking questions about base life via Skype transmission during a Veterans Day ceremony at Holy Family Catholic School.</p>
Previous
Next
by
MAUREEN DOLAN
Staff Writer
|
November 12, 2010 8:00 PM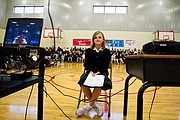 COEUR d'ALENE - Julianna Saltus hadn't seen her dad since last Christmas.
That changed Thursday at Holy Family Catholic School in Coeur d'Alene.
Although the sixth-grade student's father, Army Maj. Richard Saltus, is serving in Iraq, he was able to pay a Veterans Day visit to his daughter's North Idaho school via Skype video conferencing technology.
Julianna, 11, didn't realize she would get her first glimpse of her dad, hear him speaking from Baghdad in real time, with the whole school watching.
"It was a little scary to be doing something so personal in front of everyone," Julianna said afterward. "Honestly, I'm touched by all the people that are serving in Iraq."
It was an emotional moment for both father and daughter, and just part of the Veterans Day event at Holy Family, because Maj. Saltus didn't come alone.
By video, he brought a conference room full of active duty service personnel from the Gulf Region District base in Baghdad.
With their images projected onto a large movie screen in the school's auditorium, the men and women in Baghdad answered students' questions about their experiences in Iraq.
"How do you feel about helping our country? Why is your job important?" asked student Emily Foley.
Command Sgt. Maj. Gregg Phillips said he considers his job an honor.
"I feel proud to be over here, not just helping my country, but we're rebuilding Iraq," Phillips said.
Student Haley Donovan inquired about the Iraqi climate and landscape.
Tom Plachy, a civilian working in Baghdad with the U.S. Army Corps of Engineers, described the deserts in the southern part of the country, and the farms and cattle to the north.
"Iraq is much like the United States in the sense that there are a lot of different climates. It's a wonderful country, with wonderful people. They want us here, and they love us," Plachy said.
The interaction took place in front of the entire Holy Family Catholic School student body, with teachers and about 20 local veterans in the audience.
Marilyn Hunt, a retired Navy Commander who lives in Post Falls, said she attended the event because she wanted to see the children.
"This was a great experience. I've never seen Skyping," Hunt said.
Hunt showed up in uniform, she said, to present the students with a role model.
"When you're a kid, a picture is worth a thousand words. This is one way of telling them, especially the girls here, it can be done," Hunt said.
Hunt served for 22 years, before her 1992 retirement, and now devotes herself to volunteer service, much of it through the Disabled American Veterans.
Before the end of the video question-and-answer session, student Noah Corbin asked an enlisted naval officer in Baghdad, "What can we do to support you and your families?"
"Just keep me in your prayers," she said.
Before the end of the assembly, the students did just that.
Student Council President Lynee Cavanaugh asked her young peers to stand and join her in a prayer of blessing for the veterans in the audience, and all who have served, or are serving in the armed forces: "Give them courage, hope, and strength. May they and their families experience your firm support, gentle love, and compassionate healing. Be their power and protector."
Recent Headlines
---