Wanted: Warm hearts, cold birds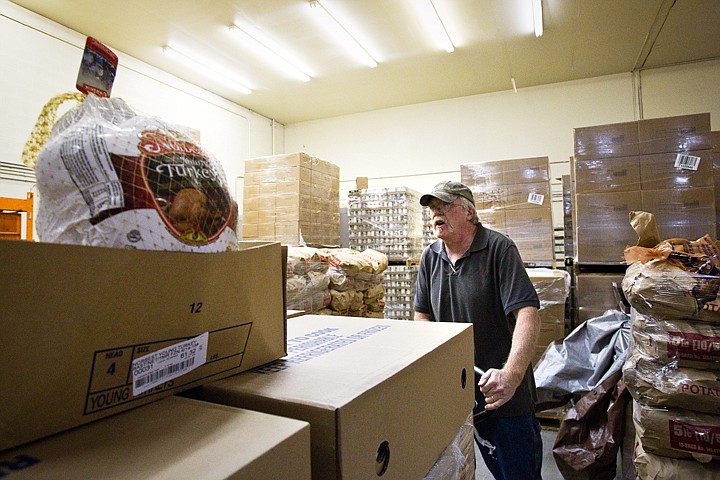 <p>Jim Guyer, warehouseman for Community Action Partnership, maneuvers a pallet of frozen turkeys Wednesday at the food bank in Coeur d'Alene. The first significant donation of 100 turkeys arrived at the nonprofit late in the afternoon.</p>
by
David Cole
|
November 11, 2010 8:00 PM
COEUR d'ALENE - So far more than 2,500 families have signed up to receive Thanksgiving turkey dinners with all the fixings from the Community Action Partnership in Coeur d'Alene.
Problem is, the food bank is almost 2,400 turkeys short. Before a late Wednesday delivery of 100 cold birds arrived, the food bank had only 12.
Carolyn Shewfelt, food bank manager, said the number of families signing up with a need will grow.
"The phone is ringing off the hook," Shewfelt said. "I would not be surprised at all to pass 3,000" families.
The food bank will need the turkeys soon, as it will begin passing out the Thanksgiving packages Nov. 17-19.
"The families need to be able to plan in advance," Shewfelt said, as many of them are on food stamps.
The food bank doesn't have the money to buy turkeys, she said.
The food bank also needs stuffing, green beans, gravy, cranberries, yams, pumpkin and evaporated milk. It has plenty of potatoes.
"We really try and do a decent basket, with the full meal," she said.
Many of the families signing up are those that have never been served before by the food bank, she said. That can be a humbling experience for those families that have fallen on hard times, she said.
Overall numbers of families being served have been doubling year after year, she said.
In 2008, the food bank handed out 860 baskets. In 2009, the number leaped to more than 1,740 baskets, she said.
The turkeys can be dropped off at Community Action Partnership, 4144 W. Industrial Loop.
Information: (208) 664-8757
Recent Headlines
---