Students salute veterans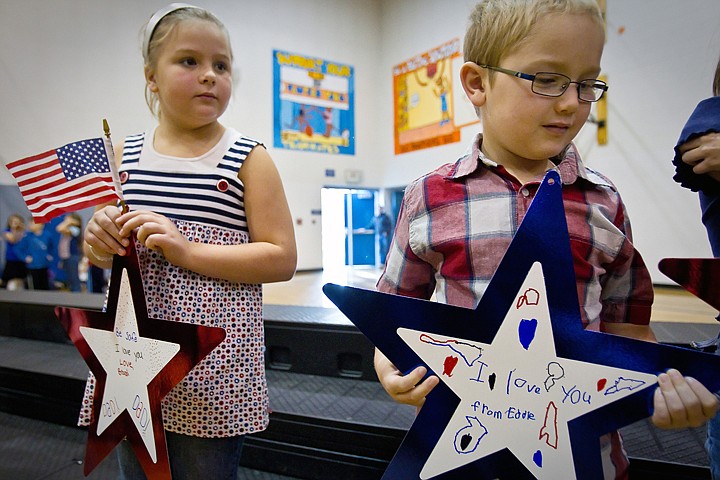 <p>Eddie Seward and his sister Brandi hold the stars they made for their dad who is awaiting for his deployment to Iraq with the Idaho Army National Guard</p>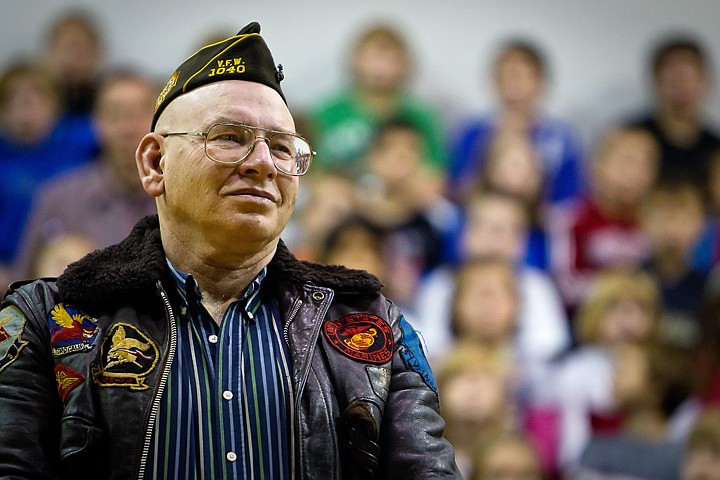 <p>Steve Stefanski, Marine Corps veteran, stands as the choir with Ponderosa Elementary sings the "Marines' Hymn" during a veterans assembly.</p>
Previous
Next
by
Brian Walker
|
November 11, 2010 8:00 PM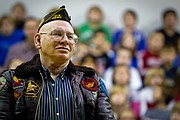 POST FALLS - It took Dave Wilmer 15 years after returning from Vietnam to be around crowds and attend events such as Wednesday's school assembly honoring veterans.
"It takes awhile to fight shell shock," the Post Falls veteran said. "This is what veterans go through. A letter listing those missing in action followed me home and the first thing I did was burn it. I was in denial for 15 years."
Today, Wilmer, who served in the Army's First Infantry Division, is proud more than ever that he served. He's also proud that communities and students hold ceremonies recognizing sacrifices veterans and their families have made for freedom.
The assembly of skits, songs and a slide show praising veterans at Ponderosa Elementary that Wilmer attended was among several school ceremonies throughout Kootenai County.
"This was wonderful," Wilmer said afterward. "It really speaks about the patriotism the kids have. We need to keep a positive attitude with all that's going on in the world. It's a whole new ball game from when I returned.
"There's been some real healing for these veterans, and I'm a part of that."
There are nearly 15,000 veterans living in Kootenai County, according to the Department of Veterans Affairs.
Many local schools have students with parents who are deployed. Brandi and Eddie Seward are among six Ponderosa children who have a parent deployed. They wrote their thoughts on a star that was posted during the assembly about their dad, Chris, who is part of the Idaho National Guard unit training in Mississippi that's about to leave for Iraq.
"He's fighting for our country, but I miss him," Brandi said. "I wrote that I love him and want him to be safe."
Some fifth-graders read their essays honoring vets. Chase Cripps said his grandpa was shot in the chest as a helicopter door gunner, but a metal protector saved him. He also survived a crash into a lake.
"He says he isn't a hero, but he is a hero to me," Cripps wrote. "People say he is a hero, but all he says back is, 'Just doing my job' and 'When you go over there fighting for your country, you end up fighting for the man next to you.'"
Joshua Flock thanked veterans for risking their lives.
"You are all so strong willed and great," he wrote. "You are almost as important as the president."
Veterans Day, which is today, is also about staying in touch with those who serve.
During an assembly at River City Middle School on Wednesday, eighth-grader Spencer Jones, president of the school's National Junior Honor Society, presented the student body with a flag that 1st Lt. Bradley J. Mayhew flew in honor and recognition of the students in the Helmand Province of Afghanistan.
Honor society students wrote letters and sent care packages to the Marine unit as a service project last year and received a letter of thanks and the flag in return. Mayhew asked students to display the flag at the school as a reminder of the war in Afghanistan and the men and women serving the country.
Post Falls veteran Tom Affeldt, who served in the Navy and is a school bus driver, said the school ceremonies are a nice recognition.
"I'm thinking of old friends today who aren't around anymore and what the future holds for our kids," he said. "When the students ask about veterans, I'm happy to talk about them. It's a positive experience and it gives them an idea about things."
Steve Stefanski, who served in the Marines in Vietnam, said he likes what he sees in schools today.
"I greatly appreciate the support kids have shown veterans," he said. "It was so much different when we got back from Vietnam."
Recent Headlines
---