'I love being an American every day'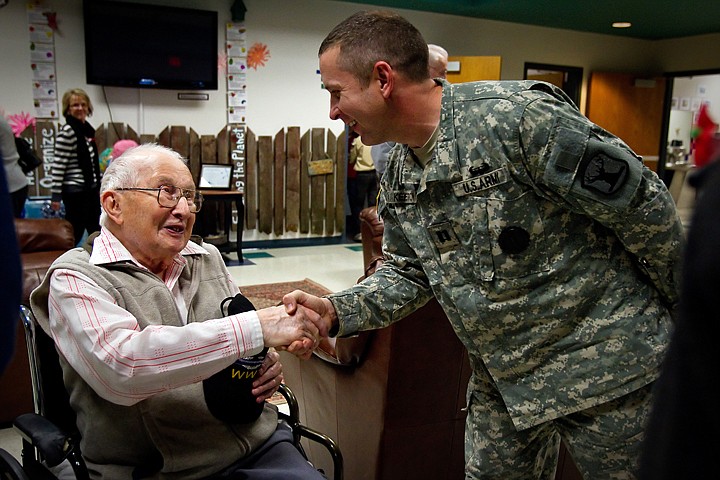 <p>Cleallen Richardson, 100, who served in the U.S. Army Air Force during WWII, is thanked for his military service by Idaho National Guard Capt. Steve Keeton following Hayden Meadows Elementary's veterans assembly Wednesday.</p>
by
MAUREEN DOLAN
Staff Writer
|
November 11, 2010 8:00 PM
HAYDEN - Cleallen Richardson didn't see it as a sacrifice when he enlisted in the U.S. Army Air Force during World War II.
It was his duty.
"I'd do it again, if I had to," Richardson said.
The 100-year-old Coeur d'Alene man was one of a host of military veterans, reservists and active duty members recognized and paid tribute to Wednesday by students at Hayden Meadows Elementary School.
Similar Veterans Day programs are taking place throughout the week at schools locally and throughout the nation.
"As long as there are men and women who are willing to stand up and serve, we must always be willing to stand up and honor their service," said Hayden Meadows Principal Lisa Pica.
The school's fifth-grade students sang patriotic songs and took turns at the microphone expressing gratitude for the many freedoms they have because of those willing to fight for them.
"I love being an American every day," said one of the children.
Richardson was 32 years old in 1941, the year he signed up for service.
"I first went across the pond to Liverpool, and the British were singing. The Yanks are coming! The Yanks are coming!" he recalled with a smile.
Richardson grew somber as he talked about his four years of service overseas. He was a technical sergeant, one of the leaders of a company platoon, and saw action throughout Europe and spent time in North Africa.
"Sicily and up the coast there in Italy, that's the worst fighting I got into," Richardson said. "We lost a lot of men there. Some of them were only 18 years old. It was pretty bad."
He talked about how difficult it is the first time a soldier has to fire a weapon at an enemy, and said it never becomes an easy thing to do.
"You do it because you have to," Richardson said.
Following the school program, Richardson's fellow veterans took turns thanking him for his service.
"You're a trailblazer," said U.S. Army veteran Paul Brock, as he clasped Richardson's hand.
Recent Headlines
---