Top gun at Super 1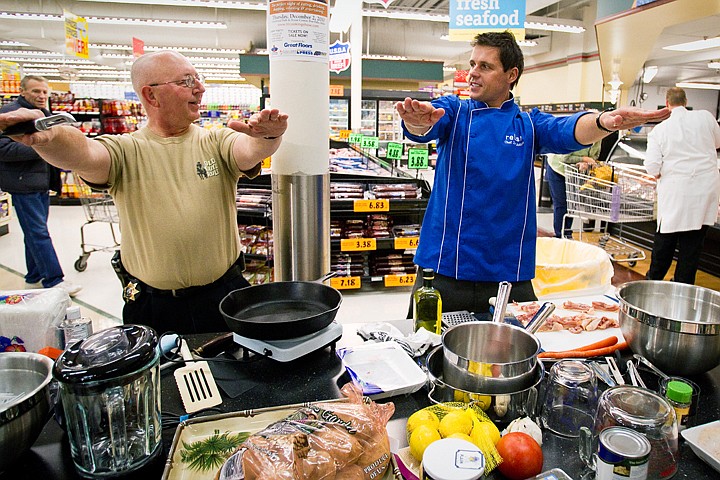 <p>Chef Jon Ashton leads Maj. Ben Wolfinger, with the Kootenai County Sheriff's Department in a brief pre-cooking stretch Tuesday after Wolfinger won the race for ingredients during Celebrity Super Market Dash, the official kickoff for the inaugural Relish Cooking Show and Expo that will take place at the Greyhound Event Center on December 2.</p>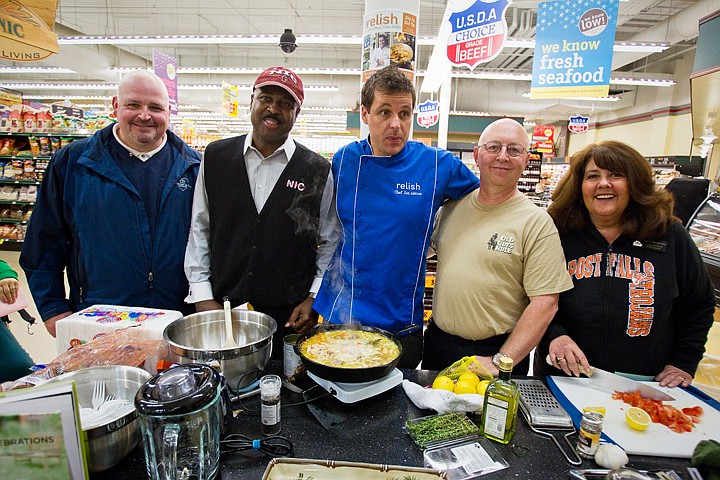 <p>Chef Jon Ashton, center, cooked a dish with ingredients gathered by local celebrities. From left are Jeff Conroy, Al Williams, Ashton, Ben Wolfinger and Kerri Thoreson.</p>
Previous
Next
by
Tom Hasslinger
|
November 10, 2010 8:00 PM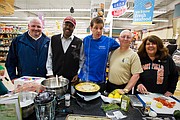 COEUR d'ALENE - The sheriff's major had a gun, and the nonprofit director said he would shove, bully, and drive his elbows into others like spears.
The other two contestants were more polite. They said they would use the home court, er, market, advantage to win fairly and without force.
Both lost.
The gun won.
"Now my wife will expect me to do the shopping more often," said Kootenai County Sheriff Maj. Ben Wolfinger, after filling his shopping cart with the ingredients for braised chicken and vegetables the fastest during the Celebrity Super Market Dash in Post Falls on Tuesday.
Those were the rules: Each local celeb had to fill their shopping carts the quickest. Aside from that, anything went.
"I'm going to take them out," said Jeff Conroy, St. Vincent de Paul director, before lining up his cart in the aisle of Super 1 Foods.
"Throw shoulders," he said.
Actually, the real name of the game was to promote a special appearance by celebrity chef Jon Ashton (like real, television celebrity, not the local kind) for his Dec. 2 Relish Cooking Show and Expo at the Greyhound Park and Event Center. And the winner donated a $100 certificate to the charity of his or her choice.
But competitive juices are competitive juices, and when the racers went, regular shoppers were caught off guard.
""I was like, 'oh my god,'" said shopper Colene Steele, who squeezed her cart to the side and watched with wide eyes along with her young daughter as Wolfinger and Post Falls City Councilwoman Kerri Thoreson passed. "I didn't want to get in anyone's way."
Each of the four contestants had a special recipe. Thoreson picked her ingredients out calmly, relying on her familiarity with the store as her leg up. North Idaho College Athletic Director Al Williams thought the home market advantage would propel him to victory, too. He started his race off - not with a 40-yard dash sprint - but definite hustle.
"I gotta get my bacon," he said scouring the meat aisle. "Bacon, bacon, bacon."
In the end it was Wolfinger, and he donated the $100 to the upcoming mental health court's holiday dinner. He also wore a shirt that said 'Old Guys Rule,' and rattled his fellow contestants before the showdown by saying: "I got my sidearm on."
One lift of his coat, and yep, it was there.
Sour grapes, anyone?
"He had less ingredients," Conroy protested, who was two ingredients short for his three-tomato soup.
"I might not be first, but I shop sales," Thoreson said.
Ashton then whipped up the winning ingredients into a steaming-hot braised chicken and vegetable dish, touched off with lemon juice, offering samples to any passersby and joking with the crowd with his British wit.
"I got a really good feeling it's going to be brilliant," he said of the Dec. 2 show. "In fact, know for fact it is because everyone here is so lovely."
Recent Headlines
---