The last traditional chief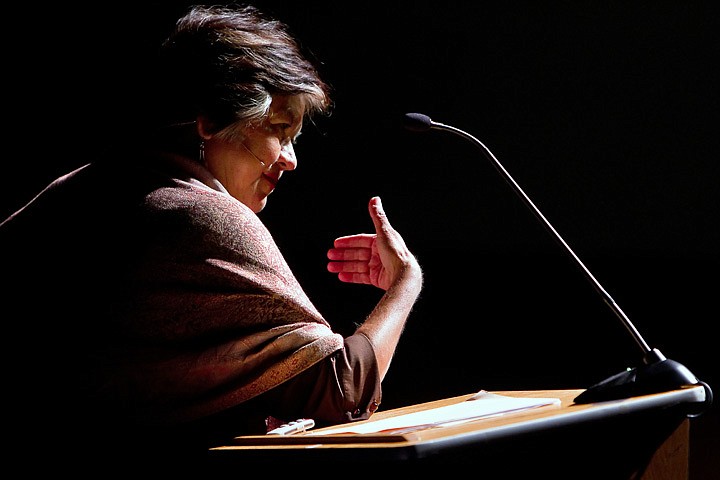 <p>Jeanne Givens, a member of the Coeur d'Alene Tribe, presents historical information about the Coeur d'Alene Tribe's last chief, Ignace Hayden Garry, during a Popcorn Forum session Tuesday at North Idaho College.</p>
by
MAUREEN DOLAN
Staff Writer
|
November 10, 2010 8:00 PM
COEUR d'ALENE - Ignace Garry lived during a time of great change for all American Indians.
Coeur d'Alene Tribe member and educator Jeanne Givens spoke about Garry, her grandfather, during one of this week's sessions of the Popcorn Forum held at North Idaho College.
"One of the highest honors that he ever received, was when the Coeur d'Alene Tribe turned to him when Joseph Seltice passed away to serve as the chief of the Coeur d'Alene Tribe," Givens said to roughly 100 people in NIC's Schuler Performing Arts Center.
Born in 1884, Garry became the last traditional chief of the Coeur d'Alene Tribe, serving from 1935 until his death in 1965. Tribal government is now a democracy, with tribal leaders - the council and its chairman - elected by the people.
Ignace Garry was a descendant of Chief Spokane Garry, who lived from 1811 to 1892, and was an important figure in treaty negotiations in this region. Ignace's grandfather was Matthew Heyden, the pioneer who, according to legend, won the right to name Hayden Lake in a card game.
Through his life, Ignace was witness to many major changes for his people, Givens said.
He watched the Catholic Church become a permanent part of Indian tradition and culture in the region.
Garry was also there when the Allotment Act was implemented on The Coeur d'Alene Reservation between 1906 and 1909.
Of Spokane and Kalispel descent, Garry was an enrolled member of The Coeur d'Alene Tribe. He moved to the Coeur d'Alene Reservation with his family during the migration that took place near the time of the allotment, when the Coeur d'Alenes opened their doors to many Indians.
"Every man, woman and child were allotted 160 acres, and that sounds OK, but if you own 1,000 acres one day, and you woke up the next day and have only 160 acres, that was a very low number," Givens said. "So, that was a tough time."
There were other challenges faced by the new landowners, including difficulty filing for land rights patents after they had received their allotments.
It was also during that time that anglicized names were given to many Indians, Givens said.
"If you had a name like Rolling Thunder, your name might end up being Ronald Thomas," Givens said.
Some Indians, with just one name, were simply given the last name of the person keeping the records at the time.
The Great Depression started not long after the allotment, and it was during this time that Givens' mother, Celina Garry-Goulsby was born.
"They were stretching their money, and they were always trying to make do," Givens said.
During this time, Alice, one of Ignace's daughters, had been crowned Miss Indian America, and caught the eye of the man who arranged events for the Davenport Hotel in Spokane. As a way to make money during the Depression, Ignace Garry accepted an offer for his family to entertain dignitaries and guests visiting the Davenport Hotel in Spokane. A photo of Alice Garry standing with Herbert Hoover, hangs upstairs today at the hotel.
Ignace Garry took his job as chief very seriously, Givens said. The role of a traditional chief was both ceremonial and religious. In addition to being responsible for carrying on the traditions, language and culture of the tribe, a chief also personally helped tribal members going through difficult times.
Ignace was spiritually strong, Givens said, and loved to sing and dance. She recalls visiting him as a child, and he frequently sang, always trying to instill his children and grandchildren with their peoples' cultural traditions.
"He also always had a sweat lodge outside of his house made with birch branches," she said.
Because of their experiences at the Davenport, Givens said Ignace's children were all comfortable in front of a crowd, and proud of their heritage.
Ignace's son, Joseph Garry, was the first American Indian to be elected to the Idaho Legislature. He also served as the chairman of the Coeur d'Alene Tribe for 10 years.
Givens followed in her uncle Joseph's footsteps, and became the first female American Indian elected to the Idaho Legislature in 1984.
Celina, Givens' mother, was a secretary who eventually became director of the American Indian Center in Spokane, and lived out her days on the Coeur d'Alene Reservation.
Ignace Garry died at the age of 80, still working for his people. He developed pneumonia after a trip to the Camas Prairie to gather traditional supplies for a family dinner.
"He guided his people during celebrations of good times and in sadness. He danced, sang and lived a long, industrious life. Closest to his heart were his traditions, his stories, his relations, his religion and his family," Givens said. "He was the last of a great tradition of tribal chiefs of the Coeur d'Alene Tribe."
• 9 a.m. Denise Clark from Idaho will bring historical figure and union leader Mother Jones to life on stage.
• 11 a.m. Harvey Richman from Idaho will bring historical figure Mohandas Gandhi to life.
Thursday
• 9 a.m. Rev. Happy Watkins of Spokane will bring the late Dr. Martin Luther King to the stage with King's famous "I Have A Dream Speech."
• 11 a.m. Annette Baldwin from Chicago will bring historical figure Susan B. Anthony to life on stage.
• 7:30 p.m. Dr. George Frein will bring Abraham Lincoln to life on stage.
All performances are free and open to the public.
Information: 292-2359
Recent Headlines
---