Just like new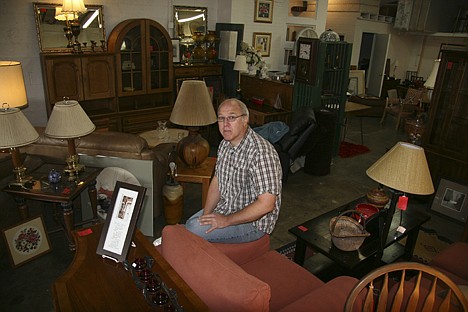 <p>Scott Gittel has opened Renewed Consignment at 407 Indiana Ave. in Coeur d'Alene.</p>
by
BILL BULEY
Staff Writer
|
November 10, 2010 8:00 PM
COEUR d'ALENE - Scott Gittel knows used furniture.
Whether buying, selling or refurbishing, when it comes to older tables, chairs, dressers and couches, he has the eye for what's in and what's out.
The in stuff, you'll find at his shop at 407 Indiana Ave., Renewed Consignment.
"I'm selective about what I buy," he said. "It can be gently used but really good quality."
Spread out over more than 3,000 square feet in two buildings, the offerings range from your everyday type living room recliners, corner tables and rockers to a blue 1970s circular corner chair to a 1980s three-piece table and two chair set in which the chairs fit neatly under the table to save space.
You could outfit your home with stylish decor and more including lamps, mirrors and artwork, too.
Gittel also has a stained-glass studio and wood-working shops, where he calls on his talents to breathe new life into items like weathered, beaten doors.
"I take panels out, put stained glass in and it can be a wall divider," he said.
Gittel scours estate and garage sales, and reads the classifieds for the right stuff. Clients also come to him to strike a deal.
"Some of it is hard to find stuff," he said.
His experience operating Thriftique, a thrift store that was open four years, gave his experience that helps today.
"I enjoyed the furniture end the most," he said. "I learned what sold."
When the church-owned Thriftique closed earlier this year, Gittel decided to go into business for himself and leased the two buildings on the 400 block of Indiana.
Despite the economy, he said the store has done well. Since it's the area's only store that sells strictly used furniture, he believes he's found a niche.
"Like any retail, it's up and down, but overall it's pretty good," Gittel said. "I think the timing is right. People can buy quality things at a lesser price."
He learned young how to fix, restore and rebuild coffee tables, chairs and vanities that have worn down over the decades.
It's a talent that's literally paying off today.
"I grew up in a family that was a do-it-yourself-type family," Gittel said.
Renewed Consignment is open 11 a.m. to 4 p.m. Monday, Thursday, Friday and Saturday, and offers evening appointments.
Information: 664-2559
Recent Headlines
---