Glad campaign ads are gone? Just wait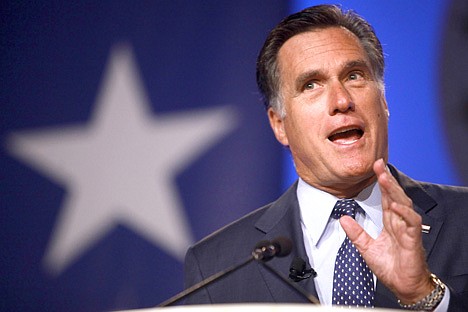 <p>Former Massachusetts Gov. Mitt Romney speaks to the Values Voter Summit, held by the Family Research Council Action, in Washington on Sept. 17.</p>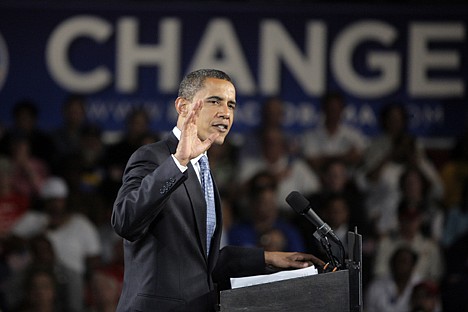 <p>Then-Democratic presidential candidate, Sen. Barack Obama, D-Ill., campaigns in October 2008 at the Seagate Convention Centre in Toledo, Ohio.</p>
Previous
Next
|
November 10, 2010 8:00 PM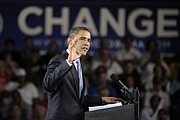 WASHINGTON (AP) - All those campaign ads and cash? Just wait until 2012.
The next election will bring an explosion of political money - perhaps hundreds of millions more than ever before - without effective spending limits, a fundraising bar raised sky high by Barack Obama in his presidential campaign in 2008 and multimillion-dollar fuel added by Republican outside groups this year.
The $5.3 billion spent in 2008 and $4 billion anticipated tab this year? A hint of things to come.
Republicans considering running for president are preparing to sidestep the federal public financing system, eager to follow the example Obama set in 2008 when he raised nearly three quarters of a billion dollars for his presidential bid.
"The public financing system is going to look like a relic by the time we get to 2012," said Kevin Madden, a senior adviser to Mitt Romney's 2008 Republican presidential bid and informal adviser to Romney's political action committee as the former Massachusetts governor weighs a new White House run.
Every presidential election in recent history has set new spending records, as candidates, big donors and party strategists find new ways to bypass the post-Watergate laws that imposed restrictions on money and politics and the 2002 law that banned unlimited millionaire, corporate and labor contributions to the national parties.
The decision to abandon public financing in presidential elections and recent Supreme Court rulings, particularly the Citizens United case early this year that gave unions and corporations a greater voice in politics, will push the boundaries further.
The stakes will be even higher in 2012 as Republicans seek to gain control of the Senate and keep their newfound House majority. Twenty-one Senate Democrats and two Democratic-leaning independents are up for election, compared to only 10 Republicans. And a slow economic recovery could keep Obama pinned down as he works to get re-elected.
It's a recipe for explosive spending.
"The left will be looking for a competitive advantage to preserve the president and the White House and a Democratic majority, and the right will be looking to expand their power in Washington," said Jay Dunn, a former finance director for the Democratic National Committee and fundraiser for the presidential campaigns of John Kerry and Hillary Rodham Clinton.
Stung by the Republican takeover of the House and gains in the Senate, Democrats already are considering how to rebuild a structure of outside groups that Obama himself discouraged in 2008 and which he decried when used by Republicans in 2010.
Next week, about 150 high-dollar liberal donors will assemble in Washington for a meeting of the Democracy Alliance, a five-year old group set up to advance liberal causes.
The success of Republican-allied groups "is certainly going to be on the table as one of the major conversation points," said Rob McKay, a California venture capitalist and chairman of the alliance.
The $3 billion already spent in the 2010 federal elections - and the potential final tab of $4 billion - are record-shattering sums for a midterm election. The campaign saw outside groups such as American Crossroads and Crossroads Grassroots Policy Strategies, inspired by top GOP operatives such as Karl Rove, become the new archetypes for independent spending. Several of the groups operated as tax-exempt nonprofits that do not have to disclose their donors.
They combined the fervor of a bottom-up tea party movement and the resources of motivated deep-pocketed donors and corporations. And they provided a test case for the new court rulings - an effect that is hard to gauge in precise dollars because the contributors to many of the groups remain hidden.
Democrats had established the outside group model in 2004 and 2006, using independent organizations to complement party and candidate spending.
Recent Headlines
---