Crippled cruise ship gets help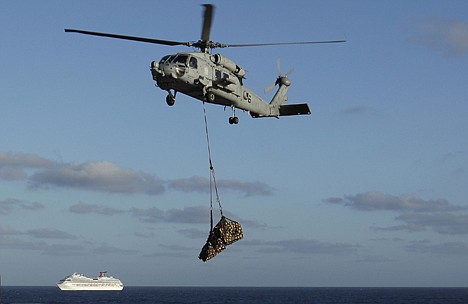 <p>A Navy Seahawk helicopter from the USS Ronald Reagan aircraft carrier carries supplies toward the Carnival Splendor cruise ship during relief operations Tuesday in waters off Mexico's Baja Peninsula.</p>
|
November 10, 2010 8:00 PM
SAN DIEGO (AP) - The nearly 4,500 passengers and crew of the Carnival Splendor have no air conditioning or hot water. Running low on food, they have to eat canned crab meat and Spam dropped in by helicopters. And it will be a long, slow ride before they're home.
What began as a seven-day cruise to the picturesque Mexican Riviera stopped around sunrise Monday when an engine-room fire cut power to the 952-foot vessel and set it adrift off Mexico's Pacific coast.
The ship began moving again Tuesday night after the first of several Mexican tugboats en route to the stricken liner began pulling it toward San Diego, where it was expected to arrive Thursday night.
U.S. Navy helicopters were ferrying 70,000 pounds of supplies, including the crab meat, croissants, Pop Tarts, Spam and other items, to the ship.
The Seahawk helicopters were taking off with dangling palettes of supplies from the USS Ronald Reagan, an aircraft carrier diverted from training maneuvers to help. It arrived at the cruise ship late Tuesday.
The tugboats were originally set to take the Splendor to the Mexican coastal city of Ensenada, but the cruise line changed its plans and will attempt to have it towed to San Diego, where hotel and flight arrangements would await the passengers, Carnival said.
If the process moves too slowly, it may still be taken to Ensenada, the statement said.
Coast Guard Petty Officer Kevin Metcalf said the tugs and a Coast Guard cutter escort would have to move slowly because the ship is so big.
Accidents like the engine-room fire are rare, said Monty Mathisen, of the New York-based publication Cruise Industry News.
The last major cruise accident was in 2007 when a ship with more than 1,500 people sank after hitting rocks near the Aegean island of Santorini, Mathisen said. Two French tourists died.
"This stuff does not happen," he said. "The ships have to be safe, if not the market will collapse."
The Splendor, which left from Long Beach on Sunday, was 200 miles south of San Diego at the time of the engine fire, according to a statement from Miami-based Carnival. It began drifting about 55 miles off shore.
The 3,299 passengers and 1,167 crew members were not hurt, and the fire was put out in the generator's compartment, but the ship had no air conditioning, hot water, cell phone or Internet service.
Recent Headlines
---